Free MP3 Converter For Android – Best Method
Hello, friends in here I am going to tell you about Free MP3 Converter For Android. the method that I am showing you is the best ever in 2019. so, if you are looking for an mp3 converter for android and you want to convert easily and fast then you are in a good place. as you know most people have no idea how to convert video into mp3 and they don't know what software and method to use. because there are lots of software in the Google Play Store and you are confused to use which one so, therefore, I am here to tell you about one of the best mp3 converter.
How to Convert Video to MP3 using Filmora Best Video Converter Free Software for Windows & Mac Best Method of Facebook Video Downloader for Android, IOS and PC
MP3 Video Converter Apps
The method or the software or the converter that I am telling you is in top ranking position. millions of users are using mp3 video converter app in their android phone, with this app you can easily convert video to mp3 without any restrictions. although you don't need to search anywhere about mp3 converter because in this article you will get all your answer. so for that, you need to read the article carefully and follow each step that I am showing you in below.
Features:
1. It will supports various types of videos (3GP, FLV, MP4 and so on)
2. Supports various types of audio (MP3, AAC)
3. Even it supports editing meta information (title, album, artist)
4. Supports application based integration.
Download MP3 Video Converter
First of all, you need to download the application from Google Play Store. just go to your Android Play Store and search mp3 video converter after that install it on your Android. besides that, the application is free and handy, you can download it from the link below.
How to Use MP3 Video Converter
Here I will show you how to use the application, it is so simple and easy you don't need to watch a video or to read an article due to use of the application. And if you don't know how to use mp3 video converter then don't worry I am here to show you deeply about using the application. So, let's start
Step 1. in first step you need to allow the mp3 video converter to access photos, media, and files on your device.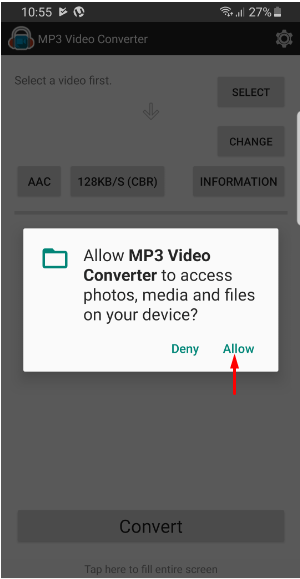 Step 2. Now click on the "select" button.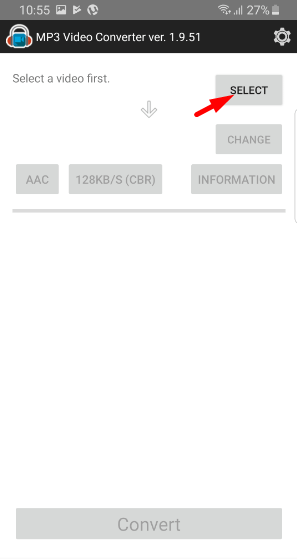 Step 3. Select your file that you want to convert it into mp3.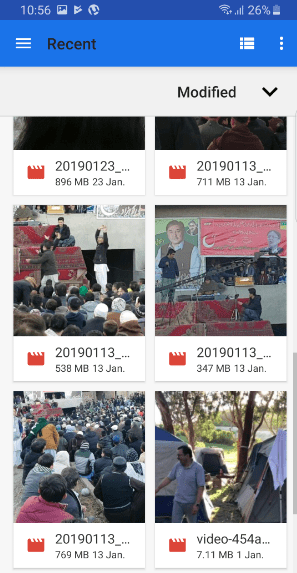 Step 4. while you selected your file than after that click on Copy (AAC) then select mp3 format.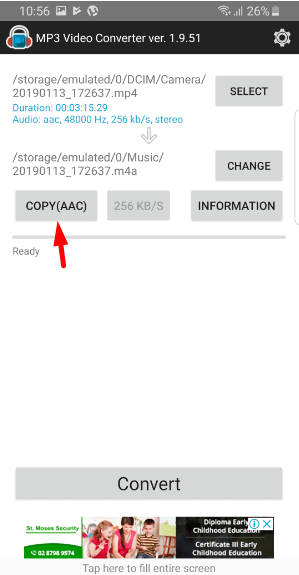 Step 5. if you want to give information about file then click on the information button and provide the detail.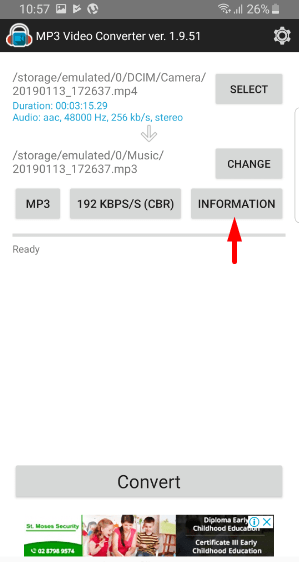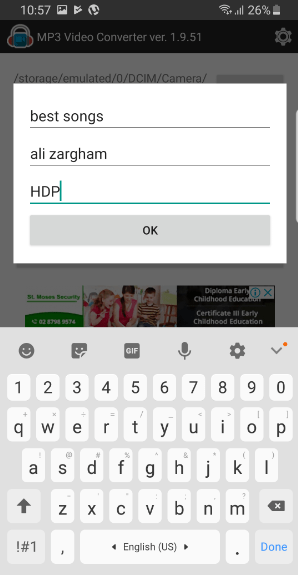 Step 6. well might be you don't know your converted file path then you can set your file path for clicking on change button. Afterward set your file path.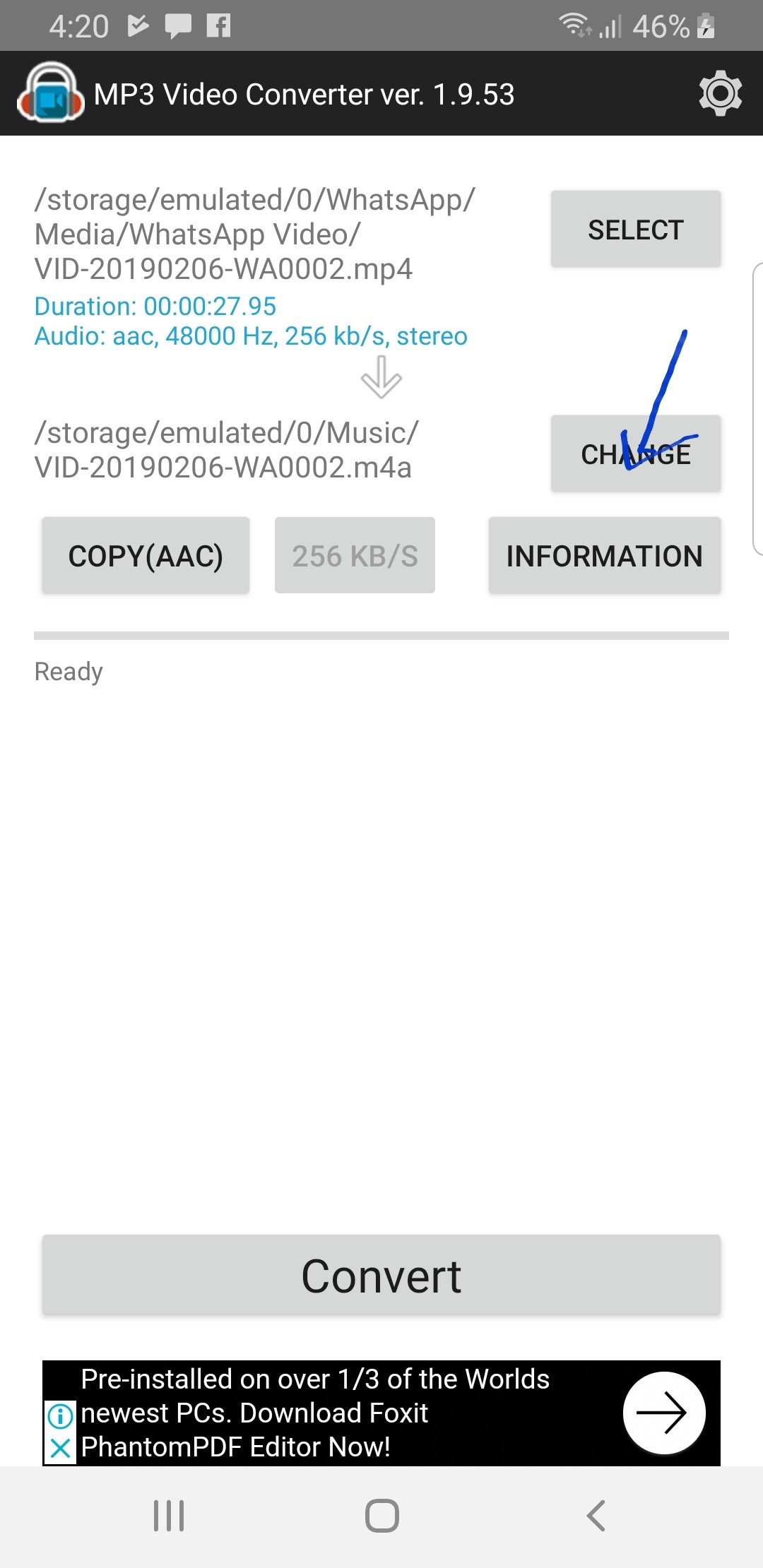 Step 7. Now it's time to convert your file so, click on the convert button.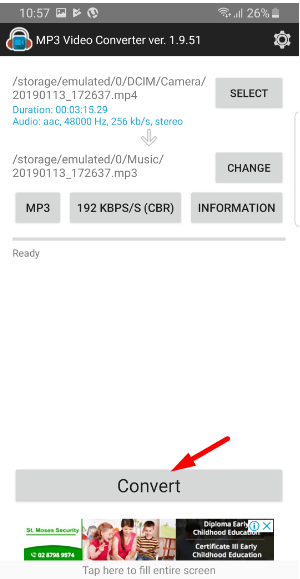 Ok, your file converted successfully now you can find on the path that you have set it. So, you have learned and find that how much this software and article is useful. And whenever you want to convert video to mp3 then hands down, to use this software and in case if you need help then follow this article.
In Conclusion
This method is the best one and you can convert video to audio easily and fast with mp3 video converter. To top it off after reading this article you will find your answer and won't face with any kind of problems.
So thanks for being with us and visit daily our site for latest and useful article.