How to Check macOS Big Sur Screen Resolution?
Finally, you have the latest Macintosh operating system including 85+ features that are handy for you. Apple kicked off the new operating system called macOS Big Sur 11.0 at WWDC20 (World Wide Developer Conference 2020) on 22nd June. After the first macOS Big Sur developer beta version, Apple rolled out several macOS Big Sur beta versions. However, today macOS Big Sur is in Public Beta mode where every user can download and install it. No doubt, macOS Big Sur is the powerful operating system of Apple so far. Although the previous macOS Catalina has incredible features and one of the main features is SideCar (it will help you to use your iPad as a second screen display). So, you might want to check your macOS Big Sur Screen Resolution in order to change, set, or display on an external monitor.
If you have used virtualization software like Virtualbox and Vmware. Or you have installed macOS Big Sur on Virtual machines. Then, the first issue you face is the screen resolution. On virtual machines, after the macOS Big Sur installation, you'll need to fix the screen resolution using a few lines of code. But, to set the screen resolution, you need to find the macOS Big Sur screen resolution. Afterward, you can fix it and set the macOS screen resolution according to your Mac display monitor.
Each macOS version has its own screen resolution that's designed to provide the sharpest text and the most detailed images. In case, you are miserable with the default resolution settings, Then you can set the manual screen resolution. On the other hand, you can change the screen resolution if you feel headaches or eye-strain. However, this will increase and decrease the size of the onscreen content and take some of the pressure of your eyes. Anyhow, let's going to check the macOS Big Sur screen resolution on a Mac.
How to Check macOS Big Sur Screen Resolution?
Before going to change or set a new screen resolution on your macOS Big Sur. You should find the macOS screen resolution settings. It is what I will guide you below and you'll know your macOS Big Sur screen resolution.
#1: If you are on your Mac or virtual machines such as Virtualbox and Vmware. Then, run your Mac and enter your user password to log in. After that, go to Apple Logo and Tap on About this Mac option.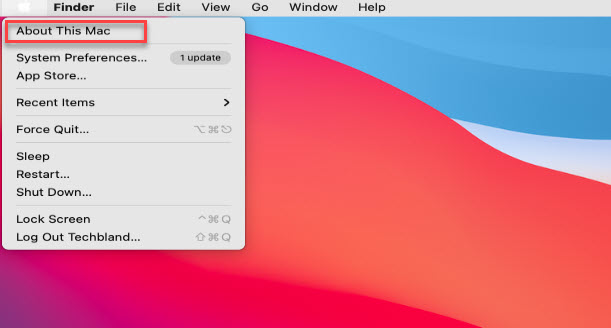 #2: Here you will have a new window that shows the macOS Big Sur system overview. So, click on the Displays option.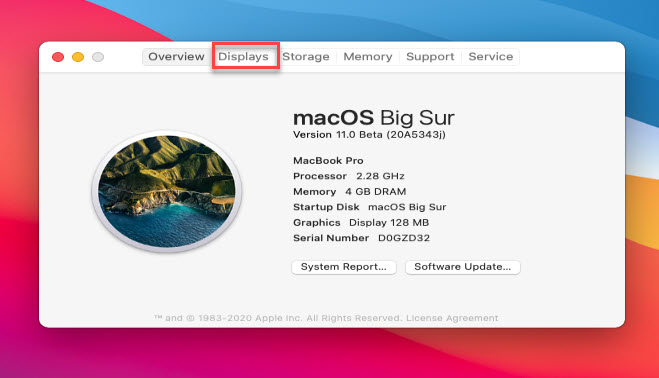 #3: On the displays section, you will see your macOS Big Sur display information. However, the screen resolution is the set of numbers listed in parenthesis just after the size of the display. Like, the listing here says "19.5-inch (1164 x 768)". This means that the Mac in this picture has a 19.5-inch display with an 1164 x 768 pixel resolution.
In case, you have more than one display of your Mac then you will see all of them in this window. You can see the below screenshot example. With an external display, you will find its native resolution listed just under its name.
How to Change your macOS Big Sur screen resolution on a Built-in Display?
If you are not happy with the default screen resolution of your Mac. Then you can change it using the below method. By increasing and decreasing the screen resolution in your System Preferences.
Go to Apple Logo and tap on About this Mac option.
Here, click on the Displays section to show the screen resolution.
On the displays window, click on System Preferences.
In the below screenshot, the "default for display" is selected. But, you need to select the Scaled option, then select the below screen resolution pixel you want to set a screen resolution.
Read Next:
Conclusion
This was the easiest method to check the macOS Big Sur screen resolution on your Mac. However, you can change the default screen resolution as we guide in this article. For a user, it is most to know what is the screen resolution of its Mac operating system. Therefore, this step guides you on how to find your Mac's screen resolution.