How to Use SideCar Feature in MacOS Catalina
Let's have a look at How to Use SideCar Feature in MacOS Catalina: Recently Apple released the new version of MacOS which is MacOS Catalina 10.15, However, this operating system has several major features which are more powerful then MacOS Mojave features. Legions of Mac user are getting into Mac OS Catalina because this Operating system is a great experience for users. Moreover, Apple introduced a new feature in MacOS Catalina called SideCar. Well, SideCar feature is handy and more powerful nowadays in the Mac operating system. this is the new version of Mac OS feature that allows the user to connect their Mac Computer with iPad and iPod, this means you can make your iPad and iPod as a second screen display.
However, you can extend or mirror your Mac computer with iPad as an external screen display. what I say, this tool is amazing and it helps you more to work on your project easily. whatever, you have on your Mac desktops such as apps, documents, photos, and many more files. Once you extend your Mac with iPad then you can see all the files in iPad too. it means you can make your iPad as a projector for presenting your project. So, this is the most powerful tools for the user to get a good experience of SideCar.
Therefore, SideCar is the best MacOS Catalina feature and once you extended Mac with iPad then you can access and control over Apple features like you can use markup, Apple pencil, and lots of other MacOS features. So, SideCar is the newly introduced feature and you might don't know how to activate and setup SideCar in MacOS Catalina then read this article top to toe and you will get the idea how to use SideCar feature.
Which Devices support SideCar
Although you know SideCar is the new feature and all Mac's computer can't handle this feature. therefore, you have to run SideCar in the recent version of Mac's computer which is shown below one by one. if you don't have the below Mac's computer then don't worry you can use SideCar in the oldest computer such as running the one-line code in the terminal. So, copy the code and paste in the terminal and press enter key afterward you are able to use SideCar feature.
iMac 27-inch (Old or newer model)
MacPro
Mac Mini
Mac Pro
MacBook Air
MacBook
If you have the above version of Mac then go ahead and use SideCar if you don't have then you need to run the below code in the terminal. However, those users turned on the SideCar in old models of Mac, then they faced the image qualities. Therefore, to apply SideCar in old Mac computer, go ahead to Dock and open terminal then apply this below code. the below code will allow you to turn on the SideCar icon in the system preferences.
defaults write com.apple.sidecar.display AllowAllDevices -bool true; defaults write com.apple.sidecar.display hasShownPref -bool true; open /System/Library/PreferencePanes/Sidecar.prefPane
Related Articles:
The application that supports SideCar
So, you get the idea which Mac's computer support Sidecar, now I will tell you which apps support Sidecar. the below application will support SideCar and you can use those applications while you are on Sidecar mode.
Affinity Designer
Cinema 4D
Adobe Illustrator
Affinity Photo
Maya
CorelDRAW
DaVinci Resolve
Final Cut Pro
Principle
Motion
Painter
Sketch
Substance Designer
Substance Painter
ZBrush
Before Running SideCar in MacOS Catalina
You are near to SideCar feature and for sure you want to know more about its function. So, here I should let you know that before going to use SideCar in MacOS Catalina you have to know about important requirements that we should full fill that. otherwise, you won't be able to run the iPad as a second screen display in MacOS Catalina. Like, you must use the recent version of Mac's computer which you read in the above heading and it should be compatible with MacOS Catalina. Moreover, SideCar functional with all version of iPad but your iPad should have an effective screen display of 1,024 x 768 it can be 9.7-inch iPad with Retina display, and 1,366 x 1,024 on a 12.9-inch Pro, to give two examples.
Therefore, the iPad screen should be fixed with MacOS Catalina because you are running two screens at the same time and both screens should have the same screen resolution.
How to use SideCar in MacOS Catalina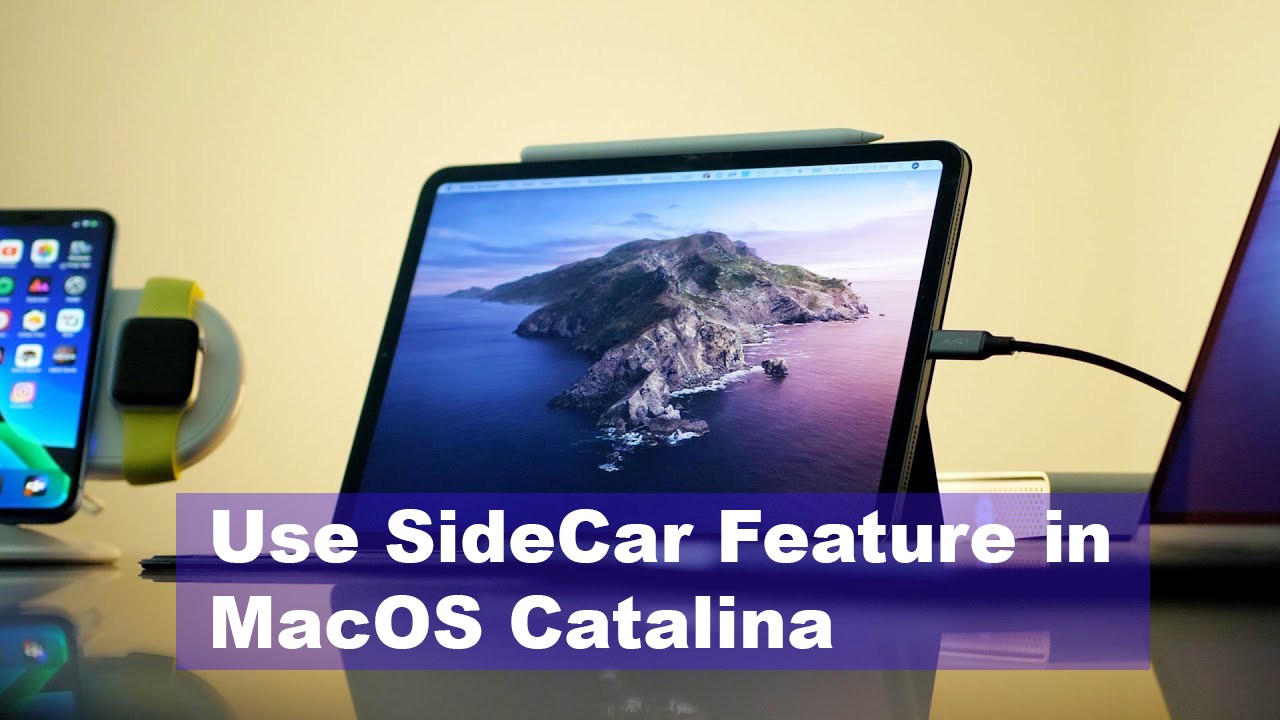 Step 1: Upgrade your Mac to the latest version
If you are running MacOS Mojave or MacOS High Sierra then you need to upgrade your operating system to the latest version of Mac which is MacOS Catalina.
Step 2: Open system preferences on your Mac
Once, your Mac is upgraded to MacOS Catalina then open System Preference on your Mac, then, you will see a square blue icon on the left-hand side that written SideCar, So clicks on the square.
Step 3: Configure your setting and launch Sidecar
Now, click on the Show SideCar on the left-hand side, then Show Touch Bar on the bottom, and Enable double-tap on the Apple pencil. these three tasks are the setting configuration of SideCar which allows you to use SideCar feature.
Step 4: Open SideCar
Once you are done with the above setting, then click the drop-down under the Connect to and select the iPad from the main menu. while you connect the iPad then you will see the screen display automatically on your Mac screen. this is the way you can use SideCar.
Related Articles:
Conclusion
This is about How to use SideCar feature in MacOS Catalina and I try my best to give you everything related to SideCar. therefore, I hope you learn something and if you get any question then feel free to ask me in the comment below. moreover, if this article was helpful to you then don't forget to share your ideas and give us your feedback.