How to Check if Someone Logged into my Facebook
If you are curious about How to Check if Someone Logged into my Facebook or you are suspicious that someone is using your Facebook account without your permission. it can happen that you logged your account into your friend's device or computer and you don't have a clue that did you log out or no OR you are thinking that someone else has your account password. However, Facebook becomes a well-known application that everyone uploads their personal files and share it with people. due to that, they don't want others to use there account.
Might be sometimes you have noticed strange behavior on your account like a post, messages, status that aren't yours. therefore, its a sign that someone else is using your account and you may have been hacked. So, thankfully facebook tracks where you logged in and even you can see which devices are logged into your account with the help of Facebook features.
However, Facebook is famous and in 3rd ranking position in all over the world, therefore, it provides all the data on the location and even the devices or browser that people logged into your account. So, to know this all the things you need to read this article till the end and follow the steps that are mention below.
Best Method of Facebook Video Downloader for Android, IOS and PC Best Video Converter Free Software for Windows & Mac
How to Check if Someone Logged into my Facebook?
Well, we all know it is not good news that someone else logged into your account or even in my account and if you know but again you didn't take action quickly then it's not good. So, you might have a question that how to check if someone logged into my account? actually, Facebook made a feature that we can check but lots of users don't know about this feature because Facebook doesn't let others know. However, you don't know too but don't worry here I will show you about that feature and I will guide you how to can do it.
If you are reading this article from any smartphone device then here I will guide you through smartphone facebook app. well, the method or the feature that I am going to show you and the steps that are below, you can follow the same steps in a web browser.
Check if Someone Logged into my Facebook
Step 1. to start, launch the Facebook app from the home screen of your mobile.
Step 2. log in to your account.
Step 3. now tap to more icon in the top navigation, actually, it seems like three lines above each other.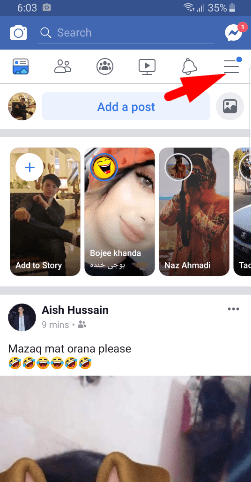 Step 4. now in here scroll down to the bottom of the page and click on the Settings and Privacy.
Step 5. while you clicked then the menu pops up down of the option, So here click the Settings option.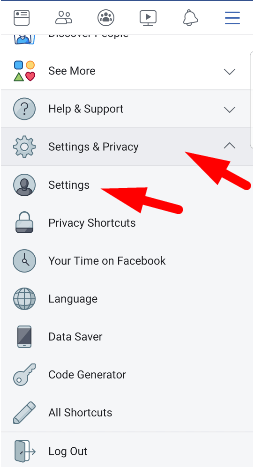 Step 6. to check if someone logged into my account or your account you need to click on the Security and Login option.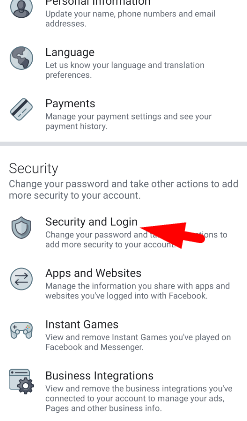 Step 7. Ok, here look to Where you're logged in option, and you will see all the devices that are logged into your account. even if they are logged into your account with a device or any web browser, So, it will show all of them.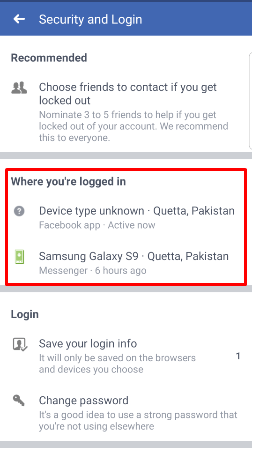 So, now to protect your account you need to remove all those suspicious devices, However, it is quite easy and you can do it with a few steps. but again I will show you how to remove all the devices that you are not logged in.
How to Mirror iPhone to Samsung TV in 2019 Top 10 Best Free Websites to Watch TV Shows Online Top Best Comedy Movies of All Time – Bollywood & Hollywood
Remove a device
If you are looking for removing the devices that look suspicious then you can revoke its access. So, to revoke access click on the device and you will see two option. which is not you? and log out.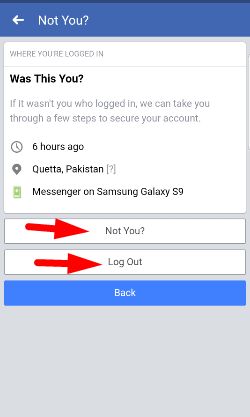 If you click on Not you then facebook will block that device with asking a few questions and walk you through some steps to secure your account. Moreover, if you click on log out then the access will be revoked but the problem is here that the unauthorized person can log in to your account again if they know your password.
Prevent the Problem
If you want to revoke the unauthorized person forever then here you need to do some steps in order to make sure it doesn't happen again.
So, of course, the step is to change your password in order to save your account. to do that go to Settings->Security and Login-> Change Password. So here it will ask you to type your old password in order to complete the process.
Conclusion
In this article, you get how to check if someone logged into my account so, with the help of this article you can check easily and moreover, you can revoke the unauthorized person from using your account. However, the method or the feature that I discussed in here will work any device and web browser.