How to install Oracle Virtualbox on Windows 7/8/10
If you are using Computer or Laptop systems then you have to know about Virtualbox, if you don't know what is VirtualBox then this article is for. so I am here to tell you about Virtualbox and How to install Oracle Virtualbox 6.0 on Windows 7/8/10. If you are using computer and Laptop systems then for sure you have heard about it from anywhere. but you don't know what is it, why we use it, and what is the usage of this. VirtualBox is open free software for Windows, MacOS, Ubuntu, and Linux. simply you can download it free from its official site and use it.
Using Virtualbox is means that you can create Virtual machines or Virtual computer on your Windows. therefore, you can install any kind of operating system inside this software. like MacOS, Windows 7/8/10, Ubuntu and Linux. any kind of OS that you want to install whether it's 32 bit or 64 bit you can simply install it on this software.
How to Install Virtualbox Extension Pack on Windows
For example, if you are using Windows 7/8/10 on your computer or laptop. besides that, you want to use any other OS on your computer and you don't want to delete the previous OS from your computer, then you can use both OS one time with the help of this software.
It is free software that its full name is Oracle VirtualBox. download it and install it on your Windows, if you don't know how to download and how to install it on windows then follow the below instruction.
Best Video Converter Free Software for Windows & Mac
How to Download Virtualbox 6.0 on Windows
You can download it from its official website. It can be installed on Windows, MacOS, and Linux systems.
How to Install Virtualbox 6.0 on Windows
The file downloaded will have the file name format like VirtualBox-6.0.0-127566-Win.exe. Double click on the installer to launch the setup wizard, and click on the Next button.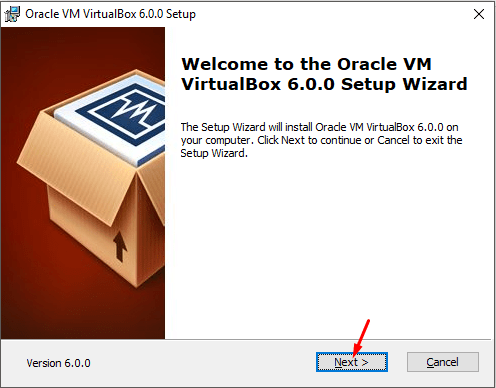 A custom setup dialog box
There is not much to choose from Custom setup dialog box just simply go with the default option. and click on the Next button.
If you want to change the installation directory then click on the browse button but I leave it as a default.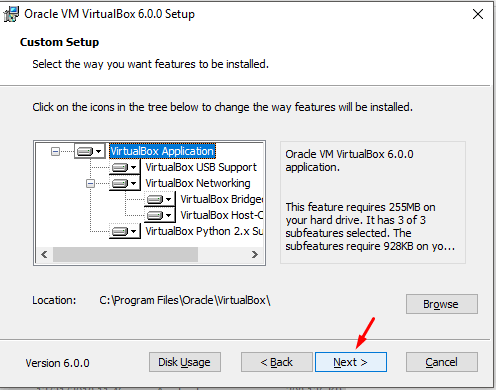 Custom setup Features
Here you can choose which features you want to install, but I leave it as a default and click on the Next button.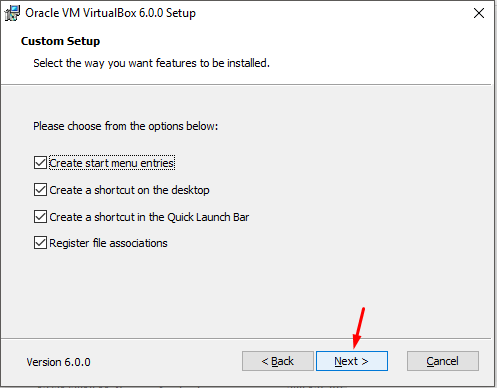 Network Interfaces Dialog Box
This dialog box warns you about setting up a Network Interface. this means that it will install network interfaces that will interact with the installed virtual machines and the host operating system which in our case is windows. This will temporarily disconnect you from the internet but that OK, nothing to worry.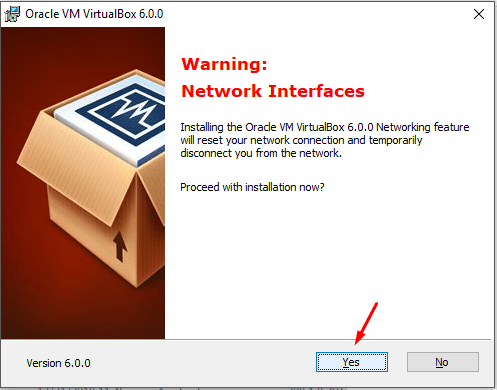 Ready to install the Software
Your installation is ready to install just click on the install button.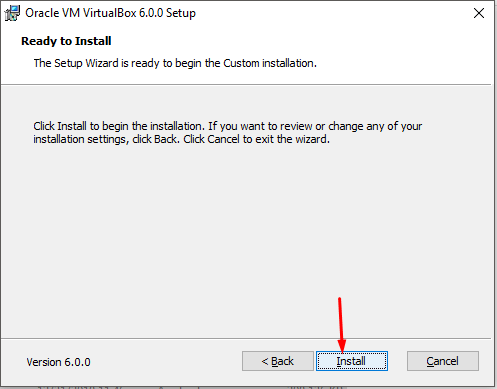 After clicking on the install button, you will probably see the User access control confirmation dialog box from Windows OS. This is a security feature in Windows that wants to confirm if the application should be allowed to proceed with the installation process. Click Yes to continue and you will see that the installation process will begin. Wait for the installation to complete.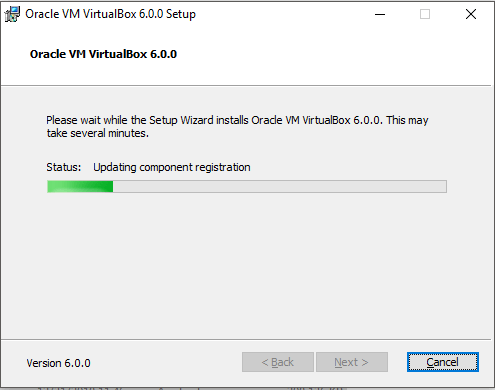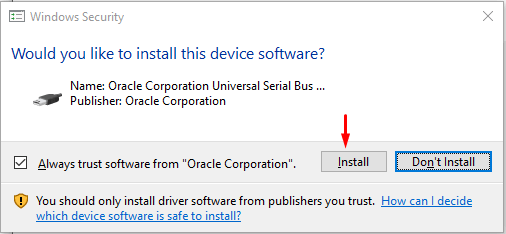 Installation Done
Now you will see the installation dialog box and now you have done installation successfully. you can start Virtualbox by clicking on the check option box.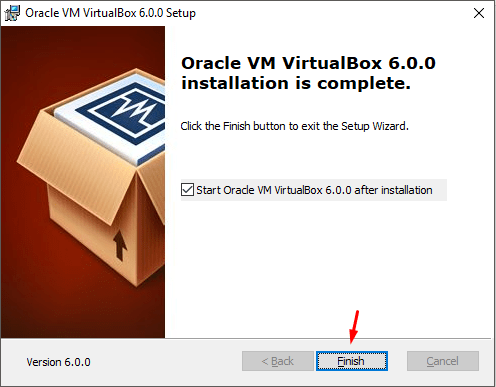 Now you have this software on your windows but before launching let's install it's extension pack. you can download the Virtualbox extension pack from its official website.
Install Virtualbox Extension Pack
After downloading the Extension pack. open Virtualbox host software click File –> Preferences
Step 1. go to Extension and click on the browse button.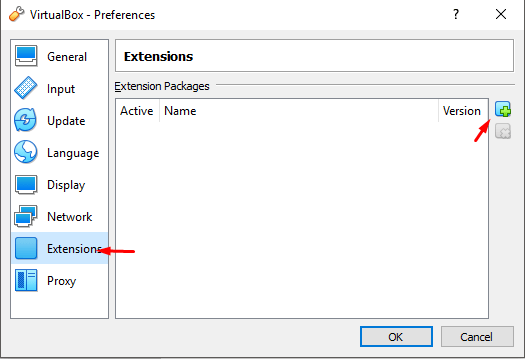 Step 2. select the extension pack download file from the folder and open it.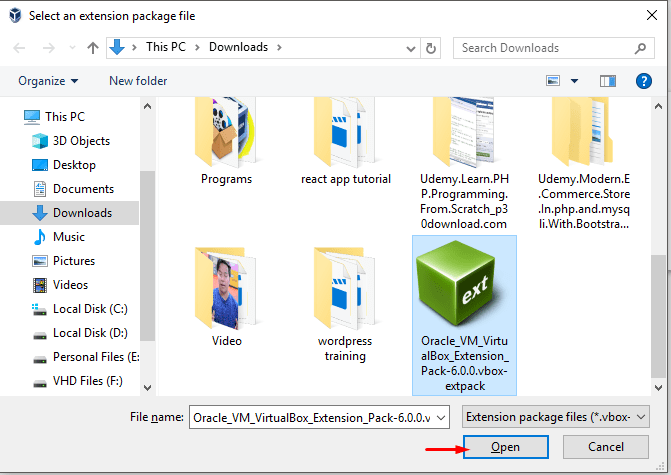 Step 3. you are about to install an extension pack. Extension packs complement the functionality of VirtualBox and can contain system-level software.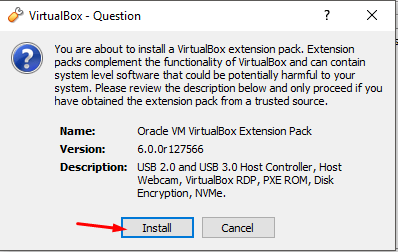 Step 4. after installing the extension pack then you need to agree on the agreement.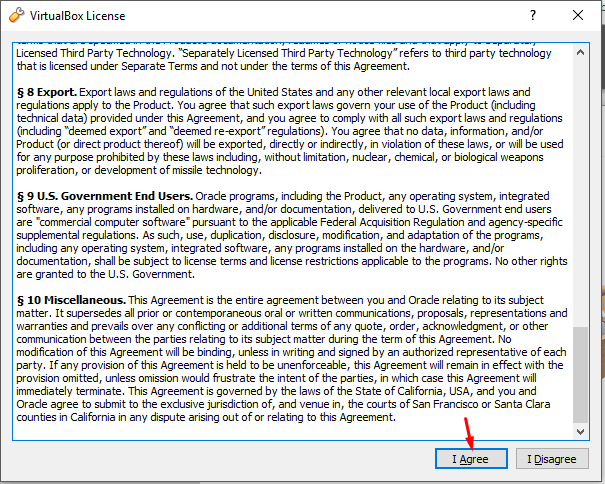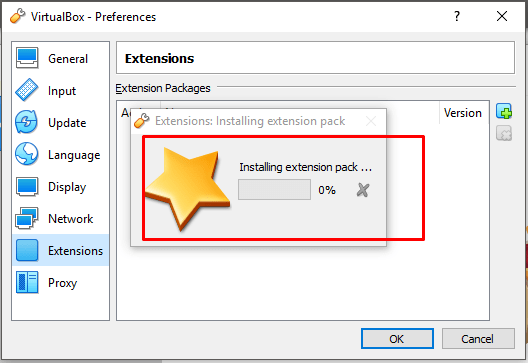 Step 5. now the extension pack has installed successfully on your VirtualBox. Click on the ok button.
When you're done, VirtualBox software will be ready to use and install guest operating systems.
Conclusion
This post shows you how to install Virtualbox 6.0 on Windows 7/8/10, it's a very easy method to do download and install on Windows systems. It's free and allows users to run multiple test labs without incurring additional costs for computer hardware.
if you have any kind of problems with downloading and installing this software then feel free to leave comments.