Samsung Galaxy S10 – Everything you need to know
Samsung Galaxy S10 – Everything you need to know about S10, S10+, and S10e. Samsung Galaxy is in high demand from the legions of smartphone users, and Samsung Galaxy is one of the best smartphone company who is releasing an amazing smartphone every year with the best design and price. so the same Samsung Galaxy has announced their new three devices which is Samsung Galaxy S10, S10+, and S10E. these three devices are the best of the best and if you see to its design then, needless to say, it's amazing.
So, in this article, I will let you know about the Samsung Galaxy S10 phone and besides that, I will tell you about the Samsung Galaxy S10 price and Samsung Galaxy S10 release date. although Samsung announced the newest phone in the year 2019. so here I will give you complete detail about the newest Samsung phone.
Samsung Galaxy S10 – Everything you need to know
Ok, dear Samsung user here I will give you the detail about Samsung Galaxy S10 price, release date, design, performance, camera, and Battery life. so read this article top to toe and get your answer from this useful article. ok, let's get started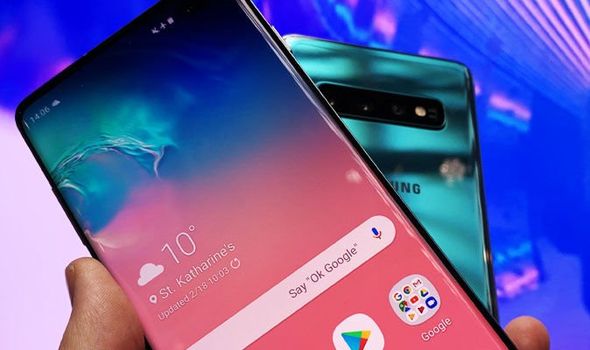 Samsung S10 specs
Review Price: $899 | AU $1,349 |£799 | AED 3,199
Weight: 57g
Size: 149.9 x 70.4 x 7.8mm
Screen: 6.1-inch, 19:9 (Edge), Wide Quad HD+, Dynamic AMOLED+
Rear camera 1: Dual Pixel 12-megapixel OIS f/1.5 – f/2.4 AF
Rear camera 2: 16-megapixel ultra-wide f/2.2 FF
And Rear camera 3: 12-megapixel telephoto OIS f/2.4 AF
Front cameras: Dual Pixel 10-megapixel f/1.9 AF
Memory: 8GB + 128GB / 8GB + 512GB – microSD up to 512GB (all)
Battery capacity: 3400mAh
Processor: Octa-core 8nm processor
Dimensions: 149.9 x 70.4 x 7.8mm
OS: Android 9
Resolution: QHD+
CPU: Octa-core chipset
Samsung Galaxy S10 Price
First of all, you will need to know about its price then you can buy it, so here I will give you the detail about Samsung Galaxy S10 price. therefore the Samsung Galaxy S10 price starts from $899 | AU $1,349 |£799 | AED 3,199 for 128GB storage model. it means that you are spending an additional $180 /  £60 / AED 100 on this phone over the S9 launch price.
If you want to use more storage and you don't want to use a microSD card inside the galaxy S10 then you can opt for the 512GB Model then it costs $1,149 / £999 / AU$1,699.
If you like the design of Galaxy S10 and you think its price is too high then you have another option too. you can go for the cheaper Galaxy S10e, which starts at  $749 /AU$1,199 / AED 2,699 / £669 /. this price for a new 6.1-inch screen and 128 GB storage is amazing, and you have to go with it.
Ordering Samsung Galaxy before March 8 (means in advance) then it will net you bonuses in some countries. in the US, for example, Samsung is offering free wireless Galaxy Buds and it worth $149 / AU$249 when you pre-order either Galaxy S10 or Galaxy S10 plus.
Samsung Galaxy S10 Pre-order Deals
Here you can order Galaxy S10 now, below are the top websites that selling Galaxy S10. so, check it now and give it a try.
AT&T, T-Mobile, Sprint, and Verizon are all selling the phone, too.
On top of Samsung's website and through carriers, you'll also be able to purchase the Galaxy S10 from:
Samsung Galaxy S10 Release Date
It's a fabulous product that will be launch as soon as possible, the good news for the volunteers of Galaxy S10 will be in stock in different countries, companies, and shops. although the date is given by developers on Feb 20, the product will be released Friday, March 8. as the Samsung Galaxy users are willing for the new models and shapes that's why in the US on Feb 21 the users pre-ordered for S10. the wait is over for the lovers of Samsung Galaxy S10.
Although Galaxy S10 is more expensive than every model of Samsung galaxy because it is fresh and in high demand from the legions of users. we noticed the iPhone XS and some of the users prefer S10 more than XS due to the screen size as well as its functions.
It's pretty crazy and unbelievable that the Samsung company is releasing more than two devices, it will be a piece of the great and fantastic news that the Samsung compression will be with its model Samsung. the Galaxy S10e is cheaper and feels pleasant to use, while Galaxy S10 plus is the device you prefer the most if you can fulfill the expensive price and screen size. moreover, it is to notify galaxy S10 is performing 5G.
Samsung Galaxy S10 Design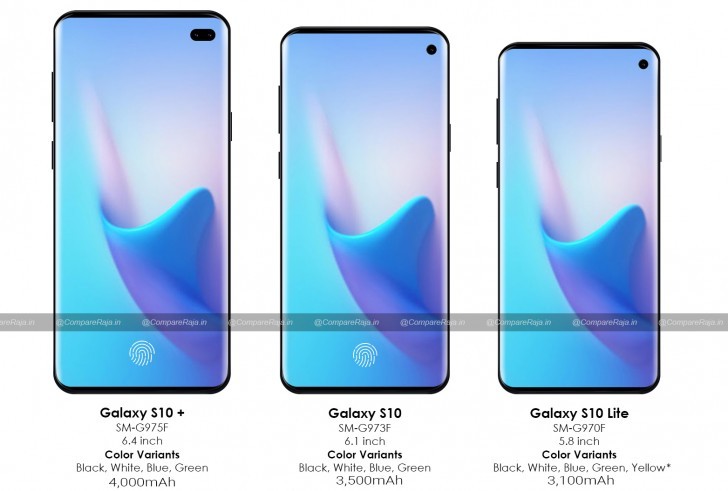 Fortunately, Samsung S9 and S8 design are matching in shapes, while S10 is surprising and wondering for all the users. it is having thinner aluminum frame is sandwiched between smooth glass, with the back coming in your choice of color: Flamingo Pink, Prism Black, Prism Blue, Prism White, Canary Yellow, and Prism Green. Samsung Galaxy S10 colors will vary by region, with the US getting all but yellow and green.
There are the smallest camera bumps on the backside of the phone as a triple-lens camera array. these functions are in very high quality and it's a particularly clean look in a world of camera bumps and rear-fingerprint sensors.
In the latest models of Samsung Galaxy, the fingerprint sensor is on the backside of the phone but here to let you know that the S10 fingerprint sensor is in the front of the screen which will be very functionally and you will be aware of the stucking error. and it's to say that the previous phone scanner takes a little longer time and needs more pressure on the scanner to read your finger. but so far, you are looking for the scanner to unlock the phone in a second.
the welcoming page of Samsung isn't changing from a decade ago, still, it's the same. but the Galaxy Company has made a new and wireless headphone jack in 2019, which is very standard from the other headphone devices.
Samsung Galaxy S10 Performance
If I tell you about its performance then S10 mobile is the best and unique among all others Galaxy and its performance is off the hook. you can hold the mobile for a late period and it is very flexible for holding it and using it. it is to say that, it has a different style that's why the fan of Samsung is more in a hurry for the launching.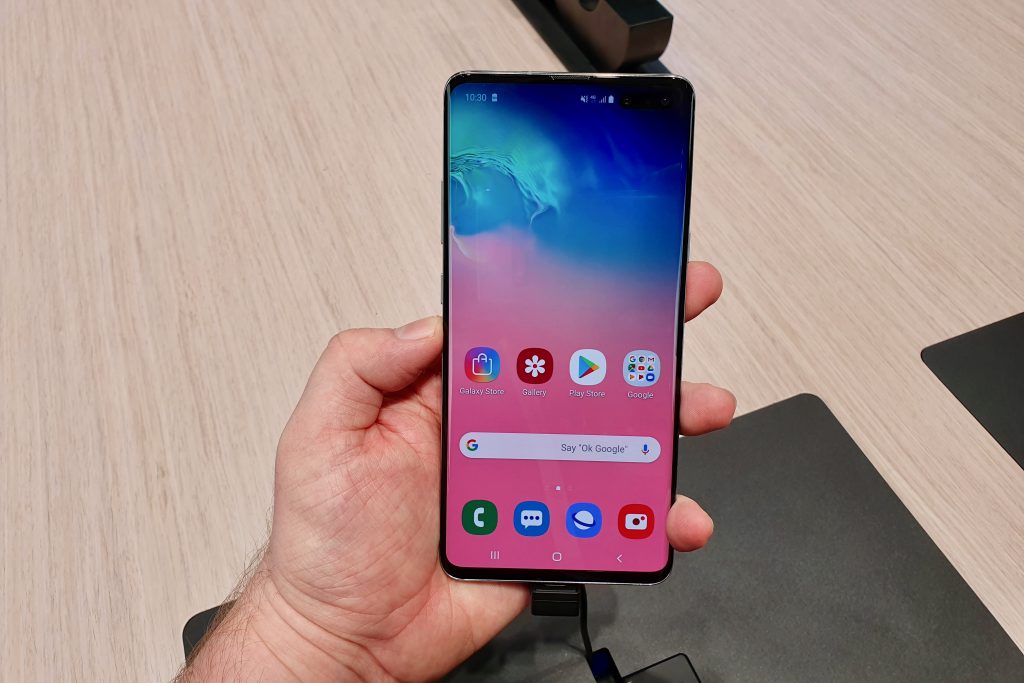 The S10 mobile is new and standard with 8GB of RAM rather than 4GB of RAM. it is up to you how to choose your phone storage weather 128GB or 512GB storage. moreover, if you want to use the MicroSD card so you can go with it. and besides that, it supports wireless charging and an IP68 water resistance rating.
Also, you can have some more features while your phone is unlocked, that is through your setting the name is Visibility enhancements. you can go through some pictures even your pictures when your phone gets unlock on the screen the picture will be visible.
Samsung Galaxy S10 Screen
It has a beautiful and attractive screen which is a 6.1-inch and 19.1 super AMOLED display panel. it has the edges of a curved pixel from all side, the mobile brightness is that much that even you can easily check your phone or use your phone outside and the HDR-10 support is also available in the shape of superior contrast and color.  There is a QHD+ resolution too. which creates a pixel density of 550ppi, everything is available on the screen you can easily find out the applications or apps you want. you can watch videos and movies on its default full HD+. you can't notice whether you are watching in the cinema or on S10 phone. It also saves battery life by burning fewer pixels.
The new Infinity-O display type is what stands for. Is it useful or useless? Samsung provided a notch cut- out at the top of its flagship phone. instead of using a laser-cut hole in the top right corner of the screen to enable the front-facing camera, as on the honor view 20.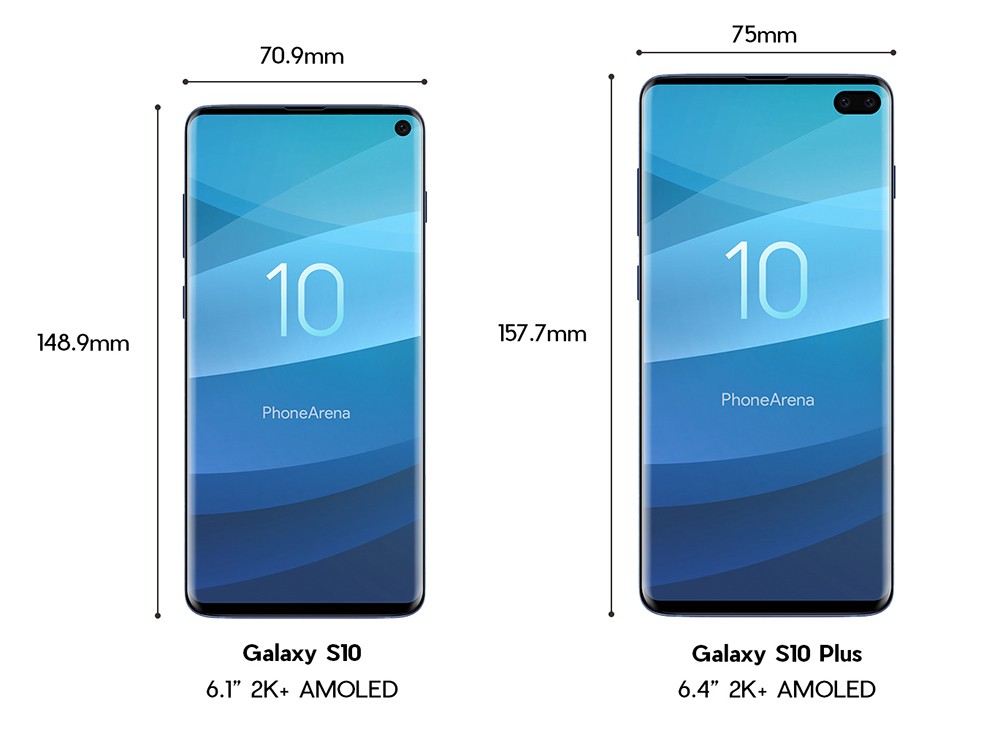 Don't let the bigger 6.1-inch screen size scare you off. The S10's dimensions are 149.9 x 70.4 x 7.8mm (it weighs 157g), so it's only marginally taller and wider than the S9 with its 5.8-inch screen, and noticeably thinner and a bit lighter.
Those marginal increases in height and width are because of S10's screen-to-body ratio of 93.1% (last year was 83.6%). The S10 Plus sports that 6.4-inch screen with the same screen-to-body ratio and a nice size if you're wary of false corner touches (especially when typing) due to the bezel-less edges, stick with the normal S10.
Camera Features
The S10 mobile takes fabulous photos, even in mixed low light. it is not that much dark on phones.US Mobile Editor David Lumb, and the bright moving flames are captured with detail without being overexposed.
let's have a hard look at the camera, the comparison is with the class-leading Pixel 3, and determines the ultra-wide photos look. Samsung's 123-degree field of view is rather wide, which leads the purpose of not having to back up to get everything in a shot. But that may result in an unnatural fisheye look. This ultra-wide camera also lacks OIS compared to the other two lenses.
the front camera, we have a single 10MP camera with dual auto-focuses. If you upgrade to the S10 Plus, you'll also get an 8MP camera meant for enhancing depth in portrait photos.
If you want to know the video side, the software has been upgraded to record in HDR10+ and offer Digital Video Stabilization. Samsung offered to make all of your Ultra HD video as smooth as an action cam. Shots fired, GoPro Hero7 Black.
Battery Life
Well, the new product contains 3400maH battery, and as you know Galaxy S9 has a 3000maH battery. So, S10 has a large screen size that's why the company has set 3,400maH battery. needless to say, the S10 battery is the best and while you charge your Android phone then it will enough for more than 1 day. there is a wireless charger for the new release mobile that you can use that one too, but the S10 phone will have a wired charger with itself.
Also onboard is next-gen Wi-Fi 6, which will support the seamless transition between Wi-Fi routers and is four times faster than 802.11ax. It should deliver a 20% speed boost, but you'll need a new router to get any use out of this feature.
Read Next:
In Conclusion
Samsung is one of the top smartphone company among thousands, per year they release the new and amazing mobile product that is off the hook. So, don't miss the new product of Samsung and buy it from the links mentioned in this article.