Apple Music Download: Enjoy Your Favorite Songs Offline!
"I have been subscribed to Apple Music for a long time now, but I suddenly wanted to cancel it. I love all the playlists I created, and it feels difficult to lose them. Is there any way I can do Apple Music download for streaming offline even without subscribing?"
The above is one of the usual queries from Apple Music users who are trying to decide if they would want their subscription to end or be canceled. They might sometimes feel the burden of paying the monthly due but still, losing the playlists and songs they have in there could be a drawback.
Apple Music is a streaming site that is also subscription-based, the same with others like Spotify and Google Play Music. Because some do not actually have an idea that Apple music songs can actually be downloaded at not much cost or just wanted not to look for a way, they would just settle with paying the fee on a monthly basis.
Are you one of those in search of methods to keep your money while keeping your Apple music playlists? If yes, then this blog post is dedicated to you. As you go along this post up until the end, you will know the basic and easy way of downloading Apple Music songs.
Part 1: Apple Music Download: For Premium Subscribers
Though being a premium subscriber costs some penny, some actually do not bother. If you are one of those people, then you must at least know how you can perform Apple Music downloading for easy offline streaming.
But, if you wanted to remain an active Apple Music subscriber, that would depend on you. We will also give some pointers on how you can keep the Apple Music songs you love for offline listening while paying the premium.
Firstly, you need to make sure that you have enabled your iCloud Music Library. Here is how you can do it.
Enabling Your iCloud Music Library
On Your Handy Devices (iPhone, iPad, etc.)
Head to your device' "Settings" then look for "Music"
Make sure to toggle the button to turn on the "Sync Library" option.
On Your Mac Computer
Open your Apple Music application.
You will be seeing a menu bar in the top portion of your screen. Choose "Music" then from the options, select "Preferences".
Now, you need to head to the "General" menu and make sure to check the "Sync Library" option.
Once done with the above, hit the "OK" button.
On Your Windows Computer (With iTunes App)
Make sure that you have the iTunes application. Open it.
You will notice the menu bar at the top. Hit the "Edit" button followed by "Preferences".
Go to the "General" menu and choose "iCloud Music Library". Make sure to turn it on.
Then, hit the "OK" button.
Once you have enabled the iCloud Music Library on any device you are using (as long as you are subscribed to Apple Music's monthly premium), you can now do the downloading of Apple Music songs. You have the option to allow automatic or selective downloading. We will be showing the procedures for both.
Downloading Apple Music Automatically
If you wish to save all Apple music songs automatically, you can do the procedure below.
On your mobile device, you need to go to the "Settings" button and choose "Music".
You will see the option saying "Automatic Downloads", make sure to toggle the button to enable it.
After doing so, you should expect that the music selected is automatically downloaded in the device.
Downloading Apple Music Selectively
If you find the automatic downloading as a hassle and "storage-eater", then you might want to try the selective Apple Music downloading. You can do it by following the below easy steps.
On your iPhone or iPad, go to your music application.
Choose any Apple music song or album that you wish to download.
You will see the "+Add" button. Tap this one to proceed with downloading.
As simple as the above, you can get the Apple Music songs you love on your device for offline listening.
Now, the question arises when you are no longer interested in paying the monthly subscription fee. How can you still download the Apple Music songs saved on the playlists you created?
Part 2: Apple Music Download: For Premium And Free Users
If you wish to cancel your Apple Music subscription but still wanted to keep all the Apple Music songs on all your created playlists, then you must check out a tool to help you do so.
We are to give you information about a reliable third-party software application named DumpMedia Apple Music Converter. This has a number of great things and perks it can offer to every individual. If you have this DumpMedia Apple Music Converter installed on your computer, you can enjoy the following features.
The interface is too easy to handle and control. You will not have any issues when it comes to navigation since DumpMedia Apple Music Converter is very user-friendly.
Since Apple Music songs are known to be protected by DRM, every user is facing difficulty in the downloading process. This makes DumpMedia Apple Music Converter stand out from the other available tools on the web as it can remove mentioned protection without taking quality at risk. You can still expect the best outcome possible which is almost the same with the original.
Not only downloading, but DumpMedia Apple Music Converter can also do the transformation of Apple Music files from one format to another. It supports several different formats that you can identify and check on the official site.
Apart from being able to process Apple Music songs, you can also use the application to convert even your favorite Audiobooks (in case you are fond of listening to these). If you got iTunes audiobooks or purchased one from sites like Audible.com, you can have those processed and converted here. Through this tool, you can also access audiobooks offline.
Take note as well that while doing the process of transformation and downloading, you will surely not get bored because the speed the tool promotes is too good at 16 times faster than any other software applications you will see in the browser.
DumpMedia Apple Music Converter installation
There are as well some requirements which are needed to be fulfilled in order to proceed with DumpMedia Apple Music Converter installation on your device. You need to take your personal computer's status as consideration including storage and monitor. For more details, make sure to visit the mentioned site above.
Talking about the guide on how this DumpMedia Apple Music Converter can be utilized at its finest, below must be noted.
Adding Apple Music songs on the program.
Selection of output format after conversion.
Convert and finish the process.
Step #1. Adding Apple Music Songs On The Program
Initially, after the program has been successfully installed on the personal computer, this needs to be launched and opened to begin the whole process.
Once the main interface has been seen, there would be a need to add the Apple Music songs which are intended to be transformed and downloaded. A number of songs can be processed one time so adding as many as you want is possible.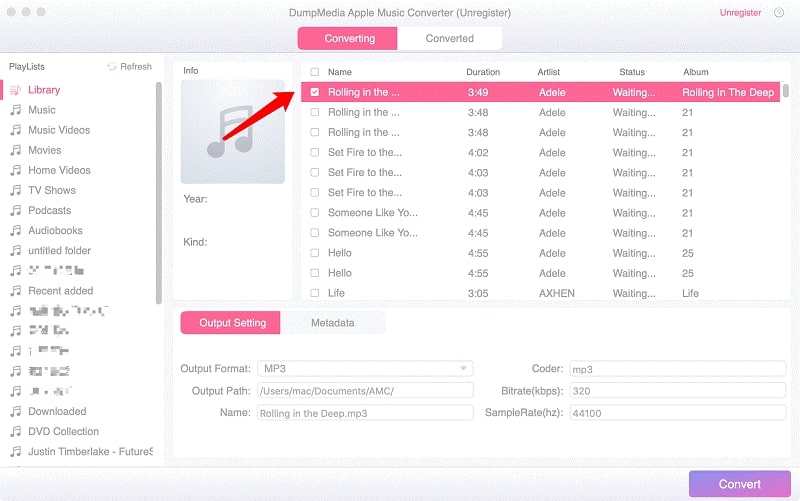 Step #2. Selection Of Output Format After Conversion
After songs have been imported, the next thing needed is to identify the target output format after conversion. You can have it specified in the "Output Format" section. You can use the downward arrow to see the options available.
Make sure to put the correct output path and name of the file to be downloaded. You can adjust the sample and bit rates depending on your preference as well.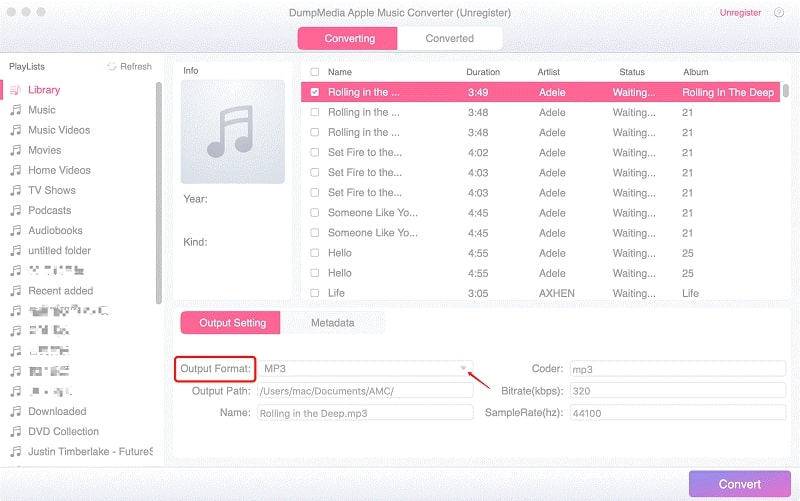 Step #3. Convert And Finish The Process
The "Convert" button at the right bottom part of the screen will end everything. This needs to be hit to start the transformation process and finally get the output file.
If you wanted to monitor the process, you can see some bars on the screen signifying the status of each song being converted. This could serve as your reference.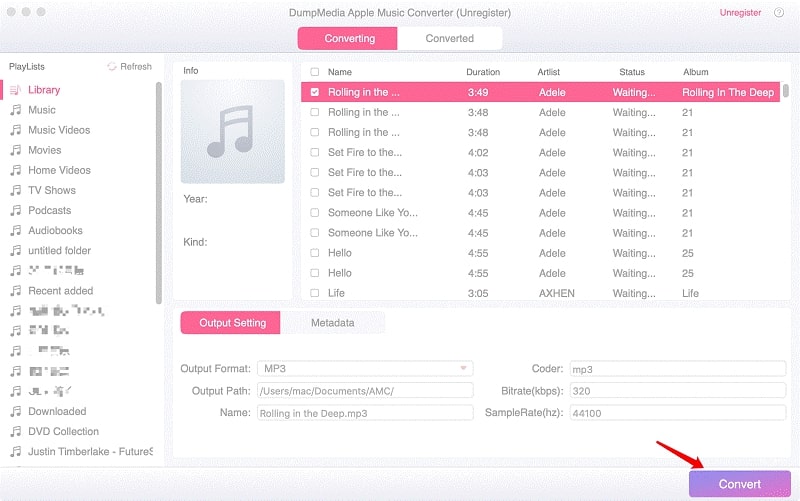 Read Next:
To Sum It All
Who would not want to have all the Apple Music songs saved and kept on our devices? Getting copies of your most loved songs will always be a great pleasure especially when you do not need to pay just to enjoy listening to those.
And, hopefully, in this article, you were able to find out the best way possible in order to download all your Apple Music favorites with just the aid of your fingertips. Relaying to great tools like DumpMedia Apple Music Converter will always play a significant thing.
Have you ever performed the same process before? Or, do you have a tool already in mind? If you still do not have one, then maybe you check out this DumpMedia Apple Music Converter?