Pick Up the Best External Hard Drive for your Mac in 2021
Why do you need to purchase an external hard drive for you Mac? though there are several Mac computers that have more internal storage. But, you have a Mac that internal storage is not that much that you want. As many people store a large amount of content and only internal storage is not enough for them to store their data. Therefore, you are here to pick up the best external hard drive for your Mac to buy now.
In other words, upgrading your Mac internal storage will cost a pretty penny, you might not afford that but you prefer to use an external hard drive to transfer your data. However, external hard drives consider fast, dependable, easy-to-use, and portable. The files with external hard drives are always with you anywhere anytime.
Not only this much, but even you also can backup your Mac to external hard drive or you can use the drive to save your personal files that you don't want others to access. As a result, there are many reasons to use an external hard drive.
So, in this article, you will find the best external hard drive for your Mac desktop with affordable prices and the best quality that worth your money.
Why do you need to use an External Hard drive for your Mac?
The only reason you will need to use an external hard drive for your Mac is to increase the storage capacity in order to store more files. However, the external hard drive will help the user to transfer their files quickly between devices. Or, you can use the external hard drive to save your personal data that you don't want others to access.
Moreover, most of the users purchase an external hard drive to back up their Mac or files if they are looking to reset or sell their Mac computer. This way is good for anyone to have a backup of their files. But, to use an external hard drive with a time machine you need to format the external hard drive then you can backup your Mac with a time machine.
Finally, many other reasons are here that users want to purchase an external hard drive, and having an external drive is the best choice to access the data anytime anywhere.
Pick Up the Best External Hard Drive for your Mac in 2021
The below external hard drives are the best and second-to-none for your Mac desktop to transfer files or store your important documents. To know more about the hard drive, check the below details, and click the link button to get the external hard drive at affordable prices.
1:
WD 4TB My Passport Portable External Hard Drive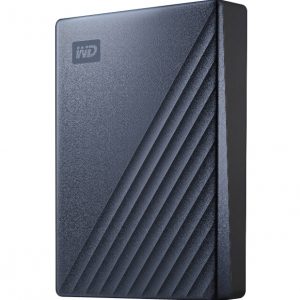 If you want to have the best external hard drive then WD 4TB external hard drive is the best option for you to pick up now. This is the latest drive of western digital and this time it comes from 1TB to 4TB storage size. It has several features like cloud storage and 356-AES encryption along with WD's own backup software.
Moreover, this external drive will offer you the top best and speed data transfer feature and it has a brilliant balance between high storage capacities and fast file transfers according to its price.
2: Toshiba Canvio 4TB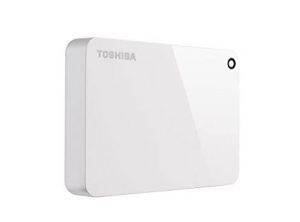 Toshiba is one of the demands portable external hard drives from the legions of users. It has a high-quality reputation and thousands of customer that prefer Toshiba external hard drive to store their files. Here is the Toshiba Canvio Basics 4TB Portable External Hard Drive USB 3.0 supportable in Black color. You can choose between 1TB, 2TB, 3TB, and 4TB storage space at various prices. Besides that, you can order a Hard Drive carrying case which costs an extra penny.
The Toshiba design with a matte, smudge resistance, and it is easy to use without installing any software. Toshiba provides a 1-year standard limited warranty and the system requirement is "Formatted NTFS for Windows 10/8.1/7" and "reformating Mac OS Mojave, Catalina, and Big Sur".
3: Seagate Backup Plus Slim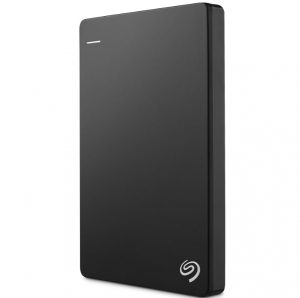 Seagate is one of the trusted and best drives for Windows and Mac users to transfer a large number of files between devices with low-cost in the market. If you are looking for a reliable external drive with a decent amount of storage and portable then Seagate Backup Plus Slim is the best one for you to buy now. The drive comes formatted for both PC Windows and Mac and you can save your important data to the drive.
This external hard drive system is awesome and it has the best tool to backup your Mac daily, weekly, or monthly or even you can set schedule backups to ensure you never gonna miss any of your files. In case, your computer crash then you have a backup of your files.
4: Western Digital My Book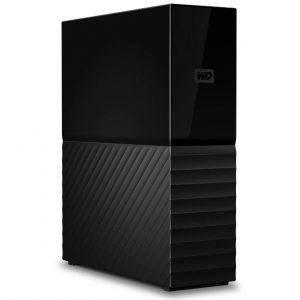 If you are looking for large storage at affordable prices including fast transfer speed files. Then, the Western Digital My Book is one of External Hard Drive for you. It comes in various storage and the starting is 3TB till 14TB. The minimum price starts at $80, If we look at the price then this is the reasonable and affordable hard drive to pick up. You can use Western Digital My Book HHD to backup your files using "Time Machine".
The External Hard Drive comes with USB 3.0 and it offers 256-AES encryption while you are downloading the handy security software. The main thing about the hard drive is to put your files private and this external hard drive will do it for you. Therefore, you don't need to look out for other hard drives though this one is the best.
5:
LaCie LAC9000298 Rugged Mini 2TB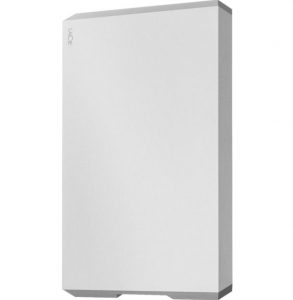 Here is the LaCie Rugged new external hard drive with high quality and affordable prices for your Mac and your Windows. If you are the one who travels anytime anywhere and you have a large number of data with less internal storage. Then, this one is for you and I recommend you to go with LaCie Rugged 2TG external hard drive. However, you can easily transfer files between two devices and you can use it to back up your files.
The LaCie maximum capacity is 5TB with 130MB/S file transfer speed including USB 3.0. Moreover, it has a handy feature that will help you to backup your file with easy backup software.
6: Buffalo MiniStation Thunderbolt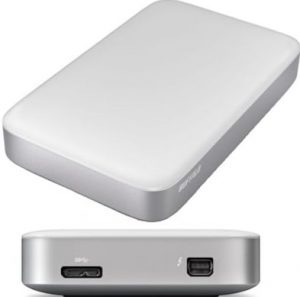 Buffalo MiniStation Thunderbolt is one of the affordable and best external hard drives for Mac users to transfer or store their files. However, if you want to make use of your Mac desktop thunderbolt port, then, I recommend this external HDD to go with. You will have twice the speeds of standard USB 3.0 drives. Moreover, this external hard drive doesn't use SSD, as it still uses a traditional hard drive.
Although the speed is not that much according to the price, it works fine. And Buffalo MiniStation thunderbolt provides you a USB 3.0 port for connecting to your Mac.
7: Apple AirPort Time Capsule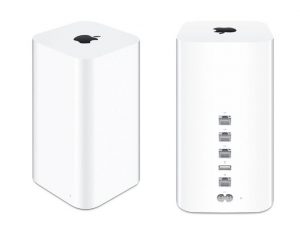 Without including Apple External Hard Drive, I don't think the article can be interesting. Apple is one of the top brands for its software, products, smartphones, and many more. However, you are using the Apple desktop like a Mac computer. So, why you don't prefer to use Apple Airpot external hard drive. I know, the storage might not be enough for you. But, the Apple Airpot is the best and it gets positive responses from customers.
You can backup your Mac with this wireless hard drive using Time Machine or other backup applications. The Apple Airpot Time Capsule includes a Wi-Fi base station with the latest 802.11ac technology and simultaneous dual-band support. So, you can choose from 2TG and 3TG models at an affordable price.
8: G-Technology G-DRIVE (4TB)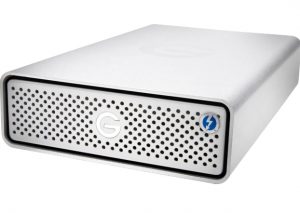 You know Apple is going with USB-C and Thunderbolt 3 nowaday and some users are still using the old version of the hardware. Therefore, they never in need of hard drives that use USB-C connections. In case, you are using USB-A or Thunderbolt 2 for your Mac connection. Then, the G-Technology G-Drive USB 3.0 is one of the best partners.
It's the design of metal which is more strong than plastic hard drives. However, the design and the drive looks awesome. Moreover, the 7200 RPM speed allows the G-Technology to receive 195 MB/s read and write speeds. It means this drive transfer files very fast and you can transfer large videos quickly.
9: Samsung Portable SSD T5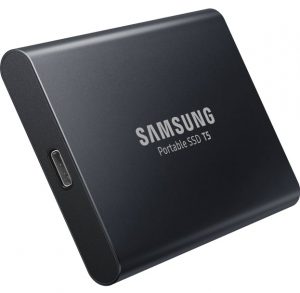 The Samsung Portable SSD T5 is one of the best performing storage device having 550 MB/s speed. It has the USB 3.1 specifications that can help you to plug the drive directly into your PC and Mac. However, you can connect the SSD with the new USB-C or USB-A. The Samsung SSD T5 has the best suitable size which is portable to anywhere.
Well, the Samsung SSD T5 may not be affordable for some users, as the less storage comes with high-cost. Therefore, for backup purposes, I will not recommend this SSD. And you can go with any above and below external hard drive.
10:
LaCie Porsche Design 2TB USB-C Mobile Hard Drive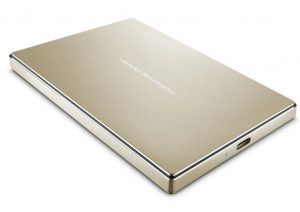 The LaCie External Hard Drive looks somehow like a mobile. If you notice the LaCie Rugged Mini, LaCie Mobile Drive, and other LaCie brands shapes are like a smartphone. It is easy to use an outdoor and fast transaction drive. The LaCie comes in two color Gold and Rose Gold with 2TB storage which is enough for personal purpose.
This drive delivers 5GB per second speeds and it has USB-C connectivity with USB 3.0 port compatibility. Looking at the price the storage is fine and you can use it for your personal task to store your files in a private way. To use LaCie Porsche Design 2TB recommends the latest version of Mac OS and Windows OS.
11: Buffalo MiniStation Extreme NFC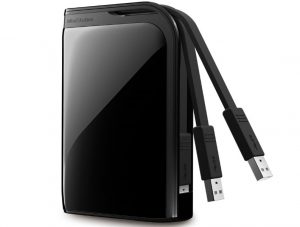 The Buffalo MiniStation is one of the best external hard drives. And the Buffalo MiniStation Extreme NFC (Near Field Communication) is compatible with Mac and Windows desktop. So, this device comes with a rugged case that is safe from dust and water. Moreover, it comes with a built-in USB 3.0 port cable.
Your data is safe and protected from different trouble but it also got 256-bit AES security and NFC features. However, if you are looking for the protected external hard drive, then, this one is the best for you Mac, and your file.
12: iStorage diskAshur 2TB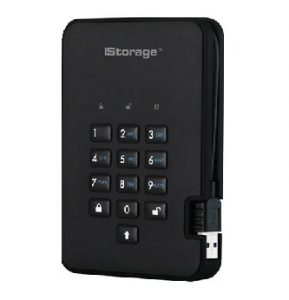 I know the external hard drives can store and save your personal files. Moreover, it can stop people to access the data inside. But, if you lose your drive or someone stole your external hard drive. Then, at that time, you never can protect your data though they can access your personal content. In this case, the iStorage Drive is the best and protected drive for you.
However, you can set the drive to self-destruct and the data will be encrypted by the 256-bit AES protocol. Like this, the person will never access your files if they have the drive with it. Besides that, the iStorage drive is not affordable for anyone because it comes with $300. But the file is more important than money.
Check the below Quality in External Hard Drive
Many Mac users don't prefer External hard drives to store or save their data. As you know the Google Drive increases the storage limit from 15GB to 20GB. Moreover, you can save your file in Dropbox too. So, the external hard drive is recommended for those who work with large numbers of files. Or, they want to have a backup of their data. Therefore, before going to purchase the above best external hard drive for your Mac. You need to check the below important things.
HDD vs SSD: Which one is handy for a Mac user? Well, if you want your Mac to work speed and fast. Then, SSD is the best option. Or, you want to have more storage space then go with HDD.
Capacity: You have to check the capacity of the external hard drive before going to purchase. However, most of the drives begin at 128GB of storage like Macbook Air hard drive. Although it works doubles in their way up to 2TB SSD and 4TB HDD.
Cable Standard: Then, you have to see the cable standard of the external hard drive. However, some external hard drives use Apple's Thunderbolt cable. Well, they are fast but not compatible with Windows PC and other devices. So, the best way is to use USB 3.0 or USB-C.
Size and Durability: The last thing you should check in the external hard drive is its size and durability. Purchase those hard drives that are portable and small in size. In this case, you can set it back on your laptop and carry it around your self.
Read Next:
Conclusion
This was all about an external hard drive for Mac users. So, if you want to save your personal data in other hard drives. Then, always try to have your personal hard disk. In this article, you get the best HDD for your Mac and you can purchase any of the drives you like.