Best Fast Wireless Charger for Any iPhone Versions in 2020
Still using USB charging cable for your phone? have you heard about the wireless chargers that charge your phone faster than USB cable? Even you will be free of wire around your phone and plugging the cable to charge the mobile. However, there are multiple best fast wireless charger for any iPhone versions. But, you don't need to worry about which wireless charger is the top in the market for iPhone mobiles. Although we have research and find out the top and standard wireless charger for your iPhone.
Before moving on, you have to know, is your iPhone supports wireless charger or is your iPhone has that feature. The oldest iPhone version doesn't have wireless charging features, As Apple added a wireless charging feature since 2017 on every iPhone version. It means, the wireless charger begins with the iPhone 8, iPhone X, iPhone XS, iPhone XR, iPhone 11, and even iPhone 11 pro. The mentioned iPhones are the latest Apple device and if you have one of this iPhone then you can choose one of your favorite wireless chargers and purchase right now.
However, finding the best wireless charger is not as easy as drinking water. Though many smartphones support the Qi wireless charging standard and wireless charger has become in demand and more capable and affordable. You might think, why we should purchase a wireless charger and put USB cable to the side. There are several pros to use wireless charger rather than a USB cable, you simply place your iPhone on a wireless charging mat or stand and your phone starts receiving power.
In 2020, the phones that support wireless charger becomes more affordable such as iPhone SE the new iPhone device comes with wireless charging feature. Moreover, some Android phones support wireless charger like Samsung Galaxy S10 series, Samsung Galaxy Note 9, Samsung Galaxy S9 series, LG G8 ThinQ, Nokia 9, and many other Android phones. So, let's check the best wireless charging for iPhones.
What are the Best Fast Wireless Charger for iPhone?
There are three varieties of wireless chargers called stands, pads, and multi-device chargers. Well, the pads wireless charger is good to keep near to your bed table. However, stands make more sense when your iPhone has Face ID then at that time, stands is more comfortable than pads. You can easily unlock your iPhone while on the stands wireless charger.
Most of the people prefer stands wireless charger because you can read and use your iPhone while it charges. But, sometimes you want your phone to lie flat, then, you can't do it wit stands wireless charger. For that option, pads wireless charger is handy than stands. However, pads are low-priced than stands wireless charger.
So, there are many stands, pads, and multi-device wireless charger. But, we have picked up the best and worthy wireless charger for your iPhones.
1: Moshi Otto Q Wireless Charger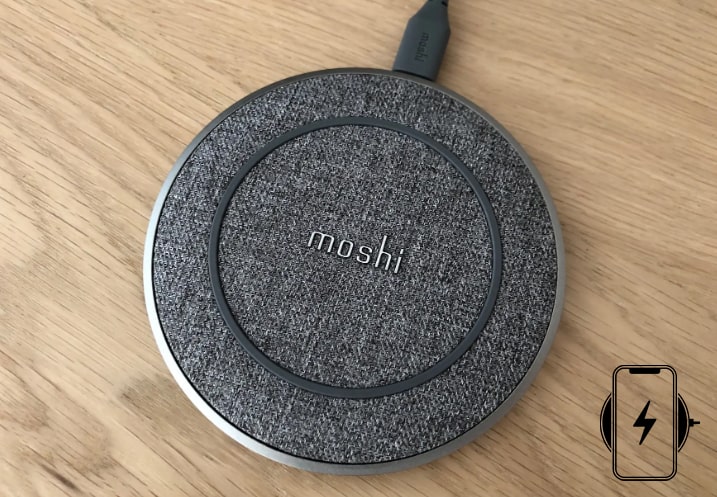 Here is the first wireless charger for your iPhone called Moshi Otto Q. However, you can see the picture and it looks like furniture. Although Moshi said, it's inspired by Danish furniture. Well, the design and silver colors look awesome, and putting near to your bed or on the table just looks good.
Mostly the Moshi charger uses a USB-C cable for connection and Moshi Otto Q provides a USB-A to USB-C cable. You will get Moshi wireless charger around $40 which is affordable, but there won't be a power adapter. What I think, you need to purchase its power adapter or use one of the USB-A power cable.
If you use the right power adapter with 9V output like most quick charger cable. Then, the pad wireless charger will support fast charging of 7.5W for your iPhone and 10W for your Android phones. The report says, Moshi Otto Q is one of the fastest wireless charger. So, this is the best option for you to purchase from the link above and charge your iPhone quickly.
2: Belkin Boost Up Stands Charger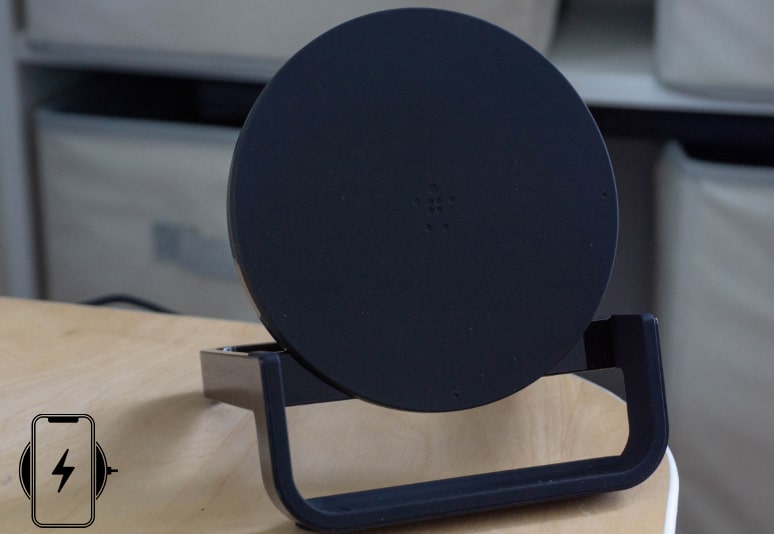 Belkin is in stock for both iPhone and Samsung devices, That's no matter which device you have. But you can use it for charging your iPhone. However, Belkin boost up is wireless stands charger which is another positive point. It has 10W of power with 3.88 pounds weight and 4.3 x 3.9 x 3.9 inches dimension. Belkin will charge your iPhone up to 7.5W and will charge your Samsung up to 9W.
The best thing, Belkin can charge your phone including case up to 3mm thick. It means, you don't need to worry about your phone case.
The design allows you to charge your phone in portrait or landscape mode. This is the best feature that you can use your phone while charging. What I like about Belkin wireless charger is, it has LED indicator light for letting you know the device is in charge or Belkin is charging. Besides that, A foreign-object-detection features will know if the phone is in charge or no.
You will get Belkin in two colors black and white. So, choose your favorite color and purchase right now.
3: Bezalel Altair Best Overall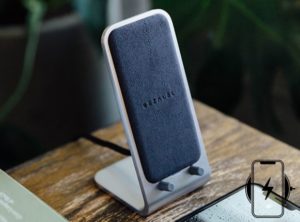 This awesome looks stand wireless charger is suitable for your iPhone or Samsung. However, you can use it if you have the latest Samsung android phones. The device has 10W power output with 221g weight and 6.12 x 3.25 x 2.75 dimension. Its made of aluminum with a soft suede panel to protect your iPhone. Besides that, the bottom is made of rubber that helps Bezalel Altair to not move around. This wireless charger will charge your iPhone quickly. You can place your phone portrait or landscape which is the extra positive point to use your phone while charging.
Bezalel Altair has an LED feature that will know when the phone is placed or the phone is in charge or no. When you place your phone then you will see a flashlight for a second. The flashlight will help you when you place your phone at night. Moreover, Altair can charge the phone that has cases up to 5mm thick. that no matter, if you have cases for protection, But you can charge your phone easily.
4: Mophie Wireless Pad Charging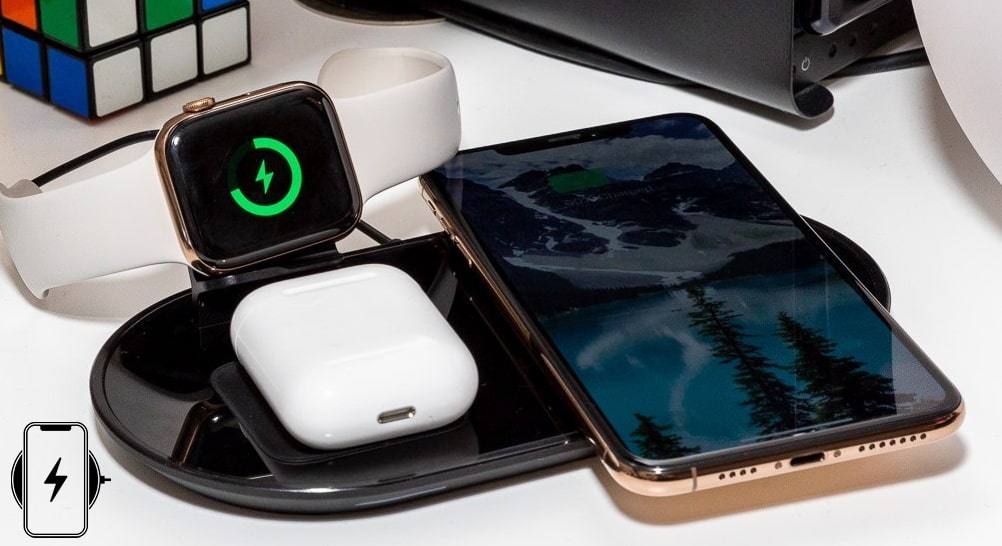 You might look for the charging pad that can charge your iPhone, Apple Watch, and Airpods at the same time at affordable prices. Yeah, Well it is better to have a multi-charging pad that provides wireless charging to our iPhone, watch, and Airpods. The above best fast wireless charger for the iPhone can only charge your mobile not AirPods or watch. Although some of them might work for watch and AirPods. Therefore, Mophie wireless charger allows you to charge you three devices at a time.
Mophie is so smart to manage the power delivered to each device with iOS notifications. So, mophie has this ability of 3-in-1 charger that other charger doesn't have. The phone will be place on one side and the Airpods and Apple watch will place on the other side near to each other. The device have 7.5W charger power to charge your three device.
5: RAVPower RP-PC069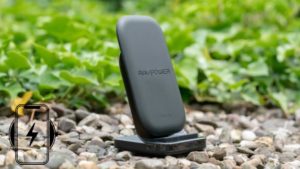 The recent RAVPower model is much batter than the previous wireless charger. You will see many new changes and improvements over the latest version. However, this version gots a sleek, unassuming design with a big rubberized pad to place your phone whether in portrait or landscape mode. This quality is great, you can use your phone while on charging. However, the angle is precipitous which makes us panic about Face ID lock screen. Whether it will work or no, for that, you can check it out.
The new charger can be used for Android and iPhone devices, each device has different voltage power. The charger supports 5W and 10W on android devices and 7.5W for iPhone devices. RAVPower's latest version improved the cooling to keep the phone out of warm, this feature can slow down charging performance.
The problem you will face with a USB cable, as it is about 4 feet long which is difficult to reach the socket. it can reach if you put it on the desk. However, never think to use your phone while charging. Overall this charger is the best among all other chargers.
6: Nanami Fast iPhone Wireless Charger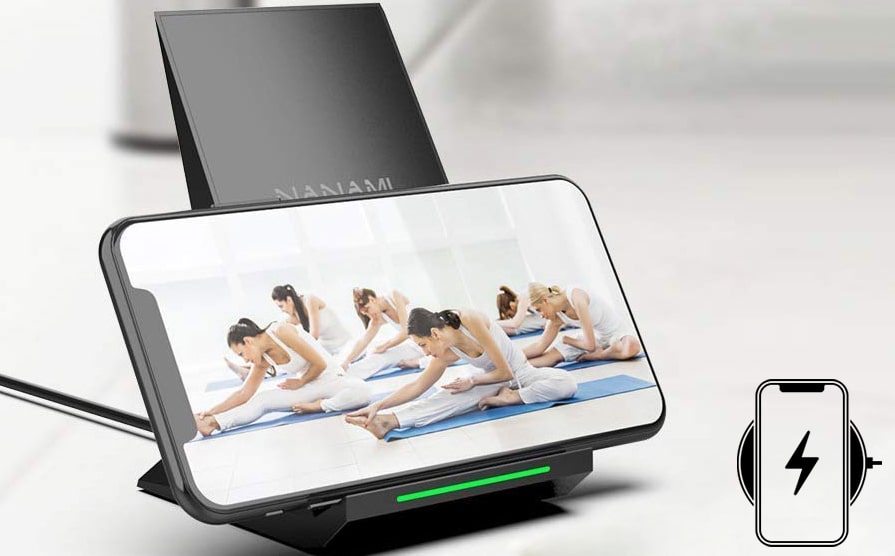 More wireless chargers are used for both devices iPhone and Android, If you have any of the wireless charger brand then you can charge your both devices. So, the same Nanami is the best fast wireless charger for any iPhone versions or Android. Nanami is one of the cheapest and quick power delivers that you are looking for and Nanami gives you cheap price and fast charging.
The Nanami supports 10W for Android and 7.5W for iPhone devices with 7.4 ounces and 5.3×3.9×2.8 inches dimension. However, Nanami is a stand wireless charger, therefore, you can charge your phone in landscape mode or portrait mode. Moreover, you can use your phone or streaming movies during charges.
Although Nanami can give a more quick charge of 2.0 if you purchase extra charges or above adapter to have fast charging. This charger has a safety assurance feature that doesn't allow your phone to overcharge or overheat. This is sleep-friendly because of an LED indicator that will shut off automatically after 10 seconds. Finally, you will get Nanami quick charger under $15 of this date which is affordable for you.
7: Anker Wireless Charger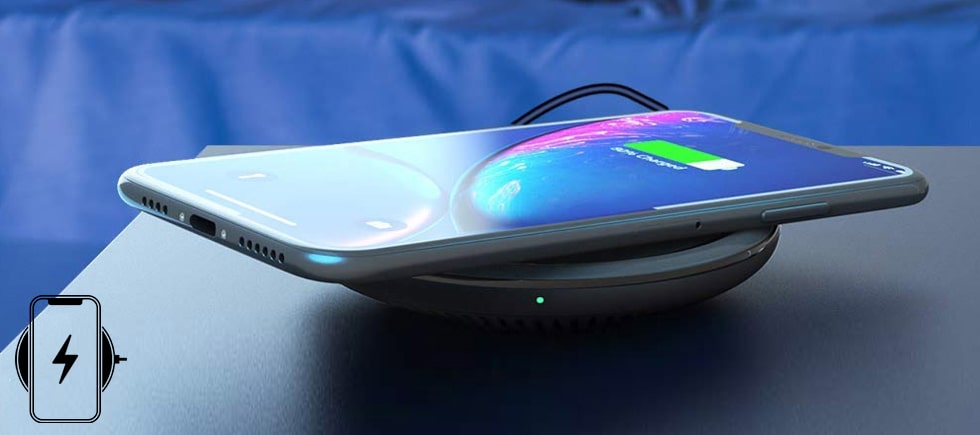 buy on Amazon buy on Alibaba buy on Aliexpress
Another best wireless pad charger for iPhone under $30 which is affordable and worth the money you paid. However, Anker wireless charger supports 7.5W for iPhone and 10W for Android phones. You have checked, several chargers support both devices which are extra benefits.
Well, using your iPhone during charges might be difficult because it is pad wireless charger, and the most easy you will feel yourself while charging your phone on wireless stand charger. But, pad charger has many positive points and Anker is one of your favorite chargers in 2020.
The Anker charging-indicator light will help you while you place your phone on the charger. But, the light is not too bright and it will be covered though it will be ok according to the price.
8: Spigen Wireless Charger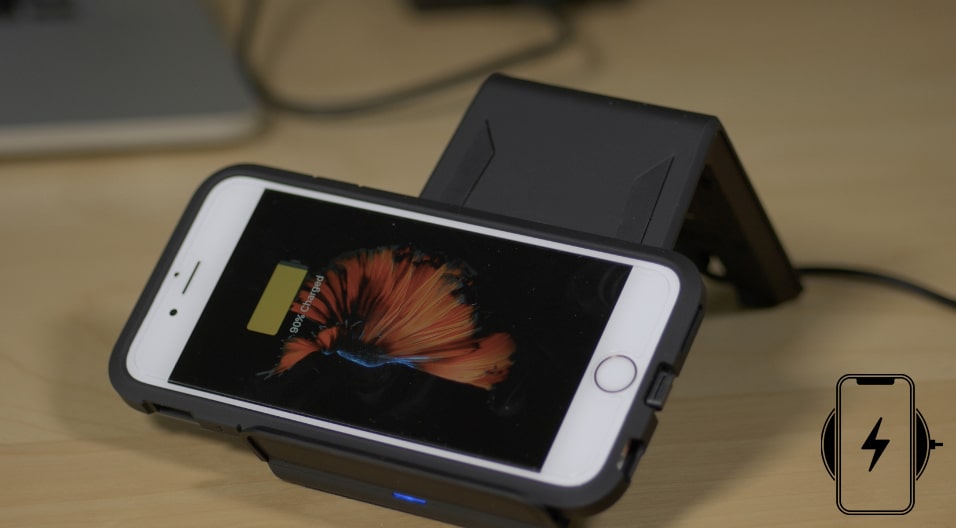 buy on Amazon buy on Aliexpress
After you purchase the Spigen wireless charger then you yourself check the quality of the charger. Because this charger looks great and it has a beautiful design and you can easily place your phone. The Spigen stand wireless charger helps you to place your phone in landscape mode or portrait mode. Besides that, you can use your phone and you can unlock face ID easily.
The charger is made of aluminum and also chamfered, Then, you can see a protected non-slip rubberized grip on the top. Moreover, you will get a charging indicator with the charger and it has the best operates quietly. So, I think, Spigen is the best option for you to purchase it right now from the above link.
9:
Anker Qi-Certified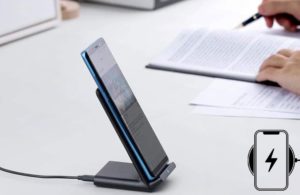 buy on Amazon buy on Alibaba buy on Aliexpress
You might like this charger that has the best quality and design, Though it's wireless stand charger that you will place your phone in portrait mode. Even you can use your phone, send messages, stream movies, and unlock face ID while charging.
Moreover, the charger comes with a 3feet USB cable and LED light that gives you the idea of your phone battery charges. However, the light is not too bright but you can see your phone battery status. Well, the USB cable is somehow short to reach the socket and you need to put the charger on the desk.
So, this is the best charger and suitable for those who want to use the phone during charges too. The price is affordable and the quality worth the money you paid.
10: Fuse Chicken Wireless Charger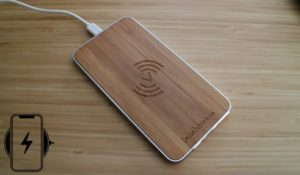 The Fuse Chicken best quality charger and fast power deliver to the phone. However, it is made of aluminum with lightweight. So, you will see 4 rubber feet on the bottom to prevent the charger from slipping or sliding on the desk. Moreover, it has a blue LED light on the bottom to alert when the phone is on the charge. The Fuse Chicken charger supports 10W for every phone which is enough to charge the phone quickly.
The charger looks like an iPhone device though it is pad wireless charger and the iPhone 11 series can easily placed on the pad. However, if your phone has a case then again it's ok the charger can charge with case. Although your phone should have a case otherwise this charger is not suitable for you. But you can purchase an extra $5 for the leather version of the charger.
11: Native Union Dock
Our research finds out the native Union wireless charger best among all in 2020 with having unique style and design. The charger is a stand wireless charger with 6 different colors that look awesome. Such as Maruetry Rose, Rose, Marquetry Slate, Slate, Terrazzo Rose, and Terrazzo Slate.
The charger has a little plinth to raise your phone so you can easily use your phone, send messages, watch videos, and unlock face ID. This wireless charger supports 10W and you can place your phone in landscape mode or portrait mode. Native Union doesn't have a wall adapter but you will get 6.5feet USB cable.
If your phone has cases then you don't need to worry because the Native charger can charge phone cases up to 3mm thick. Moreover, the design provides a protection sensor to prevent overheating.
12: Choetech Dual Wireless Charger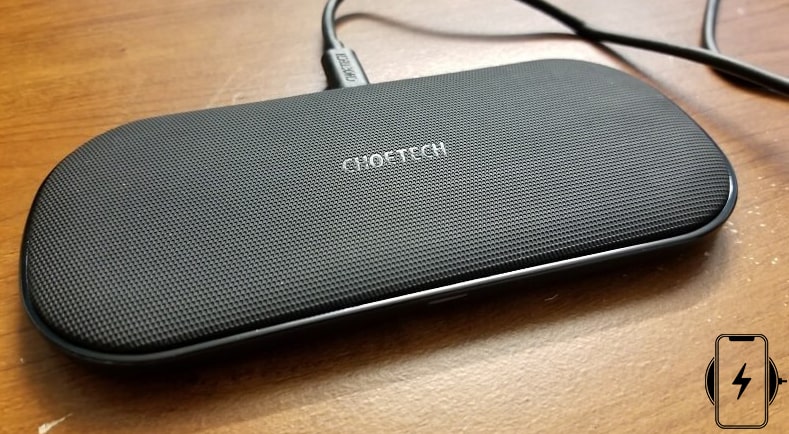 buy on Amazon buy on Aliexpress buy on Alibaba
If you are curious to find a dual wireless charger that charges two phones simultaneously then Choetech Dual wireless charger is for you. Even you can charge your Airpods case too at the same time. The charger comes under $35 which is affordable and the best choice to pick up rather than other chargers. The low-cost will gives you a multi-device charger with 10W power, 6.6 ounces weight, and 4.8×3.9×3.6 inches dimension.
However, the charger supports 10W power output, But when you charge 2 devices then it comes with 18W QC 3.0 adapter. Moreover, the company give this product with 18 months warranty. So, why you are waiting, purchase this charger as it has several benefits.
Well, the Choetech charger is a bit larger than other chargers which not looks portable charger. The charger has leather on the top surface to prevent slipping or sliding the phone on the desk.
13: RAVPower (RP-PC058) Fast Wireless Charger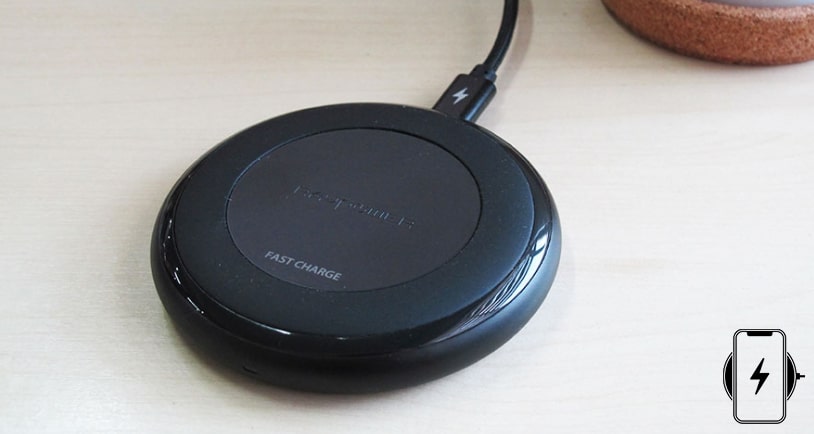 The RAVPower wireless chargers are in demand as it will charge your phone quickly. SO, if you love to purchase a wireless pad charger to place your phone and to lie flat while charging then RAVPower (RP-PC058) is the option for you. It supports 10W for Android phones and 7.5W for iPhone devices. Sounds good, the charge supports both android and iPhone devices.
This charger comes with the same cable and AC adapter, However, the Pad charger is less expensive than stand charger. But, during charges you can't use your phone, you can but not like stand charger. The negative point, the charge includes 4foot USB cable which is trouble to reach the socket.
14: Aukey Graphite Wireless Charger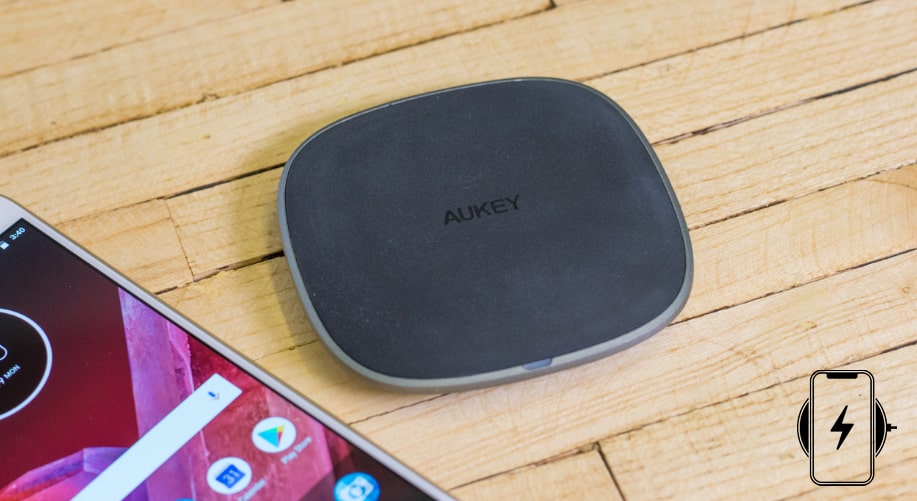 The Aukey Graphite is the best solution for those who are looking for portability and power wireless charger pad. The charger supports 10W fast charging and it is one of the portable pads in 2020 with 3.4×3.4×0.5 inches dimension. You can easily fit the Aukey charger in your pocket. Moreover, this is the best charging pads for both Androids and iPhones devices.
Inside the box you will get Aukey wireless charger with Micro USB cable along with user manual and warranty card. It means the charging pad has a warranty. However, every charger has LED light on the surface to let you know if your mobile is on charge. Besides that, the Aukey charger has a rubberized coating to prevent slips and the other part is made of aluminum.
15: AirUnleashed Wireless Charger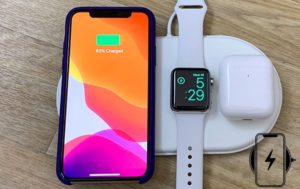 The last and the best multi-device wireless charger Airunleashed pads allows you to charge your iPhone, Airpods, and Apple Watch simultaneously with 18W at affordable prices. The design looks great and you can place your phone easily on the pad wireless charger. if you are among those people who love pad charger then this is your option.
However, you can charge any iPhone version but before that check the phone if it supports Qi charger. Although the latest iPhone version can be charged wirelessly. The charger corner is made of rubber to prevent slipping on the desk. So, for iPhone users this wireless charger is the best to charge their phone, Airpods, and watch at the same time.
More Best Fast Wireless Charger for iPhone
Point to know before choosing a wireless charger
Before purchasing any of the wireless chargers make sure to check the charger if it is compatible with your phone or no. However, firstly check the wireless charger is Qi certified and it can support your mobiles. As we have different phone brands like Samsung, iPhone, and other Android phones. Well, some of the chargers can support all the devices, and some chargers only support one mobile brand. But, the Samsung android phone has a 10W charger and iPhone has a 7.5W charger.
Besides that, while purchasing pay attention to the box if it has a charger and charging cable. Hands down, no wireless charger is without charging cable. But, check the cable if it supports Qualcomm's Quick charge 2.0 or 3.0 technology. Remember, the best wireless chargers are those who can place your phone in landscape mode and portrait mode. Along with mobile cases up to 3mm thick. But, more thicker cases may not be supported.
If you want to have a multi-device wireless charger then you have many that are listed in this article. There are some 3-in-1 chargers in stock that allow you to charge your iPhone, Airpods, and Apple Watch at the same time.
Why to Choose Wireless Charger?
Well, wireless chargers are in demand more than wire chargers. As we have more latest smartphones are can support wireless charger and it has Qi charging feature. Then, the company started to make wireless charger in the market. Thus, people love to have wireless chargers as they are portable and you don't need light on the trip.
The main reason to purchase a wireless charger is, you will need on the trip and long drive tour. At that time you can charge your mobile with a wireless charger.
Read Next:
Conclusion
Finally, you have found out the best fast wireless charger for any iPhone version. The top 15 wireless chargers are in demand and they are at the top in the market of 2020. So, each of the chargers is the best and affordable, Thus you can purchase any of the chargers that are compatible with your iPhone.