How to Get New Start Menu in Windows 10?
Do you want to have the new start menu design in Windows 10? Though Windows 10 is the current Microsoft operating system. However, Microsoft will update Windows 10 after a few months and highlight all the new features and improvements. Therefore, on July 1, 2020, Microsoft released the first Windows 10 insider preview update called Build 20161. This Insider Program update has several new features in Start menu, Taskbar, Notification Experience, Settings, improving the Tablet experience, and much more.
The Insider Preview Build 20161 update has a redesign start menu that offers "a more streamlined design" by applying "a uniform, partially transparent background to the tiles" in lieu of solid color backgrounds. Although, the new update has several bugs and it will be a little risky to download the build 20161 version on your windows. Though updating to the new insider version means, you will put your PC on the Windows Insider Dev Cycle. This cycle allows you to test all the new features as early as possible.
But, the new update is not available for some users. However, in this article, we will guide you on how to get the new start menu in Windows 10. You can enable the new start menu using the ViveTool and using the Settings > Insider programs. Therefore, we will show you both methods to get the new start menu in Windows 10.
How to Get New Start Menu in Windows 10?
As I said, you can get the new start menu in Windows using the ViveTool third-party utility. But, this method might work for some users and might not work for some other users. But, downloading and installing the new update of the Insider Program will allow you to get the new start menu. Therefore, firstly, we will try to enable the start menu using the settings > Insider Program.
Open the Start menu and tap on Settings.
Now, tap on Update and Security.
After that, click the Windows Insider Program from the left side of the page.
On the Windows Insider Program, click the Get Started.
Now, you need to link an account to get started. Therefore, click the Link an Account.
Here, tap on Microsoft account and link it to your account. (In case, if it asks you to register to insider program then do it and link to your account) Then, click Continue.
Tap on Dev Channel and click Confirm.
Tap on Confirm.
Now, restart your PC in order to get the Insider Preview Builds.
Once your PC restart, then, comes back to settings and go to the Windows and Update section.
Now check for updates, Whether you will see resume updates or check for updates.
After that, it will check for updates and find the new update of Insider Preview build 20161. First of all, it will download the update and then it will install the update. Once the downloading and installing is done. Then, click on Restart Now. Here, you will see a windows pop-up section. So, click the restart now.
Now, you must have the new start menu in your Windows. To check it out, go to the start menu and look for tiles for windows programs like Adobe or Office. Following the above method, your computer should get the Insider Preview to build 20161 updates. And you should have a new start menu design.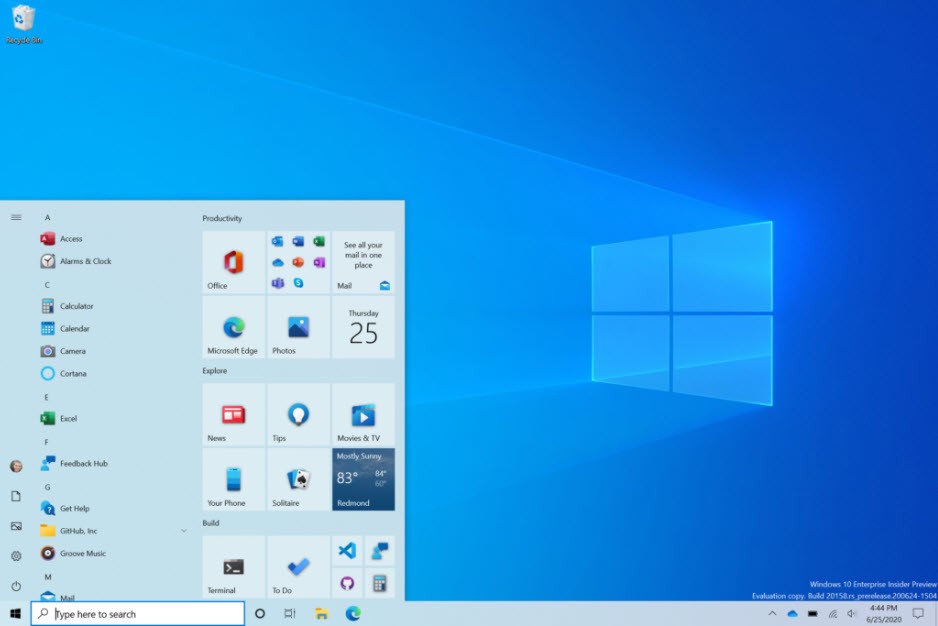 How to Get Start Menu Using ViveTool?
In case, the above method is not worked for you then I recommend you follow the below steps. However, the above method is better from this method. Though this method has 2 command line codes that should run in CMD using administrator. Although, this method will work for some users. So, check the below method if it works for you then let me know in the commend section.
Download the ViveTool utility
The file is compressed and you need to extract it using WinRAR or 7ZIP software
Now, go to start menu and search for CMD and run it as administrator.
Copy the ViveTool directory where you extracted ViveTool like C:\Users\Techbland\Desktop\ViveTool
After that, type ViVeTool.exe addconfig 23615618 2
press Enter
And Restart your PC.
Now, check the start menu and you should have the new start menu design.
Read Next:
Conclusion
Always check for updates because the new update will have several new features and improvements. Whether you are on smartphones or Computers, Try to keep your device up-to-date. Therefore, the new update for Windows 10 Insider Program is available in Insider Program section.
This update has an awesome start menu and with the help of this article, you can get the new start menu in Windows 10. So, if the methods work for you then feel free to leave your feedback in the comment section.