How to Update macOS 11 Big Sur to Latest Version?
Still, we are waiting for macOS 11 Big Sur Public Beta, Though Apple proclaimed the Public Beta release date at the end of July. Unfortunately, it doesn't happen and the Public Beta status is still coming soon. Not only macOS Big Sur, but watchOS 7 Public Beta also is not roll out yet. However, the iOS 14 and tvOS 14 Public Beta was kicked off and you can check out its features and changes.
Take heed, macOS 11 Big Sur is still in its Beta modes and yesterday Apple rolled out the fourth Beta of macOS Big Sur. This Beta was published two weeks after the third Beta, and the Beta 3 has several new features like a new battery icon in System Preferences, a new Screenshot sound effect, and more. Nevertheless, each macOS 11 Big Sur update has its own new features and improvements.
So, the major update in macOS Big Sur Beta 4 is, Apple adds support for 4K Youtube playback in the Safari web browser. Before this update, Mac users need to install third-party software like Google Chrome in order to watch 4K Youtube Video. But, this time Apple put their best efforts to include the major update in macOS Big Sur Beta 4 version.
Anyhow, Once the macOS Big Sur appropriate profile is installed. Then, the subsequent betas will be available through the Software Update in System Preferences. That means if you are running the previous macOS Big Sur Beta version. Then, you don't need to download the macOS Big Sur Beta 4 because you might get a software update notification in System Preferences.
In case, you don't see the macOS Big Sur Beta 4 in System Preferences. Then, keep checking as the update is still rolling out and it could take time to hit your Mac. In this article, I will guide you on the complete process on How to Update macOS 11 Big Sur to the latest version on your Mac, Macbook Air/Pro, Mac Mini, iMac, and Virtual Machines.
You can Update macOS Big Sur on?
At WWDC20, Apple dropped the older Mac computers. Those Mac desktops cannot support macOS Big Sur and they never get macOS Big Sur updates. Anyhow, you can install macOS Big Sur on an unsupported Mac device. But, this is risky and it might crash your primary system. Therefore, the best option for Unsupported Mac is, to install Virtual Machine on your PC and install macOS Big Sur.
You can update macOS Big Sur on Virtual Machines, Mac, Macbook Pro/Air latest model, iMac, Mac Mini, and other Mac desktops. It doesn't matter which system you are using. Only you should have the previous macOS Big Sur and you can get the latest macOS Big Sur update.
How to Update macOS Big Sur to the latest version?
Updating your operating system to the latest version is quite easy. You can upgrade your system using the System Preferences and the method is simple. The below steps will work with all the upcoming macOS Big Sur installer versions.
Step 1: Go to "System Preferences" and Find out the "Software Update" and click on it.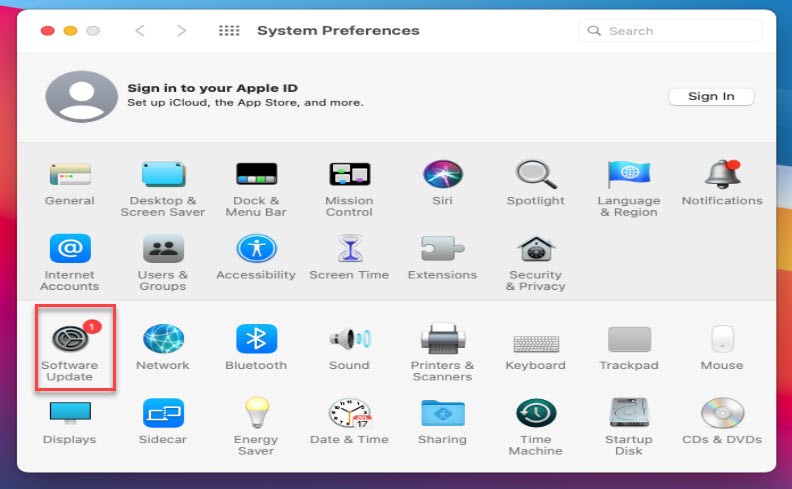 Step 2: it will check for the update and you have to wait. Afterward, you will see the new update of macOS Big Sur which is "macOS Big Sur Beta 4 11.0". Therefore, click on "Update Now".

Step 3: Kindly read the software license agreement carefully before using the software. Then, click the " Agree" button.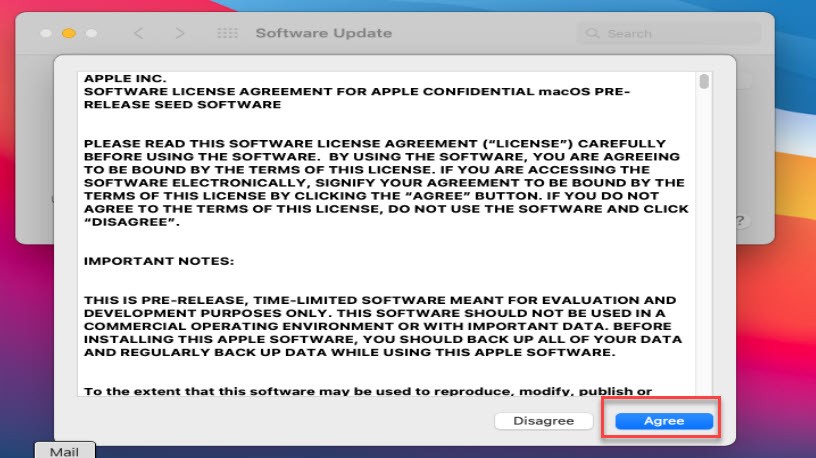 Step 4: Now, it will start downloading the macOS Big Sur Beta 4. The download file is 3.67 GB and your system should have 4GB free space.

Step 5: Once the macOS Big Sur Beta 4 is downloaded successfully. Then, the macOS Big Sur is preparing the file for installation. Just wait for a while to complete the process.
Step 6: Now, your system will restart and macOS Big Sur start installing the new update. The installation will take time. Remember, during the installation, your system will restart several times.
Finally, your system is running the macOS Big Sur Beta 4 and you have updated your Mac successfully.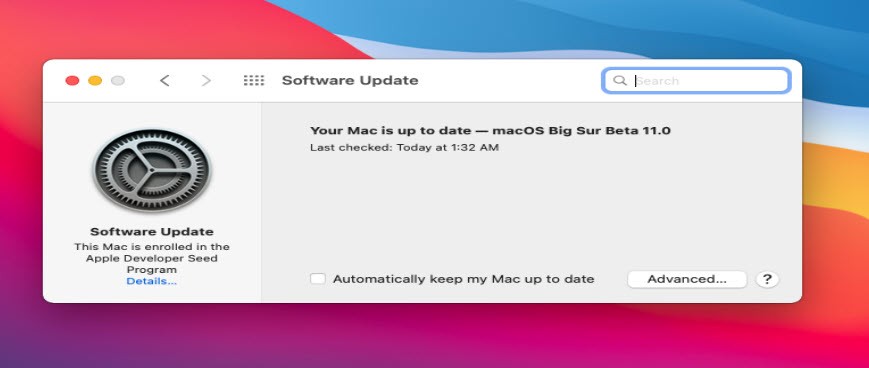 Read Next:
Conclusion
The macOS Big Sur Beta 4 has several new features and the major update in Beta 4 is. The Safari now supports 4K Youtube videos and you don't need to use third-party software. Moreover, there are various types of improvements. Therefore, always update your Mac and keep it up to date.
In case, if you have questions regarding how to Update macOS 11 Big Sur to Latest version. Then, feel free to ask us in the comment section. We are always here to help you.