How to Make Android Phone Bootable USB to Install OS?
Are you looking for an article to guide you on How to Make Android Phone Bootable USB to Install OS? Although you have only one PC and you forget your PC login password or your PC operating system has been damaged and you are curious to change the operating system or to renew the OS. So, the problem is here you have only your Android phone and you don't have a clue how to install Windows or Linux OS from Android smartphones by making a bootable USB. Therefore, this tutorial will show you the best methodology to make your android phone as a bootable USB to install an operating system on your PC.
However, you might lesson about Pendrive but making android as a bootable USB is much better than Pendrive because you can install OS from Android multiple times but with Pendrive, you can only install one time. SO, to create an Android smartphone as a bootable USB you will need to download the best android application from Google Play Store which is called DriveDroid App. There are many applications that help you to make an android phone as a bootable USB but DriveDroid is the only unbeatable App so far and it is in high demand from legions of Android users.
So, another benefit is that you will need to add the Operating system ISO image on Pendrive then you can make a bootable USB with the image file and install OS on your PC but in this tutorial, you don't need to do that. only you will need to download OS ISO or Image file on your Android and directly make your android device as a bootable USB. Moreover, Make sure your Android device is supporting the DriveDroid application, therefore, go to your android system information and check the Kernel version.
So, now follow our steps and pay attention to each step to not face difficulties during the process.
How to Make Android Phone Bootable USB to Install OS?
You might don't have 2 computers to make a Bootable USB to install an operating system, therefore, you are going to ask your relatives or friends to create a bootable USB for you to install OS on your PC via USB. But there is one more solution to install OS on your PC via a bootable USB and the method is to make your Android device as a bootable USB. However, we are going to use Refus software to create bootable USB without PC and install Windows or Linux on your PC.
As you know there are many other methods to make android as bootable USB but hands down the method I am going to show is the best and this is the greatest method to create your Android as a bootable USB. However, Android devices are doing many things like change Mac Address, Record Calls, Uninstall System Apps, and many other tasks.
What Is DriveDroid Application
DriveDroid allows you besides your PC from ISO/IMG files saved for your cellphone. This is good for attempting Linux distributions or usually having a rescue-device at the go… without the need to burn specific CDs or USB pen drives.
DriveDroid also includes a convenient download menu where you may download USB-Images of several working systems out of your telephone (like Mint, Ubuntu, Fedora, OpenSUSE and Arch Linux). Around 35 distinctive structures are available at this second.
You can also create a blank USB-Images which permits you to have a clean USB-pressure. From your PC you could keep documents onto the USB-pressure, but additionally use tools to your PC to jot down pix to the force.
DriveDroid App is Capable of:
Burns any Windows ISO (XP, 7 or 8).
Burns any Linux-primarily based ISO (ArchLinux, Ubuntu, Knoppix, and so on).
And burns some of the available ISOs (Hiren's Boot CD, FreeDOS, BartPE, Ultimate Boot CD).
Handles UEFI in addition to legacy booting.
Handles GPT in addition to MBR partition tables
Files Requirements:
DriveDroid application will need a rooted device, it means your Android phone should be rooted. if you haven't rooted your device so far then root your Android.
As I mentioned, we will use Rufus software for making Android as a bootable USB, therefore, download Rufus software.
4GB free space on your Android phone for the Operating System ISO file.
8GB USB Cable.
Download DriveDroid Application from Google Play Store.
List of Operating systems that you can boot in your Android with this guide
Any Windows version like XP, 7, 8, and 10.
Any Linux version like Ubuntu, Kali Linux, Etc.
Moreover, you can download any Operating system directly from DriveDroid application. However, you can see the below screenshots for getting the idea of what this app will do.
As you can see the screenshot and read the descriptions, Sp, to download Image file click on the Download button.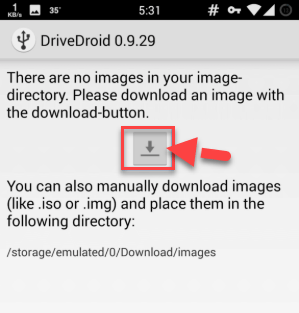 These are the list of Operating Systems that DriveDroid supports currently. Moreover, this application supports both UEFI and Legacy File System. Therefore, don't worry about your PC type because it will support both file systems.
So, now select the operating system image file you want to download and click on the OS image file to be downloaded.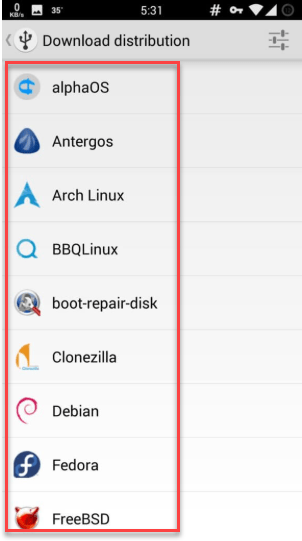 Downloading and Setting Up DriveDroid Application on Android
In the first step, you will need to download DriveDroid Application from google play Store that I provided the download link above. moreover, the paid version is also in stock but the free version will give you all the functionality you will need during making Android as a bootable USB.
#1: Once you installed DriveDroid App on your Android then open it. When you open the application then you will see the DriveDroid Setup Wizard, So, read the descriptions and click the Next button.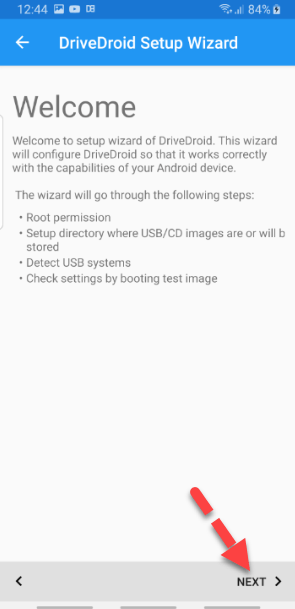 #2: As DriveDroid App needs root access to make use of certain Kernel features. Moreover, make sure, your device is rooted and clicks the Acquire Root Access, after that, click the Allow and click the Next button.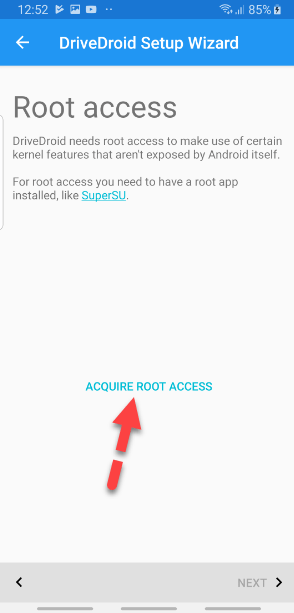 #3: On Image Directory, the DriveDroid app needs to store USB or CD/DVD images on your device storage. these images can be quite large commonly they are between 630MB to 4GB. Therefore, click the Configure Image Directory.
#4: Once you clicked the Configure Image Directory then click the Allow and find the DriveDroid image directory or create a new directory for DriveDroid image and save the image file on the folder. after that, click the Next button.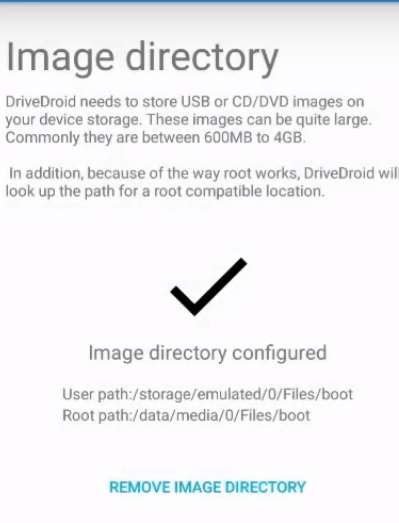 #5: Now connect your Android Device with your PC using a USB data Cable and click the next button.
#6: On the next page, select Standard Android Kernel for the USB system and click the Next button.
#7: After that, select Android Shows up in OS for USB Mass Storage and click the Next button.
#8: Here, select Booted Successfully using DriveDroid and click the Next button.
#9: At last step, click the Next button for submitting the device report.
#10: Now, your DriveDroid Boot Tester has been created, you can check the boot tester folder on your PC.
Download Operating system Bootable ISO File
You have successfully downloaded and set up DriveDroid for making Android as a Bootable USB. Now, it is time to download the operating system bootable iso file. As I told you, you can download an Image file from the Drivedroid application itself, therefore, if you don't have a bootable iso file then tap the "+" button at the bottom of the app UI. afterward, tap the download image option and select the operating system that you want to download its image file.
Make Android Phone as a Bootable USB
#1: Now open DriveDroid application on your Android.
#2: On the top right side of the page you will see + icon, therefore, click on it and click the create a blank image from the drop-down menu.
#3: On the next step, you will see a pop-up dialog box where it will ask you to type the name of the file and the size of the image. as we are burning Windows 10 ISO file from the official Windows site for this post.
#4: Here, choose a filename like Windows10.img and select 3500MB for the image size. after that, uncheck the Partition table (MBR) and select None for the file system because we will do these things with Rufus tool in the next step. finally, click the Create button from the right top side of the page.
#5: While the image has been created then you can select the image in DriveDroid Application.
#6: Once you select an image file then you will see a pop-up dialog box that asks you how to host the image. Therefore, choose the first option to host the image as a writable USB drive.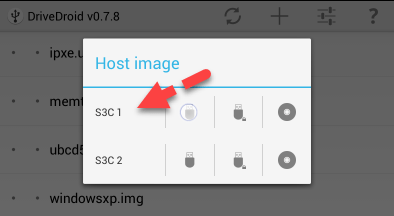 #7: Now connect your Android into your PC and start Rufus tool.
However, you can make Android bootable without using any tool because Diskpart will make these things possible which is built-in Windows 7 but it will be quite lengthy and tough.
Once you run Rufus tool then you will see the below screenshot. So, choose the USB device that corresponds to your phone and this is shown as NO_LABEL in Rufus.
Now the primary and critical activities, check 'Create a bootable disk the usage of:', select 'ISO Image' from the dropdown container and click the CD ROM icon to select the ISO you need to burn. Once the ISO is scanned by using Rufus, it'll fill in different options routinely.
At last, once you have done everything. Then click the Start button to let Rufus burn the ISO for your into your Android Device and make your Android as a bootable USB.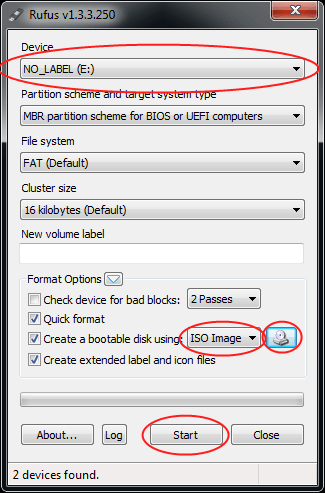 Note: You have made your Android as a bootable USB successfully, now you can install Windows OS or Linux OS on your PC with your Android by connecting your Android to your PC via USB data cable. Once you plug-in your Android then go to BIOS setup by pressing F2 or F10 while you restart your PC.
So, whenever you want to install Windows OS or Linux OS whichever ISO file you have on your Android device. Just change the BIOS settings to USB and connect your Android device via USB Data Cable to boot from your Android Device anytime anywhere.
Read Next:
Conclusion
Now you don't need any USB Flash Drive or you don't need to tell your friends to create a bootable USB installer for you. Because in this article, you learn the best method to make your Android Phone as a bootable USB to install the Operating system on PC. This is the best method and it works for all Android version and you can boot your PC with your Android.
Therefore, make your Android devices as a bootable USB and install Windows or Linux on your PC. Moreover, if you have any question then feel free to ask me in the comment box.