How to Recover Lost Photos from Samsung Galaxy S9/S9+
Sometimes you might lose your photos accidentally and those pictures are important for you but the problem is here, you don't have the idea How to Recover Lost Photos. Although the files or photos that are deleted from your phone, actually it is not deleted permanently, you can find them and recover it with the help of software and backup method. Some people who are newly using the Samsung Galaxy S9 and this version of Samsung mobiles take high-quality pictures, in this case, users are taking lots of pictures while they are in the party, schools, wedding, and etc. thus, they will lose their photos and they are curious how to get it back, however, Galaxy S9 is new mobile and people don't know that much about its function, don't panic, in this article I will guide you How to Recover Lost Photos from Samsung Galaxy S9 / S9+.
Here, I will guide you with the best methods that you can easily recover your lost photos even you can backup your deleted videos, documents, and many more things. So, for what you are waiting, read the article till the end and get different methods and recover your photos now.
Related Articles:
Method 1: Recover Lost Photos from Photos App
This is the first and easy method that you can recover lost photos from Samsung S9 or S9+ without using any third-party software. the method is quite simple but to use and recover your lost pictures you need to sync with your Gmail account on Google Photos thus you can backup your files. otherwise you have not any chance to do that. However, while we delete our files then it will go to recycle bin folder and the files will be there for 60 days after that it will be deleted permanently. therefore, within 60 days recover your photos and enjoy it back. So, now follow the below steps and learn how we can do it.
Open Google Photos or search Photos from your Samsung mobile.
After that, click on the three-line menu option from the left top side of your mobile and click on the Bin option. In S9/S9+ you will get Bin folder in place of Trash.
If you are trying to recover the files that are deleted within 60 days then you will find it in Bin folder otherwise you can't get it back. So, once you are in Bin or Trash folder then here you will find your deleted photos and videos, to restore the deleted photos keep pressing on the picture and click on the Restore option from the right top side of your mobile.
So, this is the first method and with this method, you can easily find your deleted pictures and then you can recover it back.
Method 2: Recover Lost Photos from cloud storage
Now let's discuss method 2, as you learn the first method and it was so easy but what about method 2. what I think this is easiest way to recover lost photos from Samsung S9/S9+. Therefore, follow the below steps and recover your files.
Open Gallery app on your mobile.
After that, click on the three-dot that located top right side of the mobile.
Here, find Recycle Bin option and click on it.
In this folder, you will find your all deleted photos and videos, simply select the file you want to recover, Once you select it then click on the Restore option.
Method 3: Recover Lost Photos from Samsung SD Card
If you are using SD card because your mobile storage is less and have taken many pictures and save it on your SD Card. But after some days your SD Card gets damaged, or you lose your SD card even you have formatted your SD Card and you want to recover your all files. So, for this method, you will need recovery software that helps to retrieve your deleted photos.
U.Fone Data Recovery is the best software and most of the android user is using this software. with the help of this, you can recover your deleted photos, videos, documents, Music, and many other files. U.Fone data recovery supports all types of files you don't need to be worry, Therefore, now I will show you the steps to recover your deleted files in U.Fone Software.
Main Features of U.Fone Data Recovery
You can recover your deleted files from Samsung Sd Card easily, safely and Completely.
Even you can retrieve files from Android phone's Sd Card that lost due to accidental deletion, formatted Sd Card, Damaged or corrupted, and virus attacks.
U.Fone software supports all types of files like pictures, videos, music, and documents from Samsung Sd Card.
Retrieve deleted and lost photos from Android internal hard drive or external data storage like SD/memory card, digital camera, and etc.
U.Fone data recovery supports the operating system: Windows 10/8/7/XP/Vista, Mac OS 10.13, macOS 10.12, OS X 10.11, 10.10, 10.9, 10.8, 10.7, 10.6.
U.Fone Data Recovery Download File:
Follow Step by step guides to Recover Lost files
This guide will teach you how to recover deleted photos using windows operating system but if you are Mac user again you can follow these steps, the same procedure will work to recover your files. before starting with U.Fone data recovery, you need to remove your Sd Card from your phone and insert it to the computer. Afterward, follow the below steps.
Step 1: Once you download the setup for windows or Mac then the first step you will need to install U.Fone software on your PC, the installation is quite easy just follow the instructions.
Step 2: Once you install the software then open it, after that, insert your SD Card to the computer. to retrieve deleted photos from SD Card of Samsung S9 select External Devices Recovery.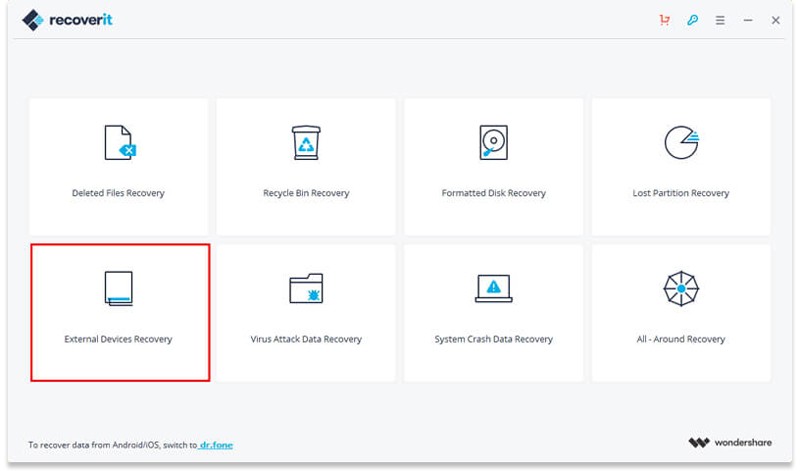 Step 3: If you have not inserted your SD Card then insert it in this step and click Next button, once the SD Card is connected then select it under External removable device and click Start to begin scanning.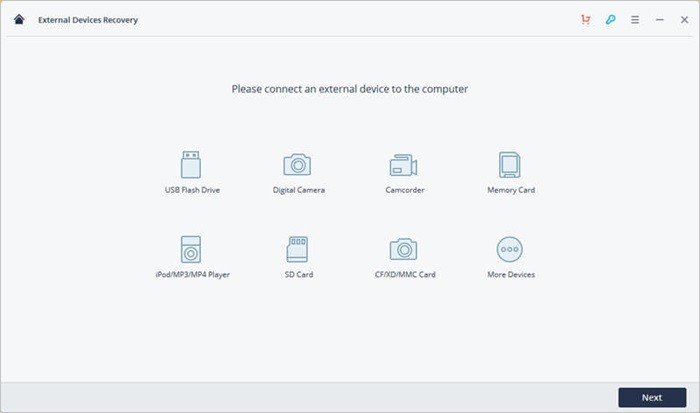 Step 4: Now the U.Fone software is scanning your SD Card, if you can't find all your lost files then you can start a deep scan to find your all deleted photos with All-Around Recovery Mode.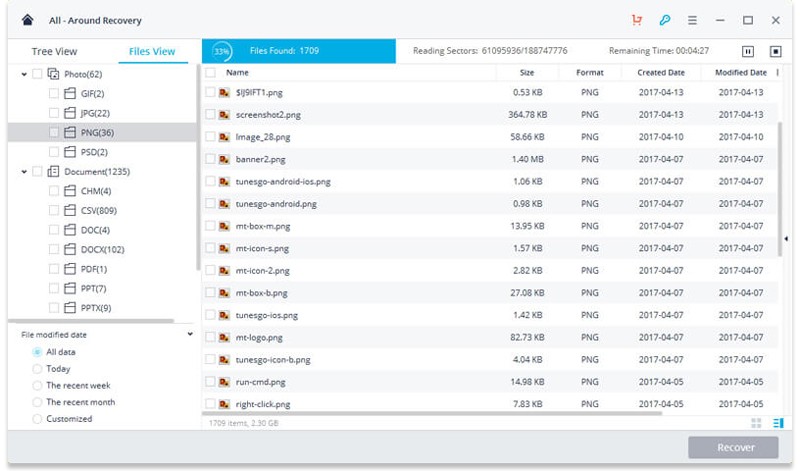 Step 5: Once the scan completed, then all recoverable files will be listed by file types. you can check the specific files and click Recover to recover deleted photos from Samsung SD Card and save the deleted files onto the computer.
Congratulation, you have done with U.Fone data recovery and now you have recovered your all deleted photos and save into your computer. remember, whenever you lost your files like videos, pictures, music, documents, and etc then recover it with U.Fone software.
Conclusion
There are many ways to recover lost photos from S9 or S9+ but the methods mentioned in this article are the best and powerful. most of the user goes with these methods and they are happy so far. Therefore, whenever, you lost your files then follow these methods and for sure you will get your deleted files back. Moreover, if you have any question and confusion then feel free to ask me in the comment box and don't forget to give your feedback.