Systweak Antivirus – The Best Antivirus Software For Windows 10
We all are aware of the fact that the digital world is surrounded by malicious threats. This threat poses a security concern for your own data, browsing history, and overall privacy. If you are not collated with antivirus software in your Windows system then you may get attacked by viruses, malware, Trojan, adware, spyware, or other cyber threats. This is why one needs to keep any of the best antivirus software for their Windows 10 PC and save their privacy from getting leaked out.
You are worried about the safety of your computer and important data. Your computer may be infected with viruses, which can steal your personal information, or even worse. Use the best antivirus software to scan your computer for viruses, and remove any that it finds.
Thankfully, Systweak Antivirus was developed after year-long research which is capable of offering real-time protection to your system. Moreover, one can easily browse through the web without being afraid of downloading malicious files that hamper the overall performance of the system. It even maintains the protection shield for 24/7 and 365 days, acting as a one-stop solution for complete protection.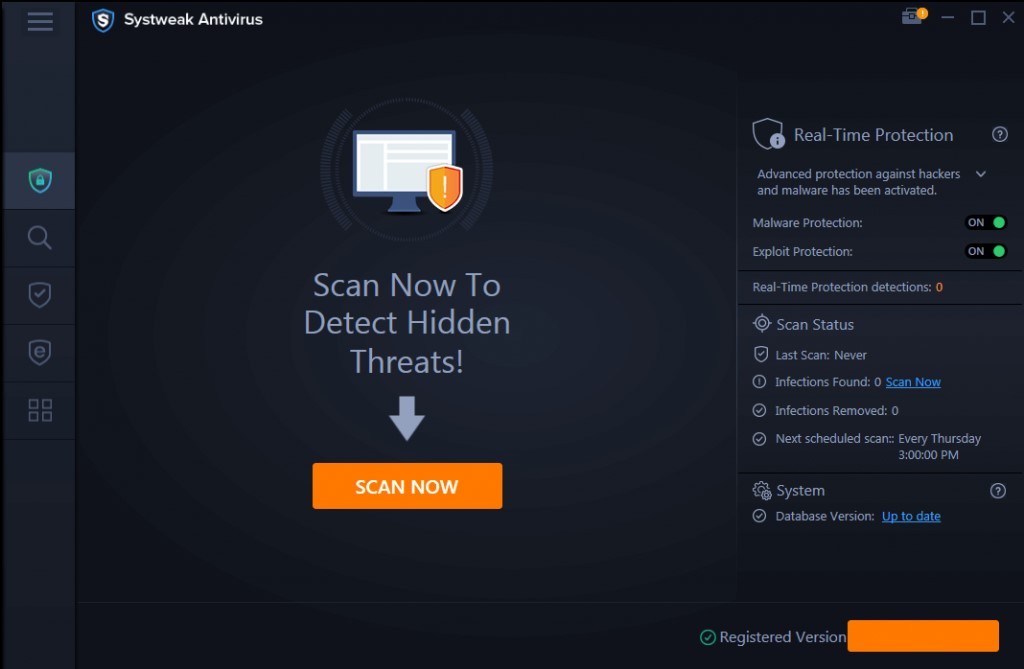 Features Of Systweak Antivirus 
Real-Time Protection: The best and foremost feature of Systweak Antivirus is real-time protection to the system. It literally means that any threat is detected before entering into the system and removed right there so that no damage could be done. The antivirus engine of this tool keeps an eye constantly over the system checking threats.
Background Running: Systweak Antivirus automatically runs in the background of your computer when you are working and makes sure that your workflow is not hindered by any means. While it runs, it makes sure that all the actions are deeply analyzed for maximum safety.
Different Scanning Modes: Systweak Antivirus offers you three different modes of scanning the system as per person convenience and maximum protection. Quick Scan goes in the most vulnerable areas of the computer and finds out the sign of threat. Deep Scan makes sure that it scans every nook and corner of the computer and may even take time longer than usual. In the case of Custom Scan, you are free to choose a particular drive or folder for scanning.
Improves System's Performance: Although Systweak Antivirus is not an optimization tool, it doesn't mean there is no input for the same. By not letting any malware into the system and allowing you to browse the web securely, the system performance remains much faster, making it the best antivirus software.
Exploit Protection: Any PUPs that may make way into your system during an unknown file run could easily be blocked by the feature of Exploit Protection. With that, Systweak Antivirus ensures that users can check the startup items which are malicious in nature and slows down the system boot.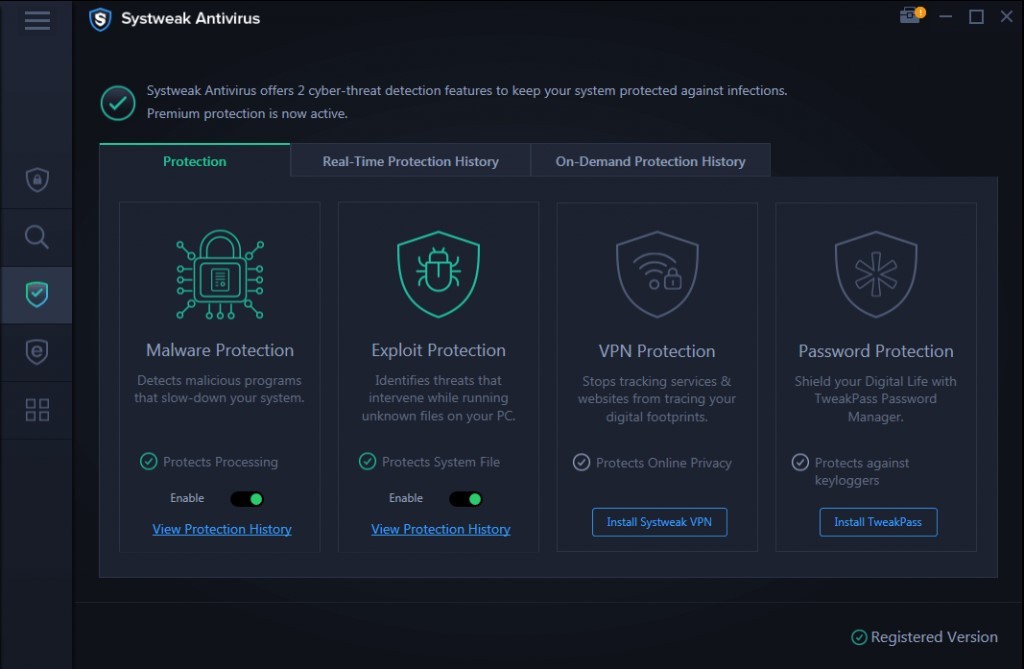 Always Working: Unlike other antivirus applications, this affordable antivirus software. Makes sure that it runs smoothly for 24*7 and is not exited from the system's tray by any means.
Lightweight: In a world where we are totally dependent on a number of applications that make the system heavy, a lightweight antivirus is no less than a blessing. Systweak Antivirus is not just the best anti-spyware software but also is light on resources.
How To Use Systweak Antivirus On Windows 10 PC?
In order to use Systweak Antivirus on your Windows computer, follow these steps mentioned below:
Step 1: Download and install Systweak Antivirus on your computer by clicking the link.
Step 2: Run the file once it has been downloaded and the app will automatically launch.
Step 3: As you land on the interface, click on the magnifying glass icon and you can choose the mode of scanning.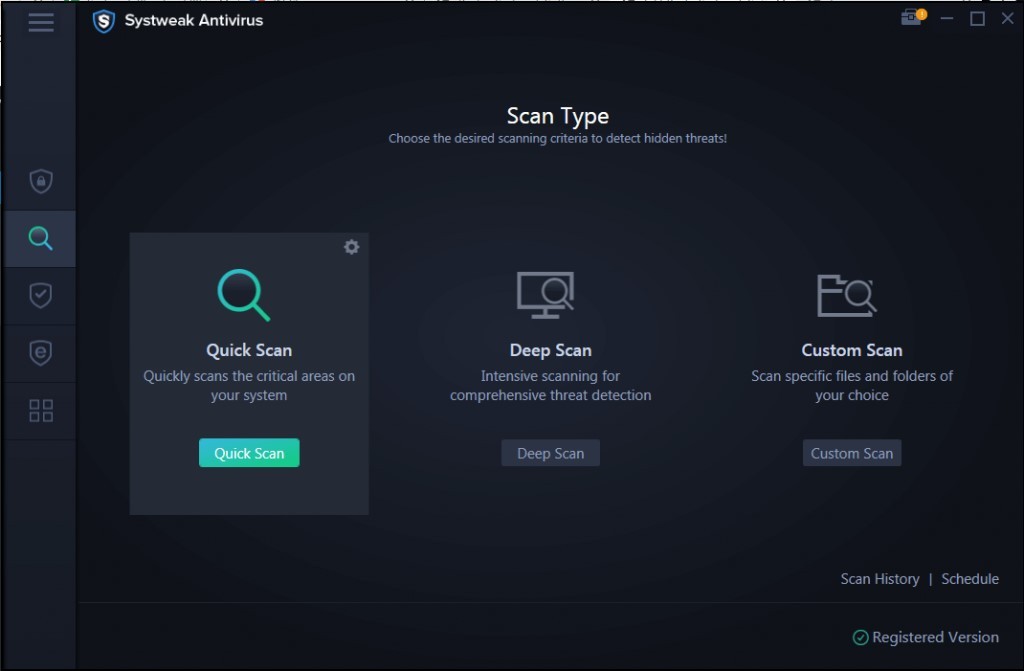 Step 4: Once you select the scan mode from three different options, the process will automatically start. So that all the threats could be removed.
Step 5: Now, relax as the process goes on and gets over. Now you can minimize the interface and let your workflow easily.
Systweak Antivirus Specifications:
Country Of Development: India
Size: 21 MB
Windows Version: Windows 7,8,8.1 and 10
Parent Company: Systweak Software Private Limited
Trial: 30 days
Cost: Starting from $39.95
Price List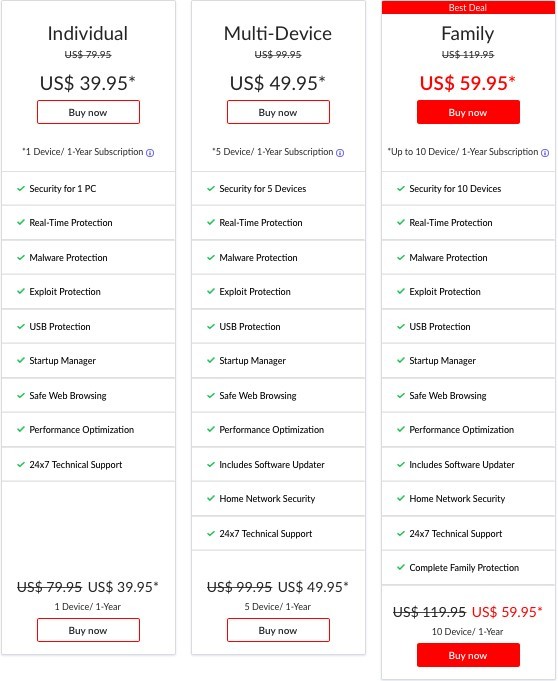 As you can see in the price list above, Systweak Antivirus comes in three slabs. The first individual slab allows 1 device to enjoy the fruits of the product. Whereas the second slab lets, you try your hands on multiple devices (5 devices) at a time. In case of the best deal or Family deal, 10 devices could be easily using Systweak Antivirus with all the additional supports like family protection, home network security, software update, etc.
When you compare the prices of this best antivirus software with its competitors. You will find that all the best possible characteristics are available at the lowest possible price. Rest, real-time protection, Startup manager, malware protection, USB protection, safe web browsing and Exploit protection.
Read Next:
Conclusion
When you have the option to choose the best antivirus software for your Windows 10 or maybe the best anti-spyware software. You definitely don't want to try out other options. Moreover, if you don't want to trust the product in one single go. Then you have a month period to decide whether you wish to stick with it or not. But we assure you that you will be super excited to notice the speed of scanning, performance boost, secured browsing, and attractive interface
Moreover, scanning out the system deeply is something that every person wants to go with. No one certainly wants any traces of virus or malware stuck in the system for further issues. Plus, the super-strong engine of the antivirus is simply mind-blowing. This is the reason we have called Systweak Antivirus as the best antivirus software for Windows 10 PC.