How to Record Windows Screen with IObit Screen Recorder?
In this article, we will discuss the amazing recording software that will help you to record your Windows screen. However, there are several screen recorders but a few of them worth your time. About the recorder, I am saying in this topic is "IObit Screen Recorder". Hands down, IObit screen recorder is a free software for Windows and easy-to-use while recording your screen. It has various features that can help you and feel you better to record screen. Besides that, you can record the full screen, a specific window, or select any region to record in high-quality videos with 4K Supported.
Although, it will allow you to turn on the audio during recording. Like if you are in conferences, webinars, lectures, presentations and etc. Then, you must want to record audio too. Not only this, even you can add a mouse effect by highlighting the cursor and adding animation to the click action. IObit screen recorder allows you to take a screenshot during the recording and save it on your PC.
The main part of the software is while you are recording the screen then you will see a watermark of the company or software which has bad impacts on your video. But, the IObit screen recorder doesn't have such an option. There is no record time limitation and no watermark placed on your videos. It means, you can record video clean and as long as you want. After that, you can save it in MP4, AVI, FLV, MOV, TS, and GIF formats.
When you are done with a recording then you can edit the video with the help of the IObit screen recorder basic video editor. It will help you to trim, cut, and split the captured videos. Last but not least, you can share your videos to a number of online platforms like Youtube, Facebook, Instagram, etc.
IObit Screen Recorder Features
The software has various features that are handy for users while recording video. Plus, a user should know about the features in order to have the best recording. So let's check out.
Flexible Screen Capture
Record the screen with Audio
No Lagging while HD recording
Take a screenshot while Recording
Multiple Output/Convert formats
Edit After Recording
Download and Install IObit Screen Recorder
Download IObit Screen Recorder Latest Version
Once the download is done then install the IObit screen recorder on your Windows. The installation steps are too easy, only follow the screen instruction. Otherwise, follow the below steps.
Go to the Download folder.
After that, double-click the IObit setup file.
On the first installation screen, you will see the welcome page. Here click Next.
Now, Agree to the terms and conditions of the software.
Here, select the installation destination and click Next.
Click Next.
Wait for a while to complete the installation and click the Finish button.
How to Record Windows Screen with IObit Screen Recorder?
Now the software is ready and you can record full screen or capture a specific part of the screen. Moreover, turn on the audio if you want and continue to the recording. So, let's start.
Step 1: First of all, you have to select the recording area like you want to record full screen or a specific screen. So, click on Full Screen and select the option you want to go with. After that, turn on the Speaker and Mouse and click on Rec to start recording.

Step 2: Here, your screen is recording as you can see. You can do anything during the recording. Once you are done then click the Rectangle Red box to stop the recording.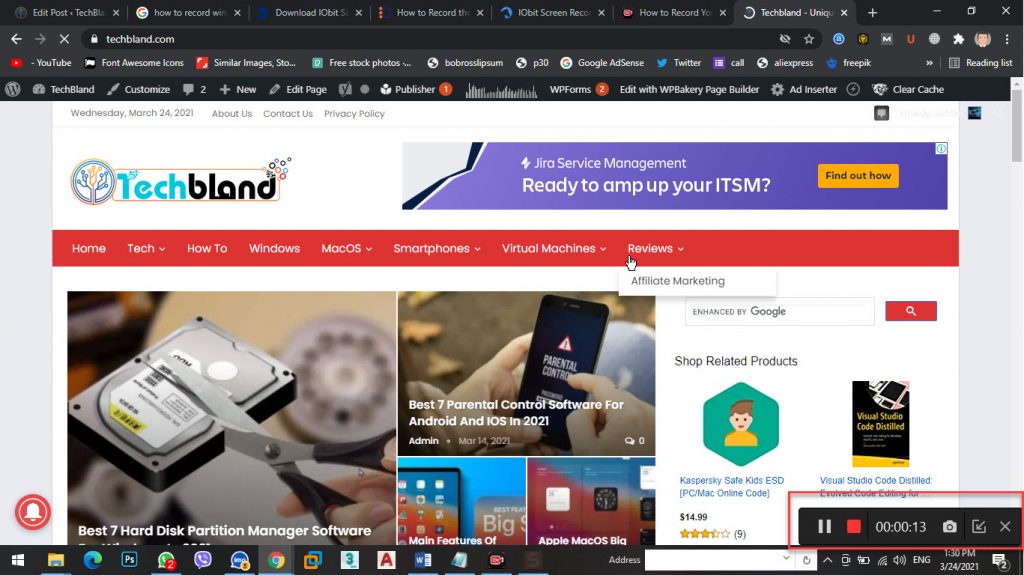 Step 3: Now, you can see the recorded video plus you can share and edit the video with the given options.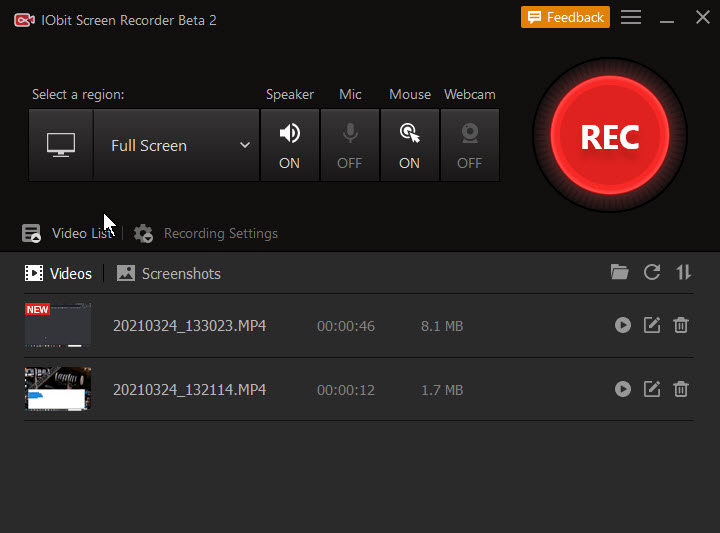 FAQs 
Why Is There No Sound in My Recording?
Check the audio input in the screen recorder. To record the system sound, make sure there is no headset connection. To ensure that external sound can be collected, turn on the microphone during screen recording.
Is IObit Screen Recorder Safe to Use?
IObit Screen Recorder is an online screen recorder and a screen recorder for Windows (PC) powered by IObit. To us, customer data and information security is our priority. We have implemented reasonable technical and organizational measures to ensure no malware or hacking issues.
What Video Formats are Supported by IObit Screen Recorder?
IObit Screen Recorder supports multiple formats, including MP4 AVI FLV MKV MOV TS GIF and so on.
Can I Record My Webcam and Screen at the Same Time?
Recording screen and webcam video simultaneously are primarily for instructional purposes, tutorials, and presentations. Unfortunately, IObit Screen Recorder doesn't have this feature yet. You can record it separately. IObit is committed to better meeting customers' needs, and the team is working on introducing this feature in a future release.
Does IObit Screen Recorder Have a Watermark?
Even though IObit is a free screen recorder for PC (Windows), it doesn't place ugly watermarks or bombard you with annoying ads.
Does IObit Screen Recorder Have a Time Limit on Screen Recording?
There is no time limit for recording. Hence you can record as long as you want.
Is It Illegal to Screen Record YouTube or Netflix?
You can technically record movies and videos, but you're not allowed to. Both YouTube and Netflix have terms of service that prohibit stream capture. That means it's against their rules to screen record videos – that doesn't necessarily mean it's illegal, though.
Is IObit Screen Recorder Free?
IObit Screen Recorder is a completely free screen recorder with audio. You have access to the fully-featured of this free recording software, no time limits, quick editing after recording, and easy to create the great video that you want.
Can Screen Recording be Detected on Some Platforms?
It depends on the platform you use.
Read Next:
Conclusion
In this article, we totally discussed how to record a Windows screen with the IObit screen recorder and you get everything. The IObit is the best screen recorder ever and you can use it to record any type of project etc. So, if you have any confusion then feel free to ask me.