How to Use Console macOS to Check Log and Activities – Best Way
Hello, today I am going to guide you about the best and handy macOS application which is Console and plus you will learn all the details on How to Use Console macOS to Check Log and Activities. However, you have the idea that MacOS is the best and a well-known operating system among all Software OS. Moreover, legions of users are running MacOS, So, needless to say, they might be looking for such application in MacOS that tell them what is going on their computer and what things they are doing. Although those users have that opportunity to check there log and activities with the help of console app that they have.
Actually, the console app in macOS is the best way to view your log files and debug messages. However, there is sometimes that your system works slowly and you are facing lots of problems, then on the dot, you can use this application to track down the error or simply get the idea of what is going on in your system. besides that, you can find all the errors that made your system slow and even you can move it to the trash in order to not face such a problem in the future.
Well, most everything in this application is not deliberate for the average user to view because this app is made for the developer, as they have more understanding about the macOS operating system. However, during the normal use of your system, you can face with warning and error but you don't have to be worried. here I will show you how you can solve it.
How to Reset Forgotten Password of MacOS Mojave How to Perform a Clean Installation of MacOS Mojave The Best New Features of MacOS Mojave 10.14 Download MacOS Mojave VMware & Virtualbox Image
What is Console App?
Initially, you need to know about the console app and there are some users who don't have knowledge of console app that what is console app and why we use it. So, here I will give you some idea about the console app. Actually, this app is the best and handy for Mac user. with the help of this application, you can find your log files and system error. sometimes, your system will work slowly and you are facing lots of problems then at that time you can check what is happening with your system and what is wrong. However, you will see all the data in text with its all details and even you can remove all the logs and activities to free up more space and solve the error of your computer.
Reading the Console App
So, to check and view your Mac system logs you will need to launch the console app from the spotlight. Therefore, press command+space key and search for the console after that press enter key. the second way to open the console, simply go to Finder then go to the application then move to utilities and find console app.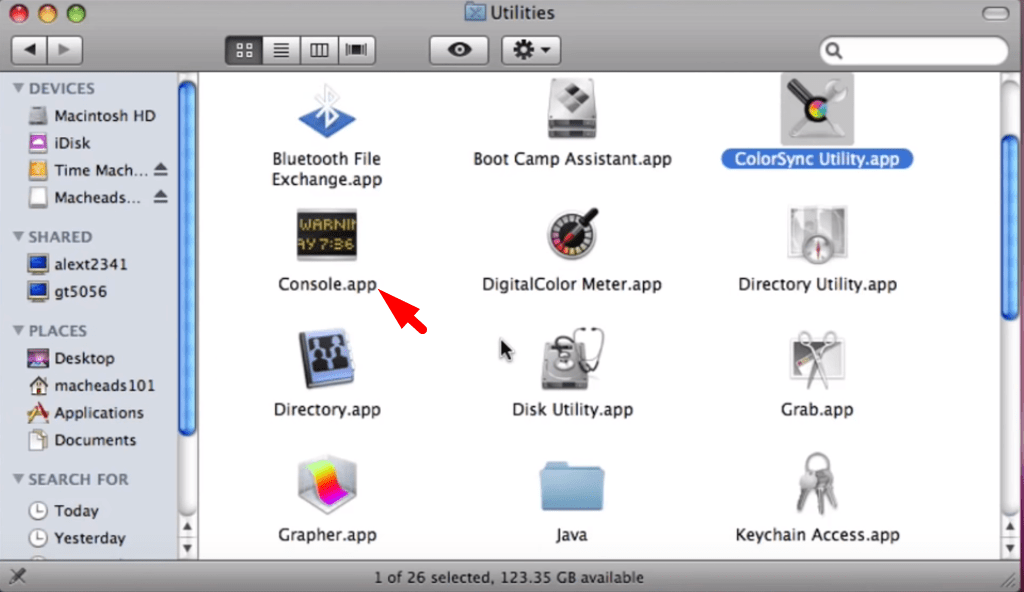 While you find and open the console app then by default you will see the console itself with a bunch of text and messages. Well, here you will see all the logs and activities that you are doing in your current Mac system. every process you have done or you are doing, you will see here with all the details.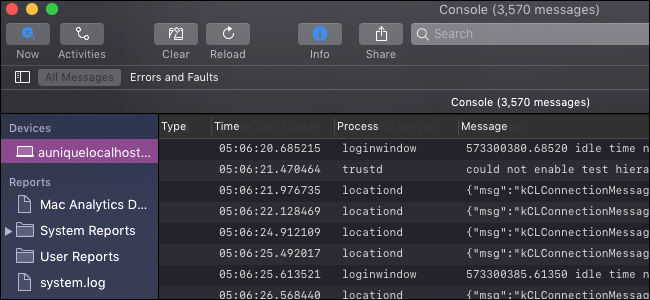 if you want to see only error and faults that you have in your system then you can filter out with dot next to it with red or yellow. even you can view all the important things and you can quickly solve it.
However, it might be confusing because of lots of text and you don't know how to check and what this text means. then here you have a search bar that allows you to search for different parameters. So, simply type anything and press enter, after that you will see a dropdown menu list and you can change the parameters from here.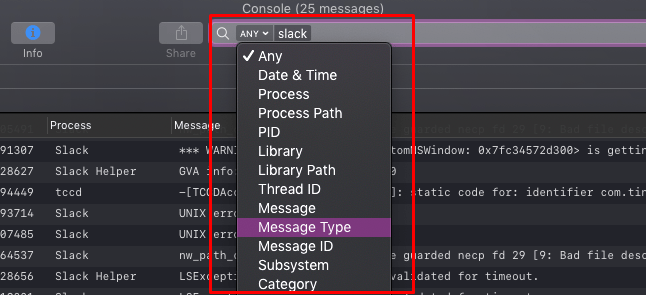 In the dropdown menu list, you have several options to do with the console app. However, you can check the log files according to date & time and even you can only show the message relevant to your system. So the choice is with you just go with each option and check your system logs and activities.
Activities Panel
Another view is the Activities panel that you will see all your system activities in a console app. While you come to activities panel then you will see all the messages.
However, the activities messages are ordered hierarchically, Therefore, you will have to click the white "+" button next to each one to expand it. and you can check all the details and messages.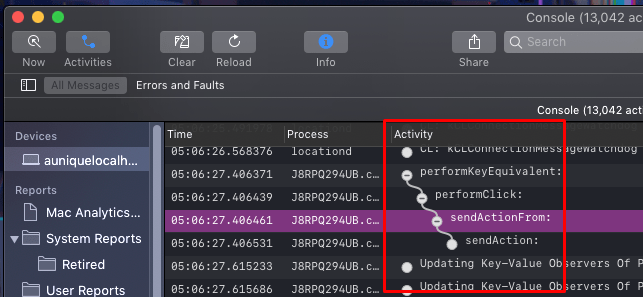 Install MacOS Mojave on VMware on Windows How to Downgrade MacOS Mojave to MacOS High Sierra How to Install MacOS Mojave on Virtualbox on Windows How to Install MacOS High Sierra on Virtualbox
View System Logs in the Console App
Now if you want to have a short glimpse on system logs in the console app then there are more logs are available under reports. However, you can see the application crash and freeze logs, So, click either system reports for system applications or you can click user reports for user applications. Although, you will have several logs extension such as .crash, .diag, and .spin. So, if you want to view them deeply then click on them to see all the details.
If you want more information about why an application crashes on your system then here you can check it and find all the problems. However, an application's developer will need this information to fix the crash that occurs on your system.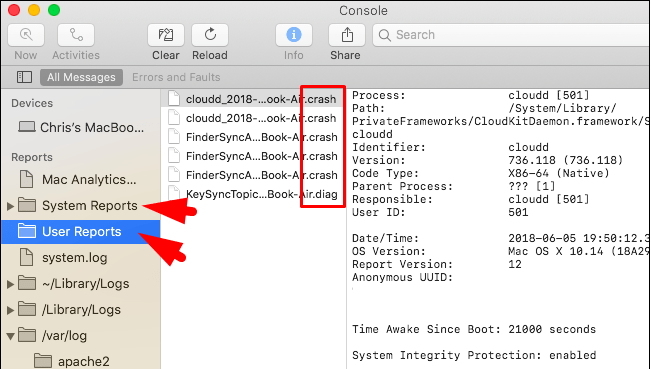 Now look to the left side of the menu and here you will see different categories of the system log. However, every user-level apps have their own category like ~/Library/Logs.
So, in each Library logs, you will see different messages and you can check it and fix it. Moreover, if you want to remove it then you can do it easily and to remove this all messages you will get more space on your computer.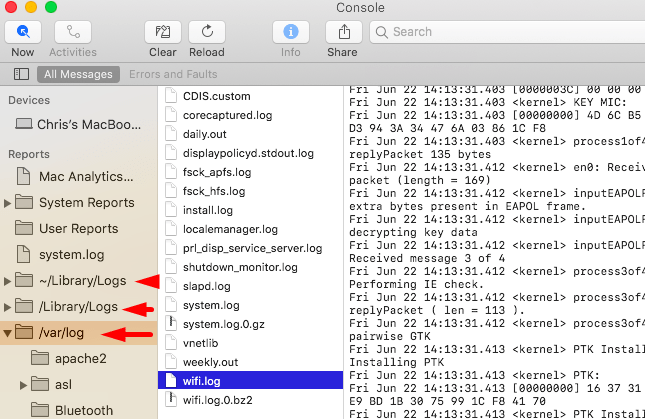 Find Log Files on Disk
So, now if you want to find log files on disk then here I should tell you that, these logs are plain-text files and you can find them on your Mac's local disk. Well, this means that you can browse to them in finder or via the terminal, Therefore, open them in other applications and use command line tools with them, and back up the files.
To find these log files, look in the following locations:
System Log Folder: /var/log
System Log: /var/log/system.log
Mac Analytics Data: /var/log/DiagnosticMessages
System Application Logs: /Library/Logs
System Reports: /Library/Logs/DiagnosticReports
User Application Logs: ~/Library/Logs (in other words, /Users/NAME/Library/Logs)
User Reports: ~/Library/Logs/DiagnosticReports (in other words, /Users/NAME/Library/Logs/DiagnosticReports)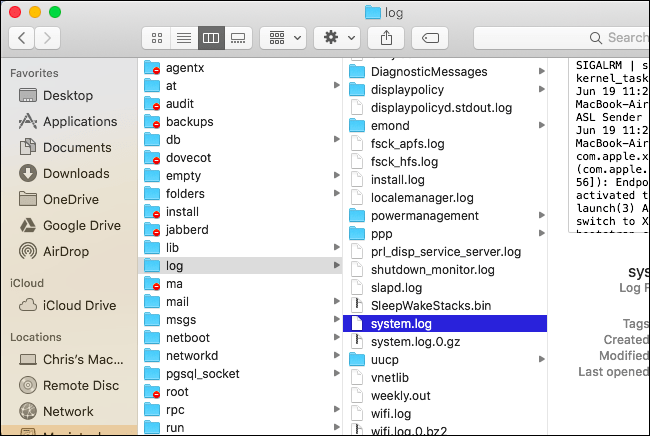 Moreover, if you want to remember where to find one of these folders then you can open the console app from (Application>Utilities>Console.app) After that, ctrl+click or right click on one of the folder or logs in the sidebar and select reveal in finder to view its location on the disk.
How to Delete Virtual Machine on Windows 10 Reasons Why Linux is Better Than Windows – Linux VS Windows How to Install Lubuntu on Virtualbox on Windows – Latest Version
Conclusion
So, dear, these are all about how to use console macOS to check Log and Activities. and here I give you the best method to use the console on macos and check all the error and faults of your system. So, I hope you get what I mentioned here and if you have any question feel free to ask me.