The Best DSLR Cameras for Beginners Photographers – Purchase Now
Smartphones and mirrorless cameras might be awesome when it comes to the camera but cannot in any way be compared to DSLR Cameras. They are a unique camera experience for photographers who are getting started. They're more versatile and easier to use than mobile phones and can as well offer you the best photographing experience. They as well come with a strong battery compact, better control, and handling, plus they can also capture much brighter and optical viewing.
Canon and Nikon remain the best DSLR camera producers. They've been there for a while and are currently the biggest names in the camera market. They offer broad lots of camera choices for potential buyers as well as native lenses to match. On our camera lists below, we included mostly Canon and Nikon products but that doesn't mean that other companies are not included. We researched and bring out to you the very best DSLR cameras for beginners. The buying guide below covers a whole lot of excellent entry-level cameras as well as products from other companies and older cameras that will give you the best camera experience.
The Best DSLR Cameras for Beginners
If you are like me that loves to take a shot and want to be the best photographer. But, don't know which camera is best for beginners. Then, below are the best DSLR cameras for beginners. Check it out and purchase your favorite one.
1: Nikon D5600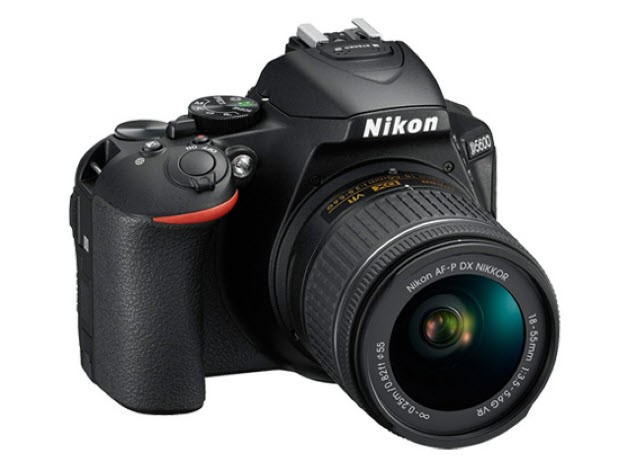 The best DSLR camera for beginners on the top is Nikon D5600 is one of the best excellent image cameras coupled with an articulating touch screen. The D5600 is an upgraded version of the D3000 series model. With quality video resolutions of 1080p. You'll never regret buying one for your personal or professional use. It's designed with a special number of specs to rival the likes of Canon EOS Rebel T7i / EOS 800D.
This DSLR camera is really good for beginners and enthusiasts. It really offers a lot of quality services with a little amount of money. The Nikon D5600's two drawbacks are the slow live viewing focus and its snap bridge.
Specs:
Sensor: APS-C CMON | Lens mount: Nikon DX | Screen size: 3.2-inch articulating touchscreen, 1,040,000 dots | Megapixels: 24.2MP | Camera Shooting speed: 5fps | Video resolutions: 1080P | User levels: Beginner/Enthusiastic | Price: $864
2: Nikon D3500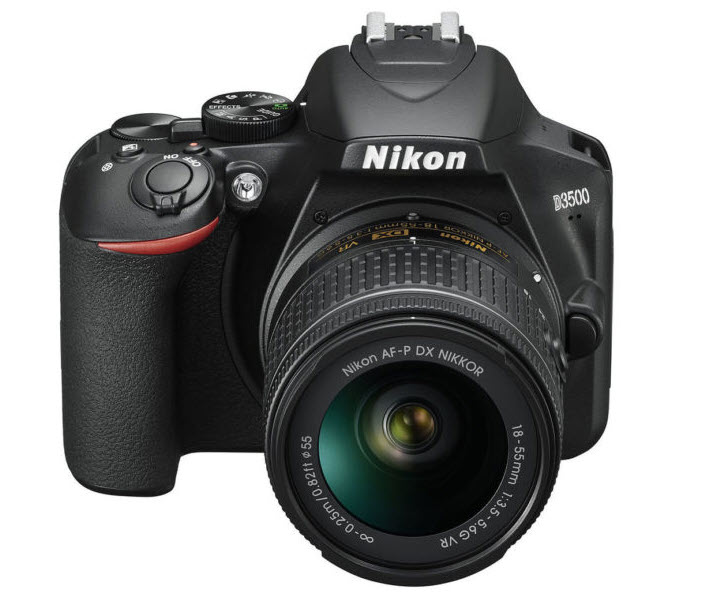 Nikon D3500 is specially designed for beginners. It's produced in such a way that it's very easy to handle even though it comes with a user guide manual. It really looks like the D3400 both on design and some specs but the D3500 comes with extra perks.
Unlike most mirrorless cameras, this camera comes with strong lasting battery life. It can keep you going for 1,550 images between charges. With a 24MP camera, the quality of your images is absolutely superb. It has no touchscreen sensor. And it has Bluetooth connectivity even though the Wi-Fi connection is absent.
Specs:
Sensor: APS-C CMON | Lens mount: Nikon DX | Screen size: 3-in, 921,000 dots | Megapixels: 24MP | Camera Shooting speed: 5fps | Video resolutions: 1080P | User levels: Beginners | Price: $649
3: Canon EOS Rebel T7i / EOS 800D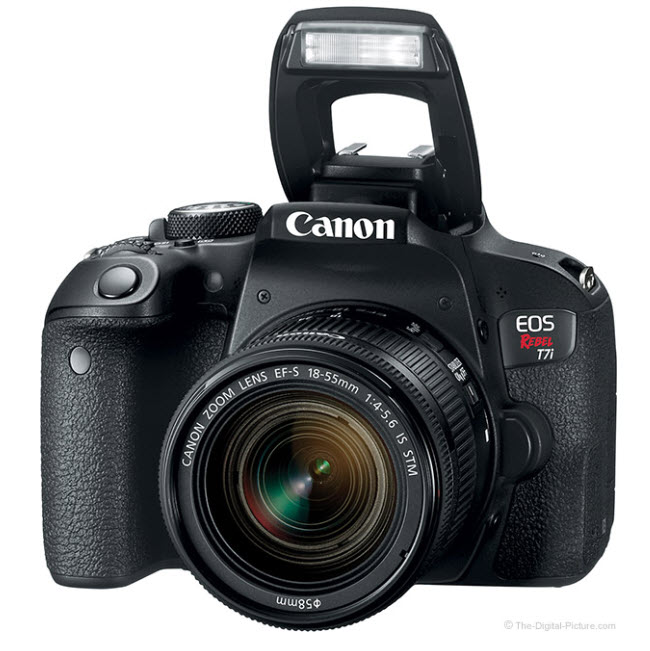 Canon's EOS Rebel T7i is also known as the EOS 800D outside the US. This camera is already in the course of being replaced by its successor, the Rebel T8i / 850D. It's already the upgraded version. It has out shadowed its predecessor but Canon's EOS Rebel T7i is still among the best cameras.
It comes with a 24.2MP camera that gives you the best quality pictures coupled with its great touchscreen and excellent sensor. Its two drawbacks are the plastic finish and the 4k video.
Specs:
Sensor: APS-C CMON | Lens mount: Canon EFX | Screen size: 3-inch articulating touchscreen, 1,040,000 dots  | Megapixels: 24.2MP | Camera Shooting speed: 6fps | Video resolutions: 1080P | User levels: Beginners/Enthusiast | Price: $829
4: Canon EOS 90D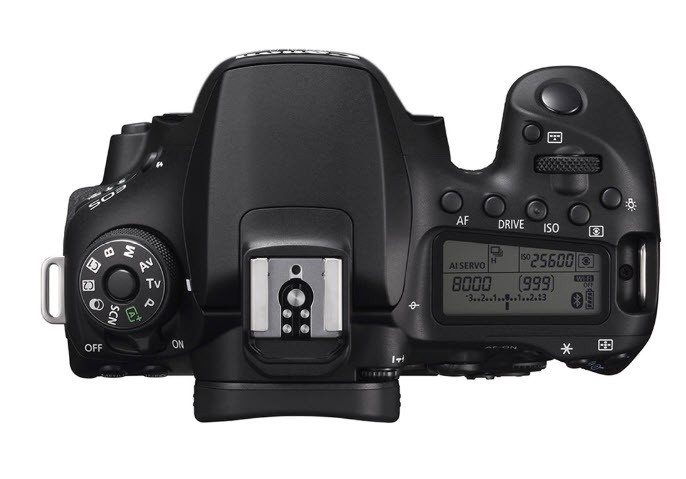 The Canon EOS 90D might be the last DSLR enthusiast camera Canon will ever make. The versatile 90D packs a high-resolution sensor which when paired with the Canon's Digic 8 imaging engine,  will offer the best enticing prospect of uncropped 4K video at 30fps. Its color reproduction is superb though the camera noise shooting might be an issue.
The camera is really comfortable while in your hands, coupled with its strong lasting battery life that can take up to 1500 shots on a single charge. It's really a little bit too much for an absolute beginner both the price and its features but it's highly recommended for those who have gotten a little camera experience.
Specs:
Sensor: APS-C CMON | Lens mount: Canon EF/EFX | Screen size: 3-inch vars-angle touchscreen, 1,040,000 dots | Megapixels: 32.5MP | Camera Shooting speed: 11fps | Video resolutions: 4k/30P | User levels: Beginners/Enthusiast | Price: $1,349
5: Sony A77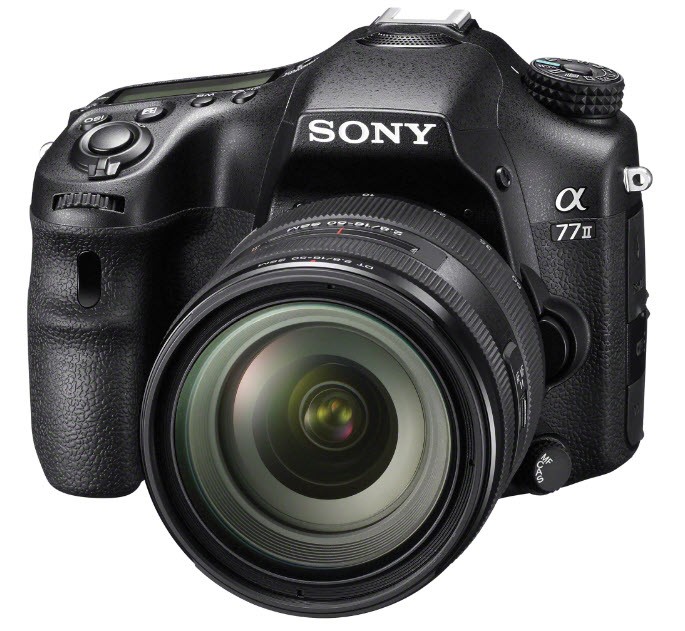 Unfortunately, the Sony A77 is very similar to the cheaper A65 models, the difference between the two cameras is the LCD display panel on top and a thumb-operated multi-selector on the rear. With a measurement of 142.6 x 104 x 80.9mm and weighing 653 grams, the Sony A77 is undoubtedly bigger and heavier. The Sony A77 can shoot 24.3MP quality photos at up to 12fps whilst maintaining complete autofocus and auto exposure.
The Sony A77 allows you to track fast-moving objects automatically without having to reset to the manual focusing, making it easier for beginners.
Specs:
Sensor: JPEG | Lens mount:  20-1200MM | Screen size: XGA OLED electronic viewfinder with 2359k dot resolution | Megapixels: 24.3MP | Camera Shooting speed: 12fps | Video resolutions: 1080P | User levels: Enthusiast | Price: $799
6: Panasonic Lumix FZ80 4k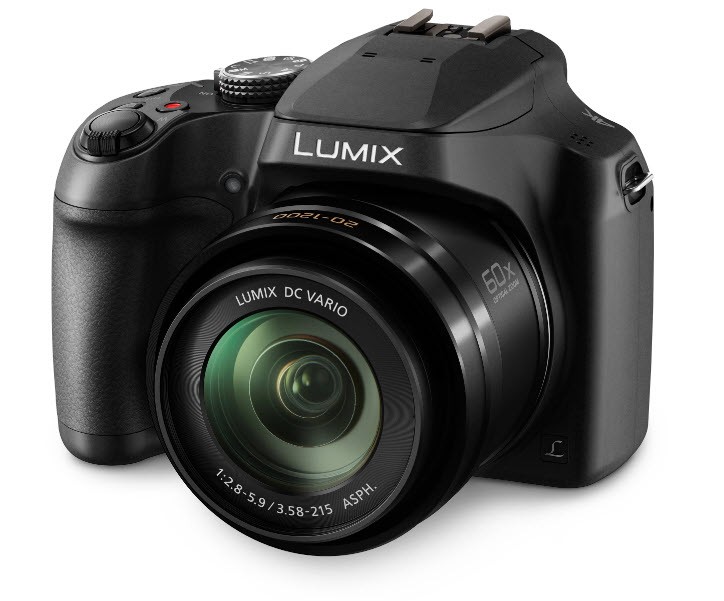 The Lumix FZ80 4k brings with it a new higher resolution image sensor. The camera controls are absolutely awesome and the touch screen interface performs nicely as well. The inbuilt electronic viewfinder is a 0.2-inch color LCD with 1,166k dots. The 3-in touchscreen LCD has 1,040,000 dots with a fixed display.
Although the camera is specifically made for those advanced in-camera handling that doesn't mean that beginners can't use it as well. The camera uses an 18.1-megapixel CMOS, it's the sensor is a small 1/2.3-inch type chip, which makes distant zooming possible.
Specs:
Sensor: APS-C CMON | Lens mount:  2.8SSM | Screen size: Color LCD electronic viewfinder with 1,166k dot resolution | Megapixels: 18.1MP | Camera Shooting speed: 9fps | User levels: Beginners/Enthusiast | Price: $297
7: Canon EOS 80D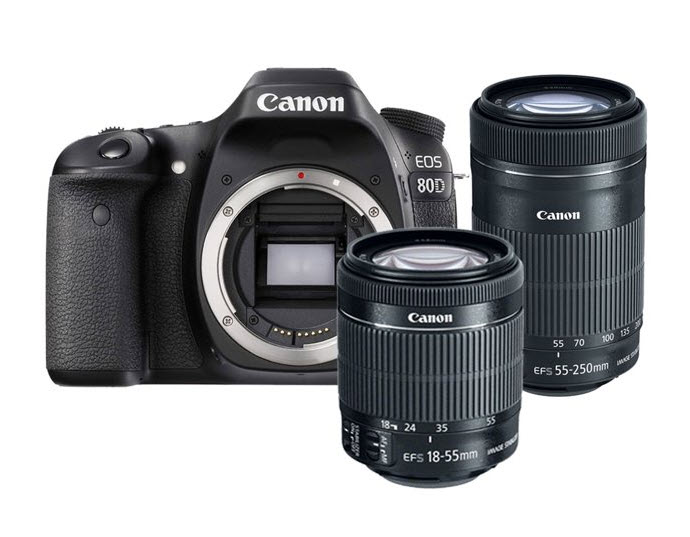 The Canon EOS 80D is a fast and reliable DSLR camera. It's been one of the best DSLR cameras produced by Canon even though it's been out since 2016. Very special thanks to its amazing features and specs, with a 24mp camera sensor that can capture auto bright images with a 45-point autofocus system that never disappoints you.
The camera also comes with a guided menu system that's easy to navigate and WiFi/Bluetooth connectivity which can allow you to transfer images wirelessly if needed. Its drawback is that there's no 4k video and that it's lens kit that comes with the shooter is a little bit tad soft around the edges, aside from that. The website is really nice and advisable to purchase especially for beginners.
Specs:
Sensor: APS-C CMON | Lens mount: Canon EF-S | Screen size: 3-inch vars-angle touchscreen, 1040 dots | Megapixels: 24MP | Camera Shooting speed: 7fps | Video resolutions: 1080P | User levels: Beginners | Price: $999
8: Pentax K-70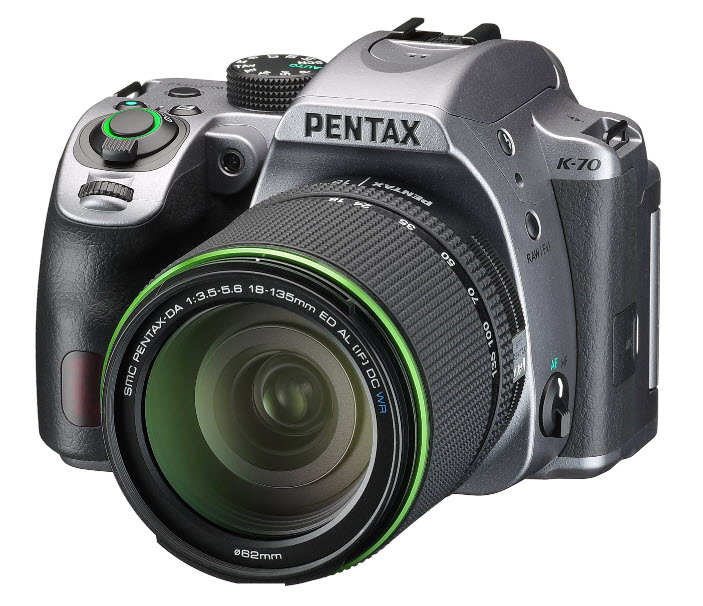 For the past few years now, the Pentax cameras are really the third option for anyone who doesn't want to buy either Canon or Nikon. The well-compacted camera is designed in such a way that it'll be very comfortable while in your hands. The 24.2-megapixel ensures that the images taken are always of high quality.
Pentax k-70 hybrid live view autofocus system makes it an actual practical alternative to using the viewfinder. The amazing thing about this camera is that you can comfortably snap images outdoors irrespective of the weather.
Specs:
Sensor: APS-C CMON | Lens mount: Pentax-K | Screen size: 3-inch, 921,000 dots | Megapixels: 24.2MP | Camera Shooting speed: 6fps | Video resolutions: FULL HD | User levels: Beginners | Price: $827
9: Sony Alpha a6000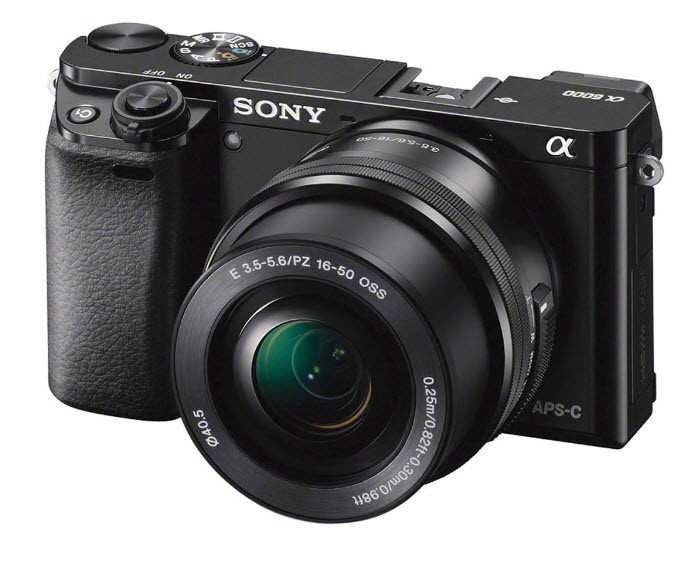 The last best DSLR cameras for beginners are the Sony Alpha a6000 an improved version of the Sony NEX-6. The camera features are really worth commendable. The improved version of NEX-6 is aiming to offer photographers a strong feature. The camera resolution and processor have been bumped up unlike most of the products.
Sony's new 24-megapixel 'Exmor APS HD' CMOS sensor comes with on-chip phase detection like its predecessors, though it covers larger area frames. One of its new features is that the shooter sound has been reduced as well. If there's anything that makes the a6000 unique is the camera's improved AF system. Although the 25-p contrast-detect system remains the same The number of phase-detect points has been upgraded from 99 to 179. The camera doesn't possess Bluetooth connectivity but it has Wi-Fi and NFC capability that helps you transfer images wirelessly.
Specs:
Sensor: APS-C CMON | Lens mount: Sony E | Screen size: EVF/ LCD with 1,440,000 dots | Megapixels: 24.3MP | Camera Shooting speed: 11fps | Video resolutions: 1080 | User levels: Beginners | Price: $698
The Difference between DSLR And Mirrorless Cameras
A lot of people especially those who are still entering the camera world have been wanting to know the difference between Digital Single-lens Reflex(DSLR) and mirrorless (also known as compact systems) cameras. Over the years, DSLR cameras have been the only choice for any professional photographer. But recently, the competition between DSLR cameras and mirrorless cameras has really increased. The difference between the two is narrowing with the recent technological advancements. So, now a lot of speculations have emerged on the difference between the two cameras. This is the reason why will bring out to you the top difference between the two Cameras.
1. Lenses
Both Canon and Nikon always come with a massive lens for every job and they are the best DSLR cameras for beginners. Although Pentax and other models also have many bases covered. The contribution from only third parties just adds a few options to each system.
The lens ranges for the Mirrorless Cameras are still developing. Although some companies are already adding more power to their system but not compared to that of DSLR cameras.
If you're looking for a massive choice of lens, then DSLR is the best for you. Each of them comes with an extensive range of lenses for different prices that will surely satisfy your taste.
Although Olympus and Panasonic are already adding a little lens to their cameras, that can never be compared to DSLRs, the first Mirrorless camera was established last twelve years. The Mirrorless range of Micro four-thirds lenses is the most convenient It offers a broad range of optics from ultra-wide-angle zooms to fast prime telephoto lenses.
2. Sizes and weight
The DSLR cameras can be big and bulky, though this helps when shooting with big telephoto lenses. While the mirrorless cameras are generally small and lighter in size. But some lenses can be as big as that of DSLRs. One of the big selling points for the mirrorless cameras has been their small sizes. Although sometimes it doesn't matter because you have to take into account the camera body and lens combinations.
However, some higher-end mirrorless cameras like the Canon EOS R and the Olympus OM-D E M1X are now becoming bigger as they add more features.
3. Autofocus
Although the DSLRs have a clear focus advantage, but not quite as clear-cut now. However, they're faster for tracking fast and moving objects but would be in a weak view. While the mirrorless cameras entry-level may struggle, many of them now possess hybrid contrasts.
DSLR cameras now with fast and efficient face detection autofocus modules mounted below the mirror in the body. These eras are incredibly fast in tracking objects especially the Nikon D850 and Canon EOS-1D X Mark II offering very superb sophisticated systems.
Their only downside is that these systems only work when the mirrors are down. If you're using a DSLR in live view mode, the mirror has to be flipped up and the regular AF is no longer on the right path when composing a picture or video on the LCD display.
However, mirrorless cameras use sensor-based autofocus all the time. Most of them are contrast-detect AF-based but are much faster than Contrast AF modules on DSLRs. More advanced mirrorless cameras hybrid AF advanced systems that contrast phase-detection AF from the sensors.
4. Viewfinders
Many photographers have an optical view for its clarity, natural looks, and lag-free viewing. All the DSLRs no matter the price range comes with an optical viewfinder because it's an integral part of it. However, many entry levels of cameras don't come with the optical viewfinder at all, so you have to use the LCD to compose photos.
Mirrorless cameras with viewfinders are always costly. They're electronics rather than optical viewfinders. The electronic viewfinders are fast advancing, they rarely show any signs of graininess which was an issue in the past few years. One of the electronic viewfinders is that they can display more clear information than optical viewfinders.
5. Features
In terms of DSLRs and mirrorless cameras features, the two are hard to split here. The two cameras full manual controls over exposure focusing and can as well shoot more files as well as JPEGs, giving you the best quality images.
In terms of viewfinders, all DSLR cameras possess viewfinders while in mirrorless cameras, only the costly ones with it. However, splitting the two cameras in terms of features is very hard, as the two possess almost the same things altogether. In terms of lenses, no manufacturer offers compatible lenses with it's both mirrorless and DSLR cameras. The reason is that the back of the lens is so much closer to the sensor than that of mirrorless cameras, so you'll always need the presence of an adapter.
Another aspiring feature that mirrorless cameras possess is the improved autofocus zone. The DSLRs focus uses a separate autofocus module while that of mirrorless cameras is always attached to the sensor itself.
Things to Consider When Acquiring DSLR Cameras
Before buying your dream DSLR camera, there are several things you need to consider to avoid making any mistakes or regretting why you bought it. There is a lot of technology to consider when buying the best DSLR cameras for beginners. As part of our mission in providing the best service to you, we've outlined the top 4  things you really need to consider before buying any camera to avoid wasting your hard-earned cash.
The combination of your budget, performance, sensor, purpose, etc all matters when buying your dream camera. The insatiable tastes of humans have really made camera makers strive toward bringing out the best cameras for photographers.
Sensor Size
The picture quality and size really matter when buying a camera. The camera exposure and flexibility are really most of the things you need to know first about the camera you wanted to buy. The top criterion to consider is the sensor size. You need to know that the larger the photosite surface area, the more information it'll covers. The more information the camera image records, the greater the dynamic range in resulting the image as well as the picture quality.
The camera sensor size should be considered when buying your dream camera. To serve you better and assist you in buying a camera, we've included the sensor size of each camera aforementioned here.
Your Budget
The price of the camera you wanted to purchase should be among the first thing you need to know when buying any camera. The prices differ from the camera makers, quality, mega-pixel, battery life, etc. As you already know the prices of top makers like Canon and Nikon are going to be higher than others because they've been in the market for many years and the market force takes a major impact too. Another reason is that they've been known for making quality products and you have to rest assured that the product you're buying is of high quality.
As you already know, top camera makers' prices are higher than that of Pentax, Sony, etc, but that's not a guarantee that lower makers don't have quality cameras as well. If your budget is too low for the big-name cameras, then you can opt for the likes of Sony, Pentax with higher qualities.
Camera Lenses
Some cameras like DSLRs and mirrorless cameras are interchangeable. That's to say that you change the lens of your camera for a different one. That's one of the main reasons people prefer this type of. The type of lens to use depends on the action being taken, let's take, for example, when you want to shoot landscapes, you'll use a wide-angle lens, to shoot some flocks of birds, you'll need a powerful telephoto lens. All this your phone camera can't do because their camera lenses are fixed.
However, the lenses are very expensive even though there are some cheap ones too. Most lenses cost more than the camera itself. The lenses with cameras are normally fine and awesome but they really can't perform most things like taking blurry, classic, or portrait images. You'll require the services of a portrait-specific lens with a wide aperture. But if you're a new photographer and you don't have money to purchase a new lens immediately, you can use the ones that the camera comes with and later buy a better one.
Mega-pixel Resolutions
Although many people thought that the quality of a camera is determined by its megapixels but that's not true. When choosing the camera you want to buy, the camera mega-pixel is relatively unimportant. Although the mega-pixel matters that's not the most important thing you'll need to consider first just like most people.
However, you'll also need to know the camera mega-pixel to know the type of image quality it offers. The camera mega-pixel will determine how bright the photos taken will be.
Read Next:
Conclusion
The inventory of digital cameras has really proven the great work of technology. Before buying a camera, you need to first know the specs, the price, the battery duration, etc. We've carefully done the research and bring out to you the best DSLR cameras for beginners that will offer you perfect photography coverage.
If you have any questions regarding the best DSLR cameras for beginners. Or, if you know any other best DSLR Cameras for beginners. Then, please let us know in the comment section.