Top 7 Powerful Android Hacking Apps in 2019
Top 7 Powerful Android Hacking Apps in 2019 Hello, friends in this article we will tell you about the best hacking apps. as you know android phone becomes a high powered smartphone and it has legions of users. although the android phone has million of availability of apps, and one of them is hacking apps where we are going to tell you about useful and best hacking apps. here we have listed the top 7 best hacking apps, and they are free and easy to use. after downloading these apps your Android phone becomes a hacking machine and you can do anything.
well, there are lots of hacking apps that most websites tell you but few of them are not working yet and they are not on the list of top apps. needless to say, we have searched and found out the top 7 active apps that you can use it easily and you can download it from Google Play Store. so before wasting your time let's start
Top 10 Best Android Apps In 2019 – Get Know Top 5 Best Tips and Tricks For Smartphones User
Top 5 Best Camera Apps For Android In 2019 How To Hack Wifi Password on Android & IOS
The Top 7 Powerful Android Hacking Apps in 2019
Today we are here with the best hacking apps, most people want to learn about hacking but it's not an easy thing to do. so here we will provide you top 7 hacking apps that you can easily learn and do hacking with your Android, and these apps are sufficed for doing hacking. so the list below is about the best hacking apps.
1. WiFiKiLL PRO – WiFi Analyser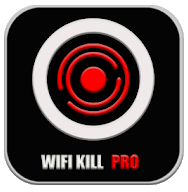 This is one of the top 7 best hacking apps and it's the best wifi network controller application. it can disable (shut down) the internet connection of other devices with the same network and it is the handy tool for wifi internet users using which you can cut other networks. this is an awesome app you can start using now and one thing more this app is only for android and it requires root access. you can download it from google play store, it is free and easy to install.
Features:
-You can see all who are connected (list of devices) on the wifi network that you are using.
-WifiKill can show the data transfer rate (download, upload) of grabbed devices.
-You can monitor the network activity of any device using wifi.
-Names of the devices connected to the network are displayed.
-Most importantly, you can cut off the net connection of any device which is connected ? to the same wifi network as yours.
– It works on tablets too.
2. AndroRAT Hacking Apps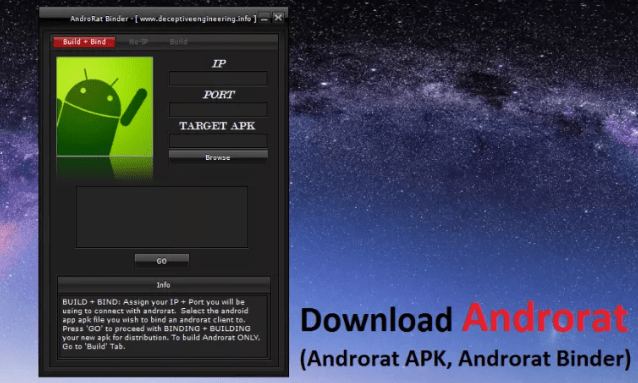 This is the best hacking app in 2019 and most people are using this app. you can hack any device with the help of androRAT app and after that, you can access to information and data of that device like you can check call logs, message, social apps, and many more thing. besides that, you can make any device your clients and you can do your task, even they don't know that someone is controlling their device. so I prefer you to use this application.
Features:
– Check out browser history
– Monitoring received messages in live
– Monitoring phone state in live (call receive, call sent, call missed)
– Take snapshots from the camera
– Stream sound from microphone and media played
– Stream video (for activity based client only)
– Do a toast
– Send messages
– Make a call
– Open URL in the default browser
– Check out installed apps
– Do vibrate the phone
Increase Internal Storage up to 256 GB With Best Method How To Root Android Phones Without PC
How To Transfer Files Between Computer And Mobile – Wirelessly
3. Nmap Hacking Apps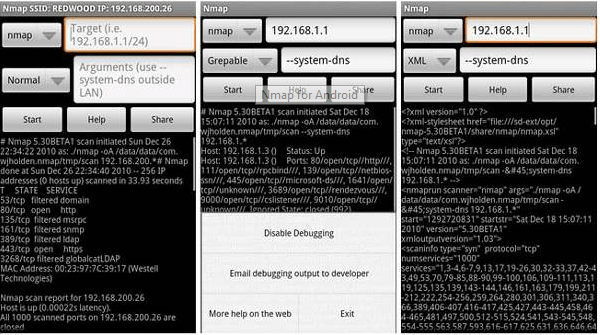 This is the best application in 2019 and it was developed for PC but now it is available for Android devices too. although it will work for root and non-root device if you are a beginner in hacking so this application is for you. even advanced hacker is using this app, this is my favorite application and I prefer it for you to use it.
4. I Hack You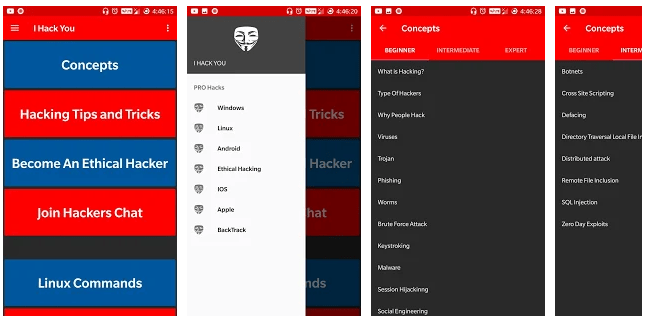 This app teaches you about hacking if you don't know about hacking then go through this application. here you can find many courses and besides that, you can get your answer like how to hack facebook, how to hack wifi and many more. therefore if you are a beginner then download this app from Google Play Store and start learning from now.
It contains the following
– How to Prevent hacking and various types of attacks.
– Shortcut keys for Windows and Macintosh
– Various commands for internet as well as a social application
– Google Tricks and shortcuts.
– How to hide our self from the internet
– A cellular phone like Android, Apple tricks and Tips.
How To Unlock iCloud Activation Lock In All iPhones How to Change Password of Android Phone
5. USB Cleaver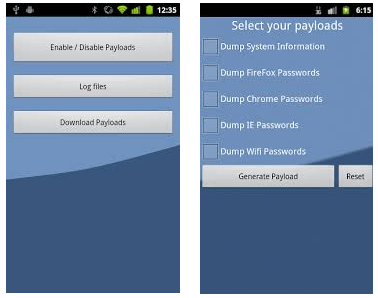 here I have brought another hacking app for you, and this is one of the best applications in 2019. with this app, you can get control of the browser and you can find their facebook password, information, and many other things. not only this much even you can get their SD Card data.
Features:
System Information: It can dump away with the system information as well as IE Passwords, Chrome Passwords, and Firefox Passwords plus Wifi Passwords
Select The Payloads: It would also allow you to select the payloads you want to use. It is also holding the feature as where it will temporarily be removed disclaimer screen causing possible F/C on top of the first run.
Other Features: It can hence fix possible bug causing force close on the first run. It would fix the issue as we're starting an application with SD Card mount causes F/C. 
SD Card: It is also adding on with the new BG to show out if the SD card is all the more not available.
Change The Main Background: It can also change the main background and Gaussian Blur the line in the middle. It can dump LSA Secrets and also xCopy files "documents" and so as the pictures.
6. Hackode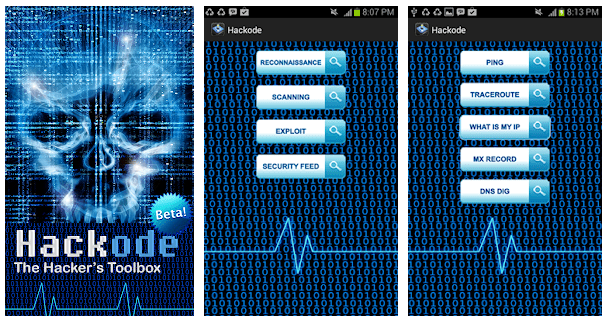 The hacker's Toolbox is an application for penetration tester, Ethical hackers, IT administrator, and Cybersecurity professional to perform different tasks like reconnaissance, scanning performing exploits, etc. besides that, it has the ability to perform Google hacking, MYSQL Server, Scanning, SQL injection, DNS lookup, and lots of other.
hackode Tools:
– Reconnaissance
– Google Hacking
– Google Dorks
– Whois
– Scanning
– Ping
– Traceroute
– DNS lookup
– IP
– MX Records
– DNS Dig Exploits
– Security RSS Feed
Best Method of Facebook Video Downloader for Android, IOS and PC
7. Network Spoofer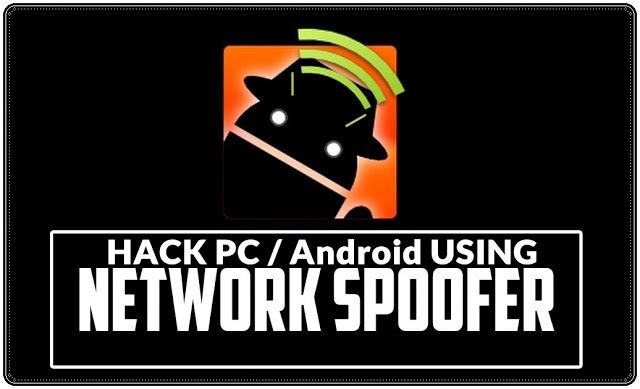 the last hacking app which is the best one in 2019 and with this app you can change the website, image, video, words, and more on a network. first of all, you need to download it from below the link and start with it. although with this app you can perform multiple spoofing at the same time by using this app.
In conclusion
in this article, you have learned about the top 7 best android hacking apps in 2019. these apps are awesome and easy to use, you can start using now. we have told you deeply about 7 hacking apps, so read top to toe and if you get any confusion then feel free to ask me in comments.