How to Use SideCar on iPadOS 13 & Make Second Screen Display
Do you know about SideCar feature or have you use SideCar before? What I think this is the first time you hear the name of SideCar. Therefore, in this article, I will guide you about How to Use SideCar Feature on iPadOS 13. However, we have uploaded article related to How to Use SideCar Feature in MacOS Catalina 10.15 you can check our article and get an idea about SideCar feature. So, Sidecar is the most powerful tools that allow the user to extend Mac's computer with an iPad or iPod. but the question is here, how you can extend Mac to iPad or iPad to Mac. that's what I will describe here.
Apple released MacOS Catalina operating system later this year and this is the latest version of macOS. actually, this Operating System has several major features that are handy and powerful. Later on, Apple introduced a new and useful feature which is the best feature called SideCar. However, SideCar will help you to extend your Mac's computer with your iPad devices. we don't have such a feature to mirror two devices without any software or any other resources but MacOS Catalina gives this ability to extend Mac to iPad easily. Finally, thanks to Apple company to give this opportunity and make our works easier.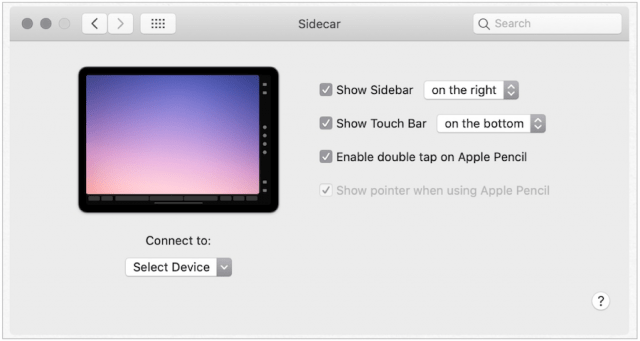 With SideCar, you can use your iPad as a second screen display, So, when you connect your Mac with iPad then you will see your Mac screen onto iPad but you have to decide whether you want to mirror the display or extend your Mac screen onto your tablet. So, the below title and paragraph will guide you each and everything about SideCar.
What is SideCar?
Of course, this is the new feature and most of the user don't know what is SideCar and where to use and how to use. So, SideCar allows the user to extend Mac's computer with iPad or iPod devices. with this feature, you can mirror your devices and use iPad as a second screen display like  Duet Display and Luna Display this is the first feature that Apple introduced for users and I don't think there will be any powerful feature to extend Mac's computer with iPad devices without software.
Related Articles:
Devices support SideCar Feature
SideCar will be supported by recent models of Mac, if you are using the new version of Mac then you can use Sidecar feature otherwise you will not be able to use SideCar. However, this is the new feature and only recent models can handle this feature. therefore, check the below Mac devices and if your Mac is one of them then for sure you can use SideCar.
MacBook, 2015 and later
iMac, 2012 and later
MacBook Air, 2012 and later
iMac Pro, 2017 and later
MacBook Pro, 2012 and later
Mac Pro, 2013 and later
Mac mini, 2012 and later
Conversely, the following iPads will support iPadOS 13:
12.9-inch iPad Pro
11-inch iPad Pro
10.5-inch iPad Pro
9.7-inch iPad Pro
iPad (5th and 6th generation)
iPad mini (4th and 5th generation)
iPad Air (3rd generation)
iPad Air 2
Did you check the above devices with yours? So, if you have one of them then you can easily use SideCar if you don't have the above devices then copy the below code and paste in the terminal. this line of code will allow the SideCar to be used. Therefore, open the terminal and paste code then press Enter key.
defaults write com.apple.sidecar.display AllowAllDevices -bool true; defaults write com.apple.sidecar.display hasShownPref -bool true; open /System/Library/PreferencePanes/Sidecar.prefPane
Use SideCar on iPadOS 13
if you know how to use SideCar in MacOS Catalina then this task is easy for you and you can easily setup SideCar on iPadOS 13. for those, who don't have the idea then follow the below steps and setup SideCar.
Upgrade your iPad to the latest version.
Go to System Preferences.
After that, click on the SideCar in system preferences.
Look left-side and under Connect to click on Select Device.
Now, choose your iPad from the dropdown menu.
At last, your iPad is connected with Mac, So, now you should see the Mac screen in your Tablet.
How to Display Screen
Once your Mac connected with iPad through SideCar feature, after that, you will need to decide whether you want to mirror the displays or only you want to extend the Mac screen onto your tablet. therefore, if you want to make changes then follow the below steps and decide what you want to see on your tablet.
First Step, you have to tap on the AirPlay icon at the top right on your Mac's Toolbar.
After that, select Open Displays Preferences from the dropdown menu.
Next step, under AirPlay display, tap the Arrangement tab.
If you want to mirror your Mac screen or to show your Mac screen on your iPad then click the Mirror Displays.
While you want to extend your Mac display onto your iPad then you need to decide which monitor you want to display first, the Mac or iPad. if you want to display Mac screen then drag on the icon that represents the screen or you want iPad screen to come first then drag the iPad screen.
Once you have done with these steps and you want Mac screen to come first then the Mac screen will be on the actual Mac and extends onto your iPad.
Which one Sidebar or Touch Bar?
Well, as I mentioned above that while you connect your Mac and iPad then you will need some configuration to adjust whether you want to display your Mac sidebar or touch bar onto your iPad. therefore, you have to decide which one you wanna test in iPadOS 13 and where you want to put them.
Sidebar:
So what is Sidebar in Mac operating system? actually, the Sidebar is in SideCar where you can find your all most-used controls and modifier keys in apps that support SideCar. Moreover, with Sidebar you can describe your all markup tools and those that let you capture an entire webpage, document, and email. this means, you can screenshot the projects you are working on and you can capture your data like documents, files, and many more.
Touch Bar:
So, now let's get an idea about Touch Bar. However, the touch bar is the platform where you will find all controls for apps that support Apple's Touch Bar. although Touch Bar is mostly found on late-generation Macbook Pro models. in this case, the digital Touch bar is available on your iPad, regardless of the type of Mac.
Related Articles:
Conclusion
That's all about how to use SideCar on iPadOS 13 and we have described each and everything that you need to know about SideCar feature, So, I hope you get what we explain and after reading this article you are able to extend your Mac with iPad easily. Moreover, if this article was helpful to you then don't forget to give your precious idea and feedback.