How to Install macOS Big Sur on Separate APFS Volume?
No doubt, macOS Big Sur is one of the biggest Apple operating system released in 2020. Apple brings multiple changes and features in the new operating system. There are some IOS 14 and iPadOS 14 features that are included in macOS Big Sur 11. However, in macOS Big Sur Apple updated some functionality like Control Center, Notifications, Maps, Messages, and much more.
Once Apple announced macOS Big Sur then they released the first beta for users and till now Apple is updating and releasing macOS Big Sur betas. However, macOS Big Sur is not stable and its beta has several errors that can crash your Mac computer. You might now be running macOS Catalina because the macOS Big Sur has some bugs. So, no one can wait for the macOS Big Sur stable version though it has amazing features.
Therefore, installing macOS Big Sur on your main computer can be risky. So, why not to Install macOS Big Sur on Separate APFS Volume. This will allow you to dual boot two Mac operating systems on a single Mac computer. You need to download macOS Big Sur installer file and create a seperate APFS volume for macOS Big Sur on same SSD or HDD and run both operating systems.
One of the best reason to Install macOS Big Sur on Separate APFS Volume is. There will not be any risk of losing your important data and you can easily switch between two operating systems on your Mac. So, lets start our article and install macOS Big Sur on Mac.
Backup your Mac
Before going to install macOS Big Sur on seperate APFS volume, make sure you have complete backups of your data. There are several third-party software that can allow you to backup your Mac data. But, the best way is to use Time Machine to backup your whole data.
How to Install macOS Big Sur on Separate APFS Volume
No matter which Mac operating system you are running on your Mac. Whether it is macOS High Sierra, macOS Mojave, and macOS Catalina. Only you need to create a seperate APFS volume to dual boot macOS Big Sur.
Step 1: First of all, you need to download macOS Big Sur from "System Preferences > Software". Once the downloading is done then it will start the installation automatically. Close the installation Window.
Step 2: To begin creating a seperate APFS volume go to Spotlight and search for Disk utility. Or go to Applications > Utilities and open Disk utility.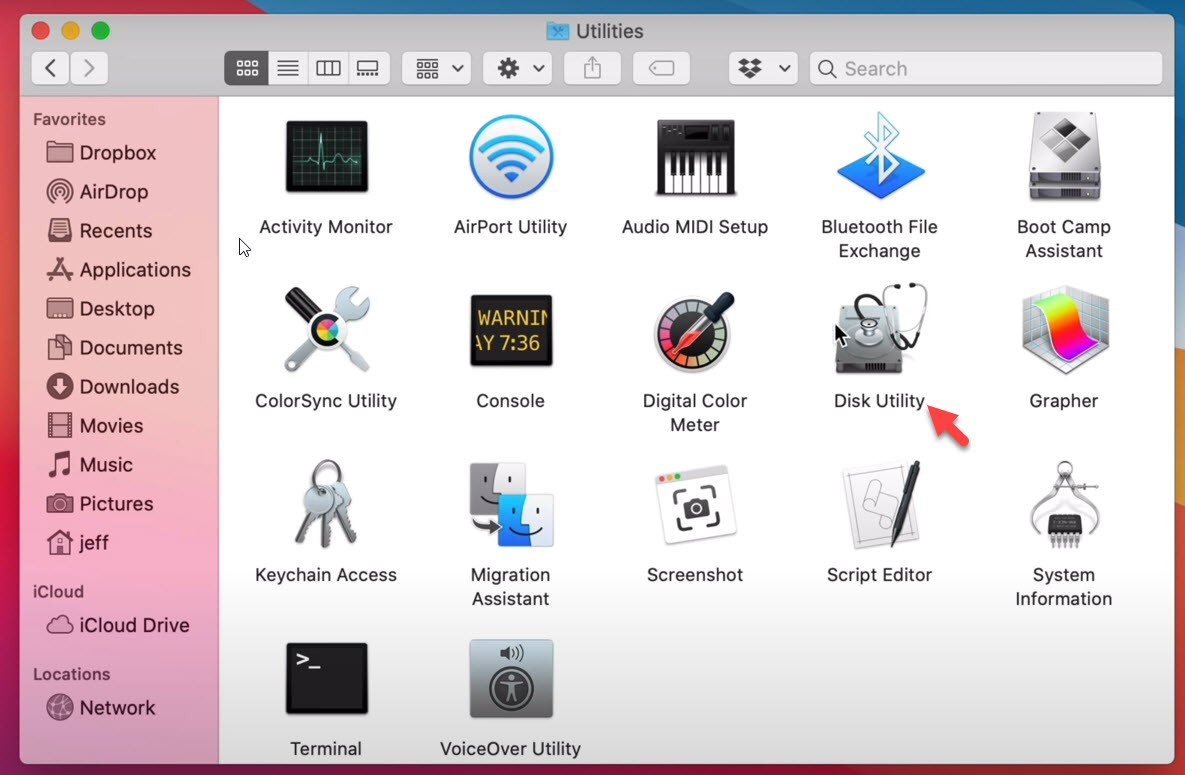 Step 3:On Disk Utilty, you will see all the disk and APFS volume. If the APFS volume is hidden then click on View option and select Show All Devices. This option will display all the disk.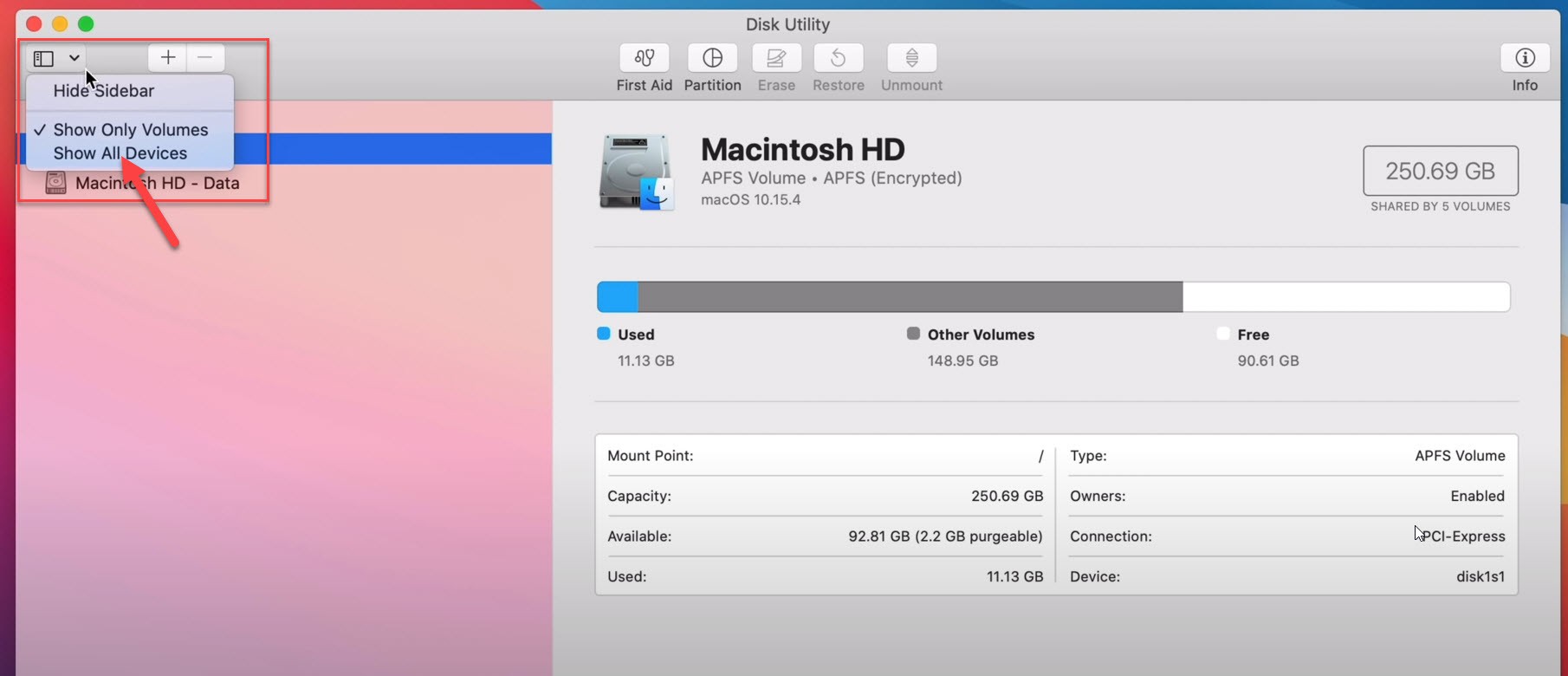 Step 4: Here you will see all the internal Apple SSD or HDD that organized properly. You can see I have an APFS Container and that Conatiner has multiple APFS Volumes. Therefore, select Container Disk1 and click on (+)plus icon to create/add another APFS volume. Once the new window appears the follow the below parameters.
Name: macOS Big Sur Beta
Format: APFS
Now click on Add button to add the new APFS volume. Don't worry about the APFS volume storage because it will take automatically.

Step 5: Once the process is done then click on Done and close the Disk Utility.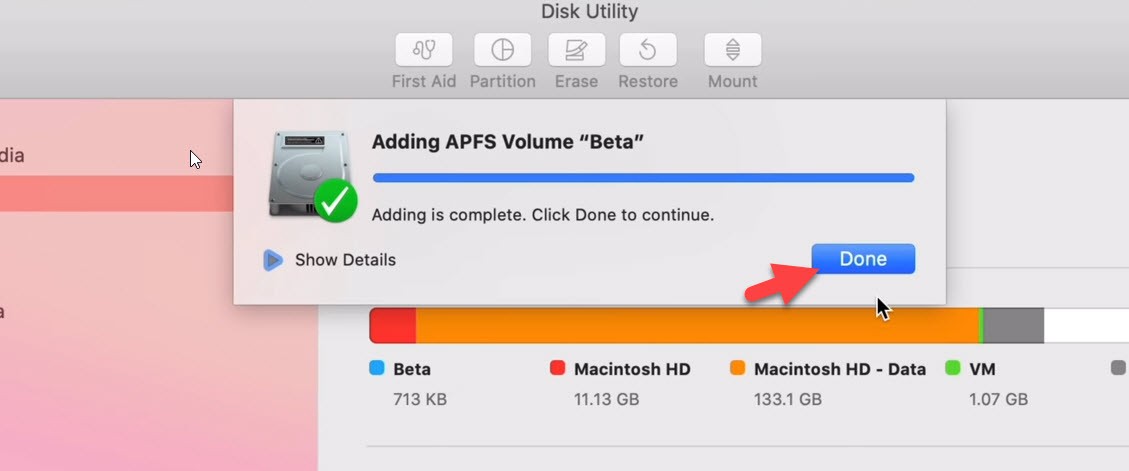 Start macOS Big Sur Installation on APFS Volume
Step 1: You have successfully created a seperate APFS volume and the APFS volume is ready to dual boot macOS Big Sur with macOS Catalina or any other OS that you are running. So, go ahead and open Launchpad and Double-Click on Install macOS Beta to launch the installation.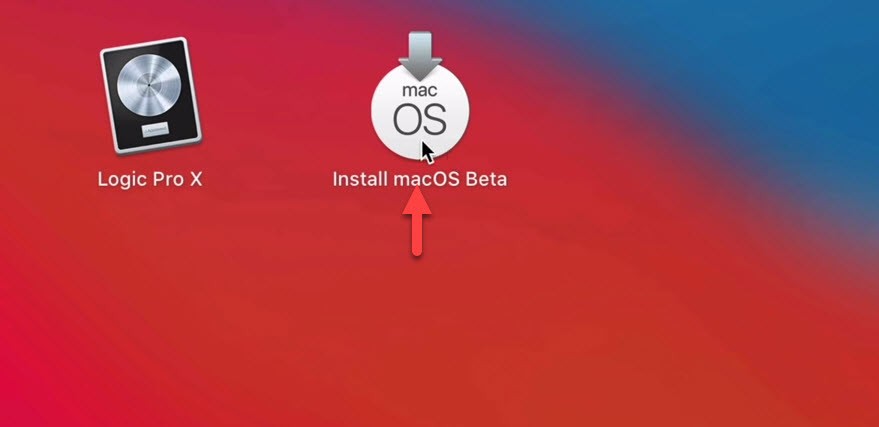 Step 2: To setup macoS Big Sur installation, click Continue.
Step 3: You will be asked to agree the terms of the software license agreement. Therefore, agree to the terms of the software.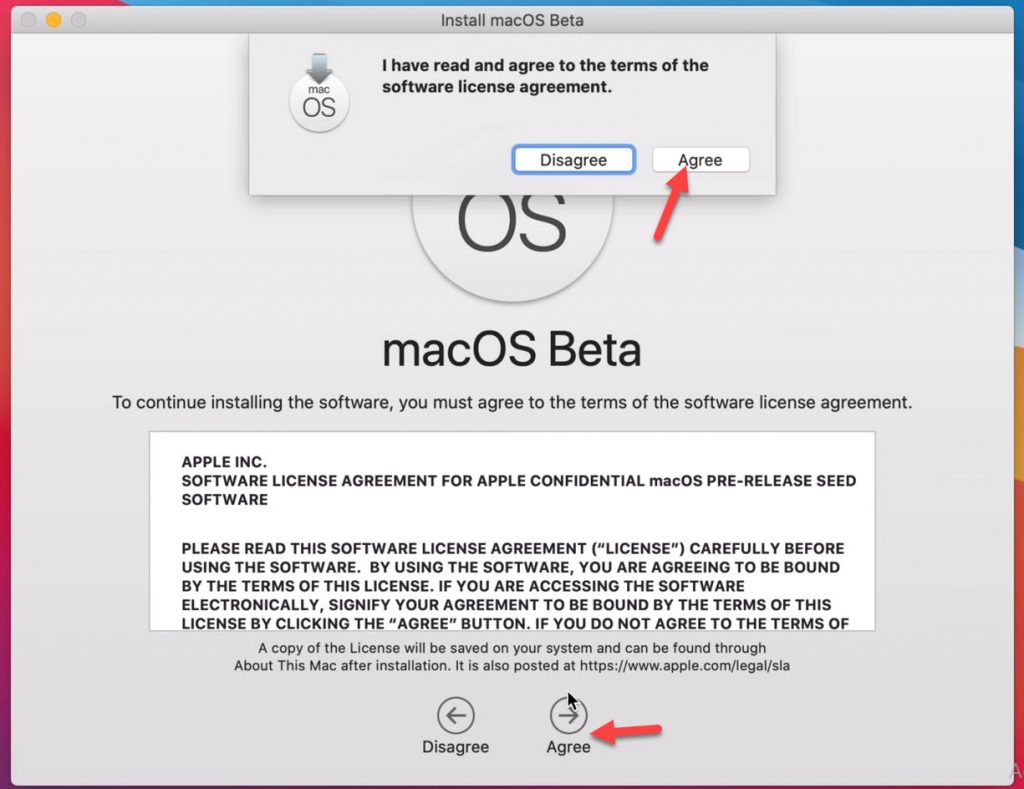 Step 4: In the next step, the installation disk is hidden and you need to click on Show All Disks to show the disks.
Step 5: Here, select the newly created APFS volume disk and click on Install button. After that, you will see a notification pop-up menu. Simply click on continue.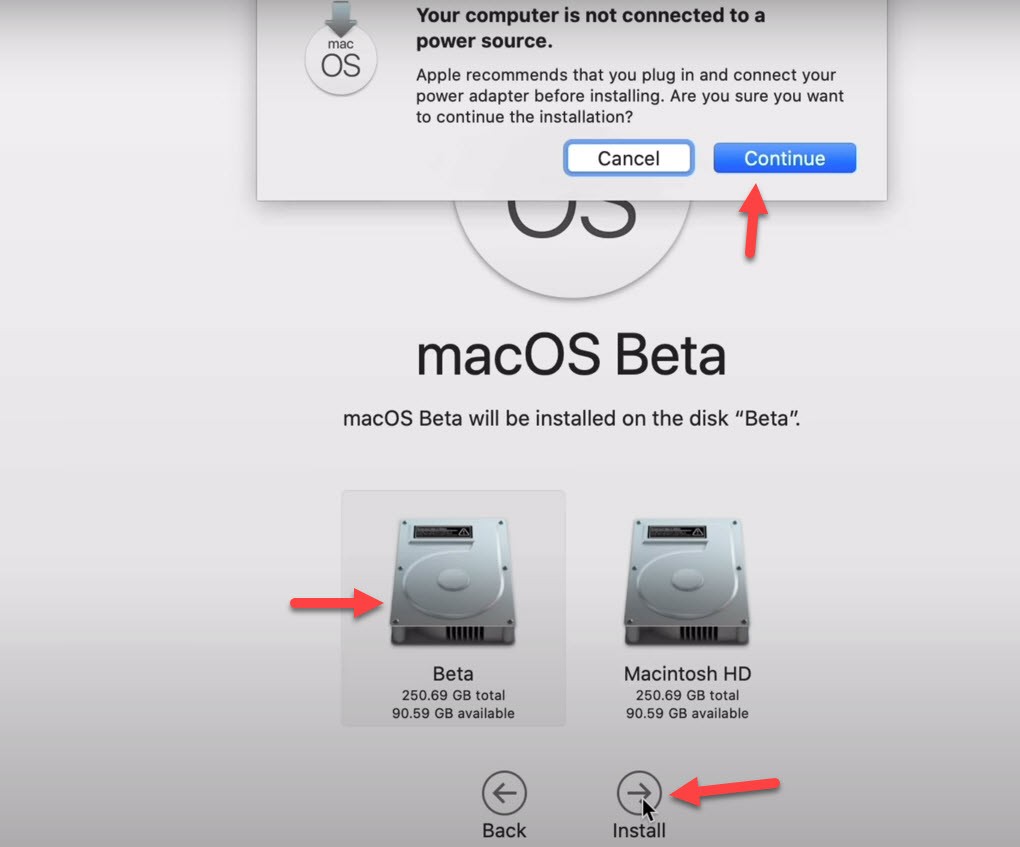 Step 6: It will ask you to enter the password because install macOS Beta is trying to add a new helper tool.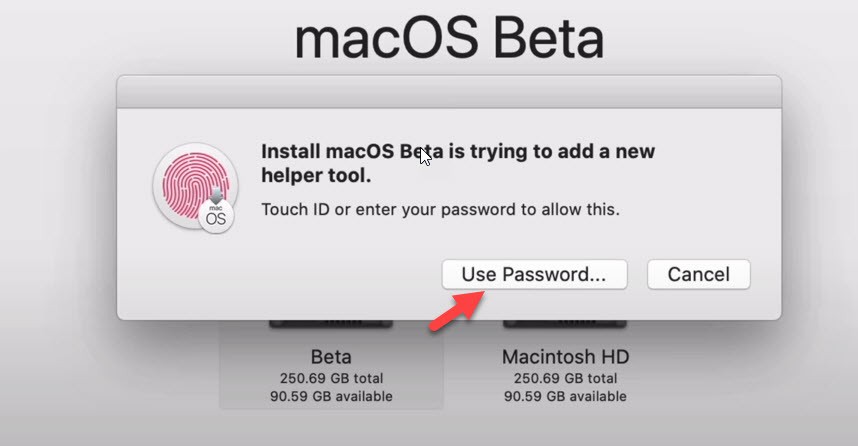 Step 7: After all, the macOS Big Sur installtion will begin and it will take some time to complete the process.
Step 8: After the installation is done completely then restart your computer.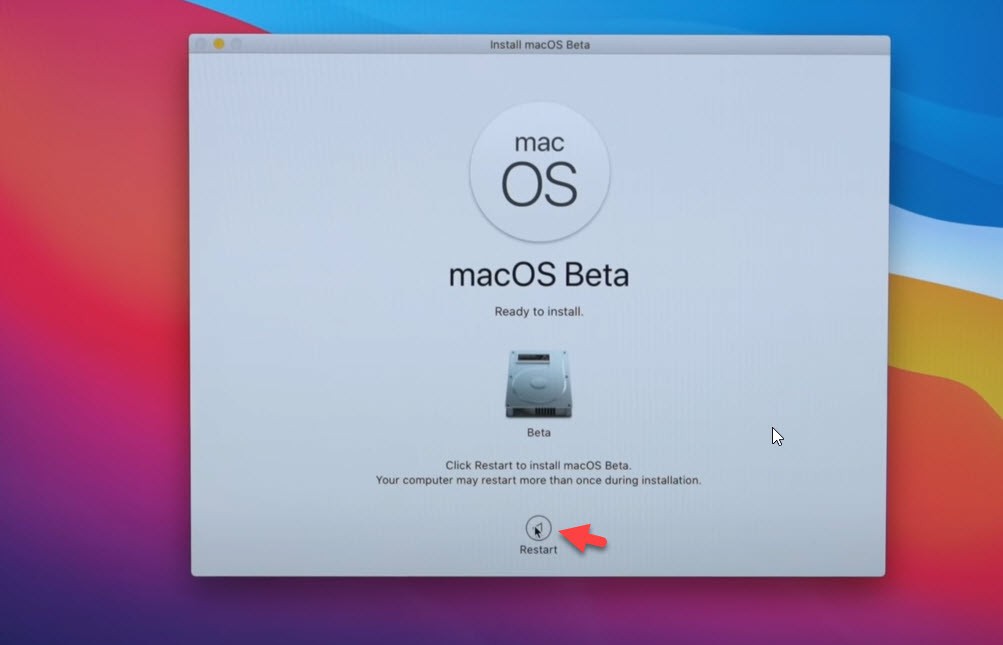 Step 9: After you restart the installation process the it will keep continue and this steps takes several times.
Step 10: Once the installation completed, then complete the macOS Big Sur bacis set up.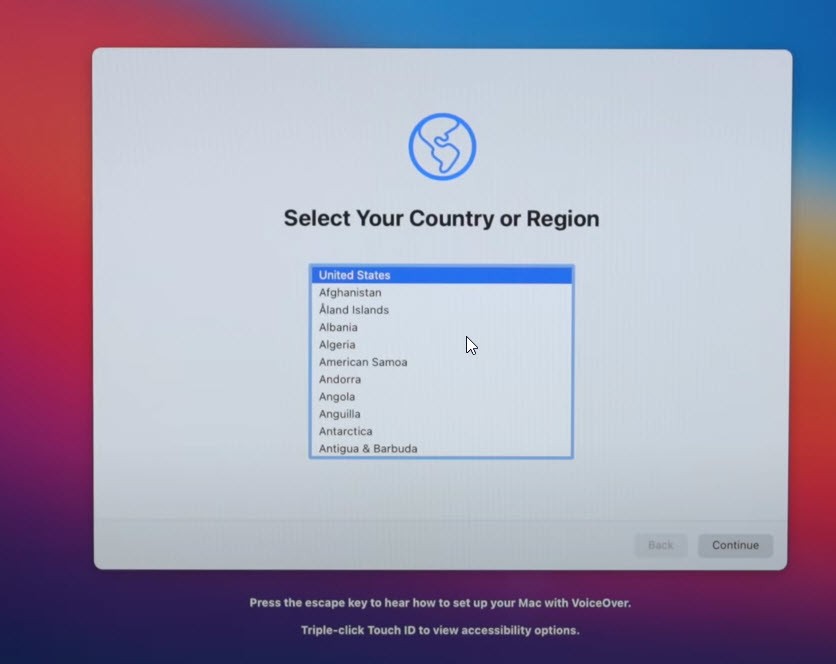 Step 11: Once the macOS Big Sur installation completed successfully. Then, check if the macOS Catalina APFS Volume is encrypted. If it is then you need to decrypt the macOS Catalina APFS Volume. This option will allow you to whether use macOS Catalina or macOS Big Sur on yur Mac during the startup. To decrypt macOS Catalina APFS go to System Preferences and click on Startup.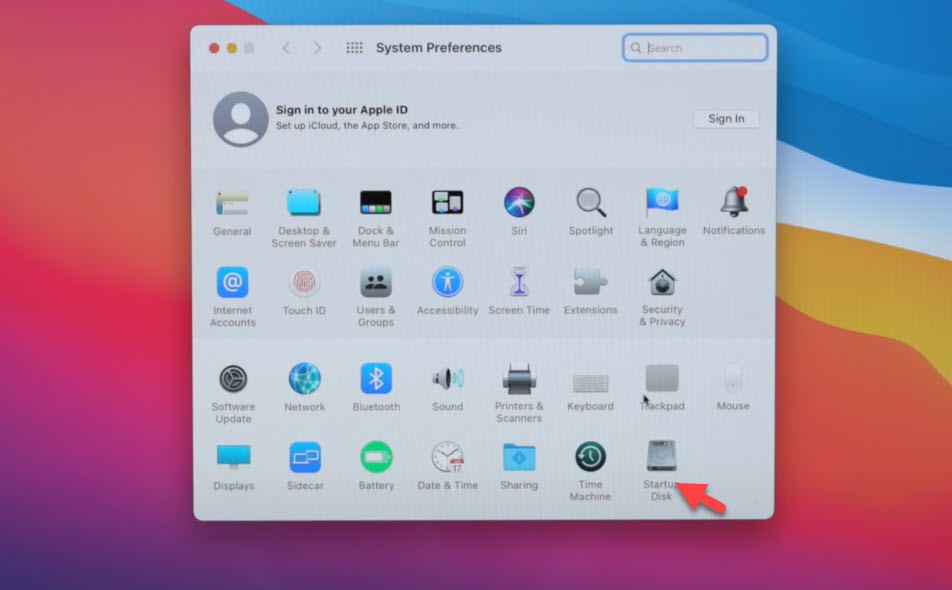 Step 12: Now, click on the Lock icon located the left bottom of the screen and type your password.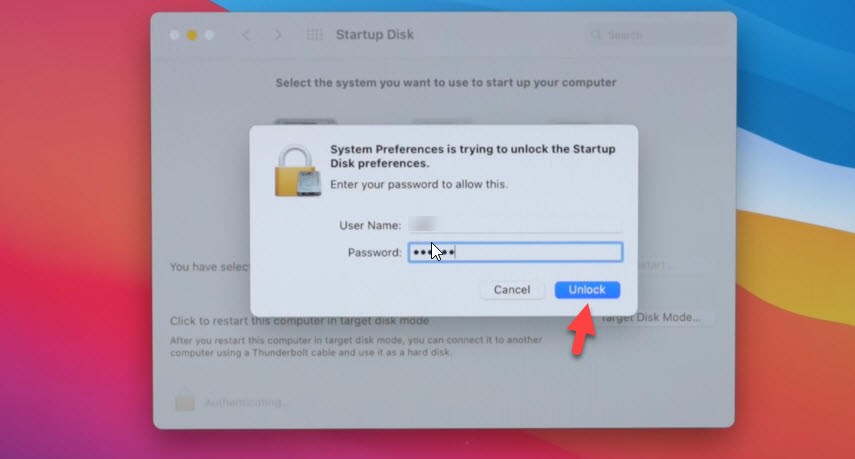 Step 13: Here, macOS Catalina is being installed on Macintosh HD volume. So, select Macintosh HD and press Unlock option.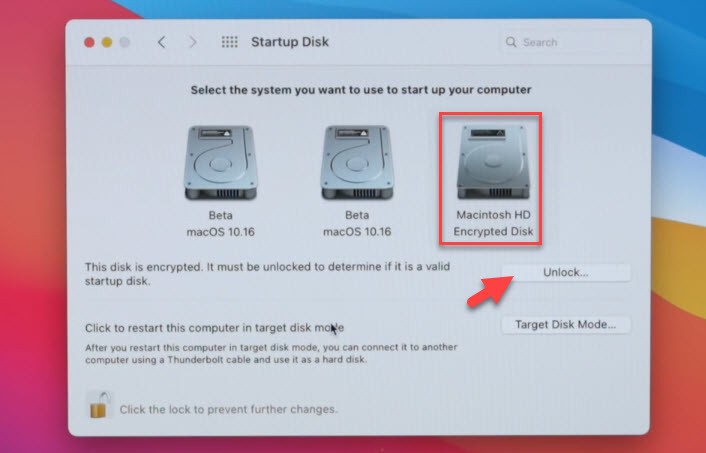 Step 14: Enter your password and continue. After that, restart your Mac computer.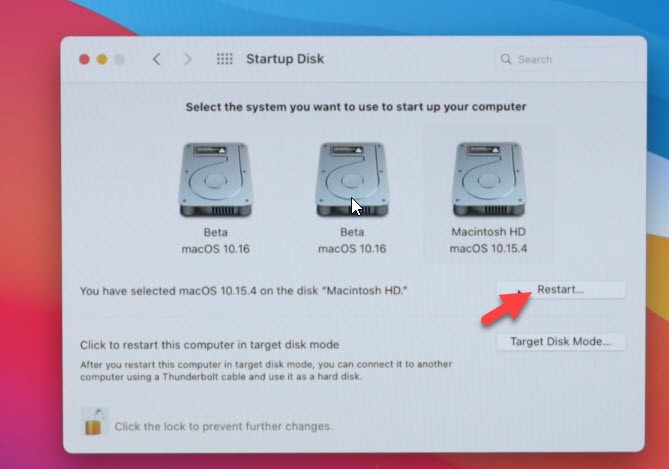 Step 15: Once you restart your Mac, hold down the Option key and you will see the macOS Catalina and macOS Big Sur. You can easily switch from macOS Catalina to macOS Big Sur or macOS Big Sur to macOS Catalina.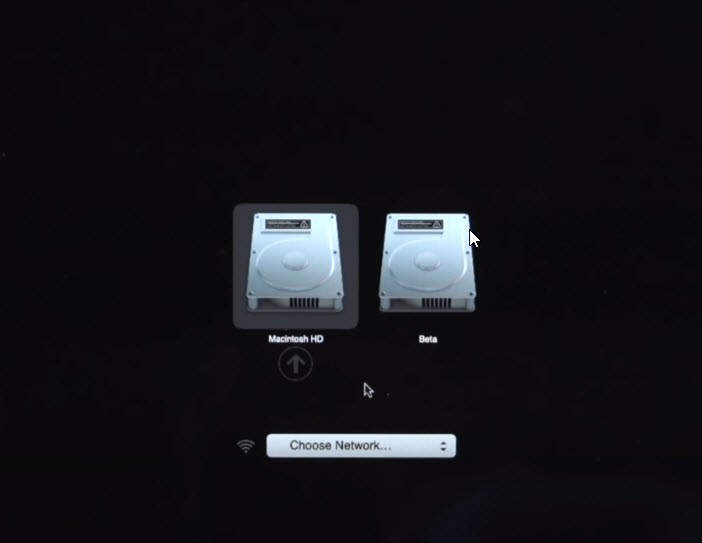 Read Next:
Conclusion
This is the best way to run any Mac operating systems on your primary Mac. In this case, you won't lose your personal data and your Mac operating sytem will be saved. You can easilly create a new APFS volume to install another Mac operating system. So, enjoy both operating systems on your primary Mac.