How to Update macOS Big Sur to Latest Version on Virtual Machine
What is macOS Big Sur? you all know what is macOS Big Sur and why it is the biggest operating system this year. However, there are several operating systems like Windows, Linux, macOS, etc. And each of them has its own OS versions like Windows XP/7/8/10, Kali Linux, Ubuntu, macOS Mojave, Catalina, and Big Sur. All OS will be updated every year like macOS. Although, in 2020 Apple introduced the latest and one of the biggest OS called macOS Big Sur.
So, macOS Big Sur was released on June 22nd at WWDC (WorldWide Developer Conference). During this period of time, you had several macOS Big Sur Betas update. But, those Betas have tons of bugs and errors. Apple worked on those errors and fixed them one by one in macOS Big Sur updates. On 12 December 2020, Apple released the first stable version of macOS Big Sur. Though this version has some errors but Apple will fix them.
Now, the macOS Big Sur 11.1 is available and released for Mac users to update its macOS. You can find the update on System Preferences > Software Update. However, this update supports Airpods Max, TV app enhancement, Apple News widgets, and Privacy information on the App Store.
What Apps/Features are Supported in macOS Big Sur 11.1?
In macOS Big Sur 11.1 Apple included several new features that supported in macOS Big Sur. You can check the below supported apps or features.
Airpod Max:
Support for Airpod Max, new over-ear headphones
High Audio fidelity for better sound
Active Noise cancellation that blocks environment noise
Transparency mode to hear the environment around you
Best spatial with dynamic head tracking
Adaptive EQ adapts sound in real-time
Apple TV:
All the new Apple TV tab makes it easy to watch the Apple original series and movies
Enhanced search so you can browse by category, by your manual search.
Top search results are shown with the most relevant matches that include Movies, Tv-Shows, cast, Channels, and Sports.
Apple News:
Apple News widgets are now available at the notification bar of macOS Big Sur.
App Store:
New privacy information section on App Store pages that includes a developer-reported summary of the App's privacy practices.
New Arcade games to play
iPhone and iPad Applications on Macs M1:
New iPhone and iPad options that let you switch between landscape and portrait to expand a window to file the entire screen.
Photos:
Apple ProRAW photos can be edited in the Photos app
Safari Web Browser:
Ecosia search engine is now available in the Safari browser, which impacts the search result.
Air Quality:
Available in Maps is Siri for China locations on the mainland
Health recommendations are available in Siri for the included countries United States, United Kingdom, Germany, India, and Mexico.
What Issues Available in macOS Big Sur 11.1?
As I said on macOS Big Sur there are tons of errors before the final version. Why Apple release Betas before the stable version?. The main reason or purpose is to get feedback and get a clue about what issues users will face with the new OS. Afterward, Apple will fix it one by one and in the final version, you will have a completely clean operating system. Now, this version has the below issues but Apple soon will fix them.
Quicktime Player might quit movies while opening with a timecode after upgrading from macOS Catalina.
Bluetooth connections are not available in the macOS Big Sur notifications bar.
Reliability of unlocking your Mac using your Watch.
Trackpad scrolling may be faster on MacBook Pro models.
LG UltraFine 5K display may incorrectly display at 4K in macOS Big Sur on Macs with M1.
Now macOS Big Sur is in stable version and you can freely upgrade to macOS Big Sur from macOS Mojave or macOS Catalina. However, macOS Big Sur is an open-source operating system and you can find it on App Store to upgrade or update to macOS Big Sur easily.
Backup your Mac
Before doing any process you have to backup your Mac your data. No doubt macOS Big Sur is in stable version but again you have to backup your Mac. On macOS Big Sur you have the best option to backup your Mac data. You know about Time Machine and you can use an external drive to backup your Mac using Time Machine.
Update macOS Big Sur to Latest Version on Virtual Machine
Have you installed macOS Big Sur virtual machines like Vmware Workstation and Virtualbox?. However, to test macOS Big Sur, virtual machines are the best option to give it a try and get its experience. If you have installed macOS Big Sur Virtualbox or Vmware, then you can update it to the latest version using the below steps.
To update macOS Big Sur to the latest version, you have to perform a clean installation of macOS Big Sur. After that, follow the below procedure.
Step 1: To update macOS Big Sur to 11.1 on Vmware or Virtualbox. Go to "Apple Logo" and click on "About this Mac". Here you will see the "Software Update" option just click on it.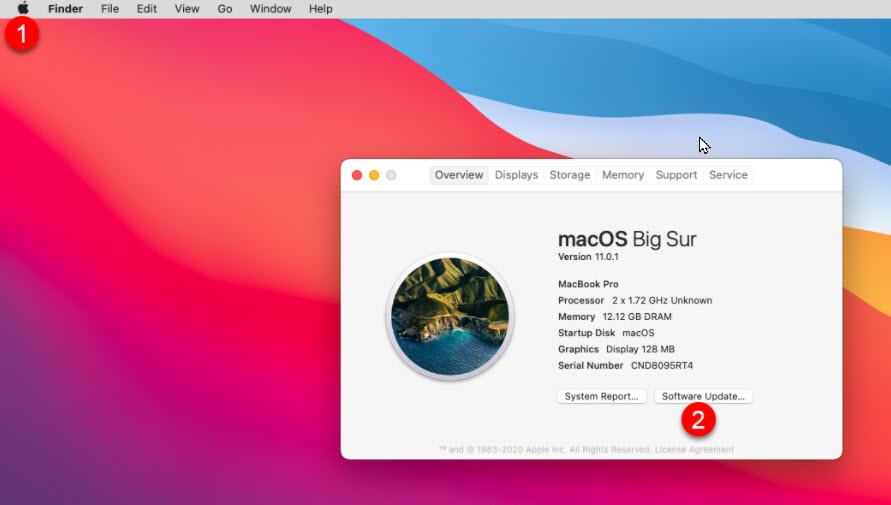 Step 2: Wait for a while to search the macOS Big Sur latest version. Once it appears then click on "Update Now".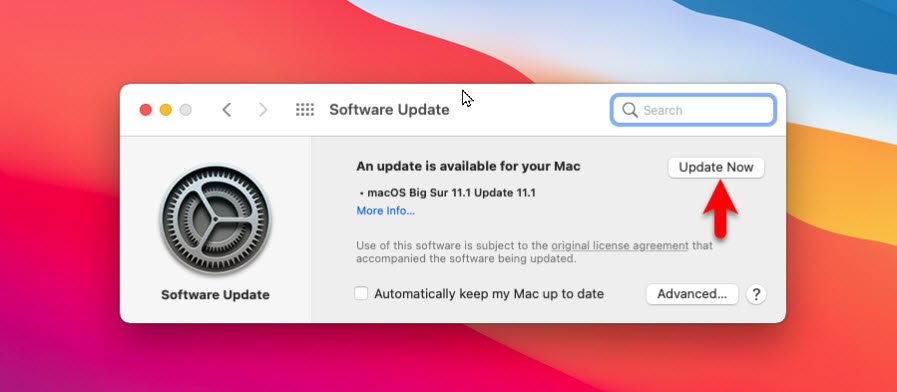 Step 3: Agree with the terms and conditions of macOS Big Sur.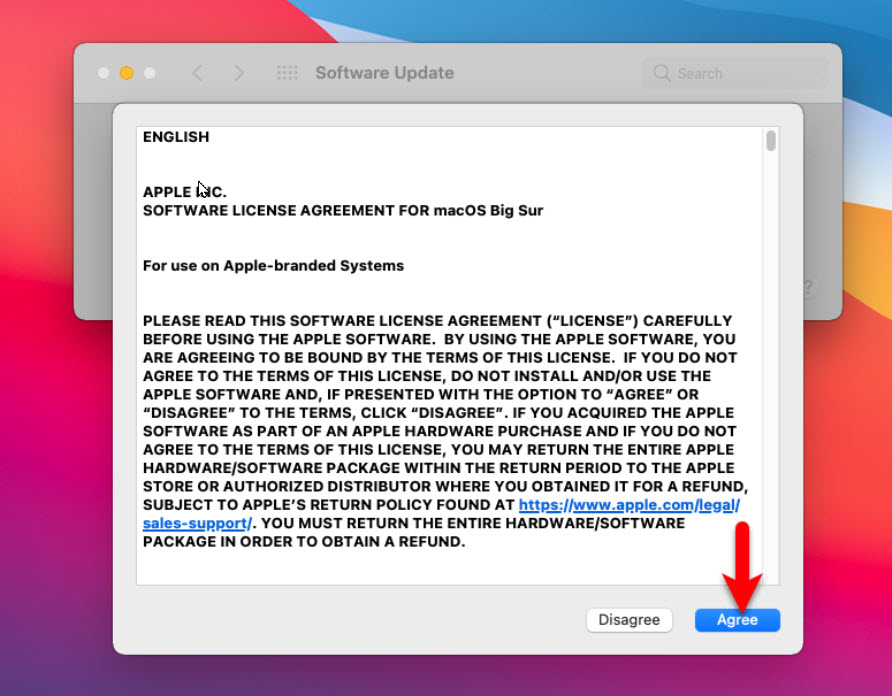 Step 4: Now it will start the downloading process of macOS Big Sur. So be patient because it will take time and it depends on your internet connection.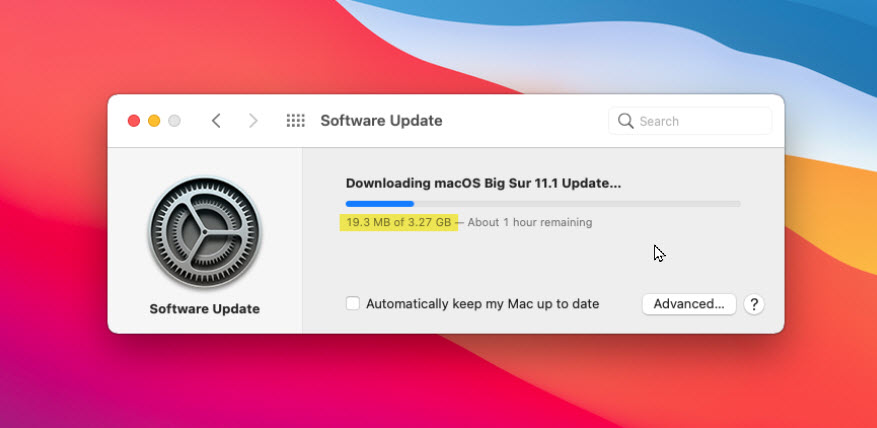 Step 5: Once the downloading is completed then it will restart your Mac and continue to install. During the installation, your Mac will restart several times. Don't worry about that and don't do anything.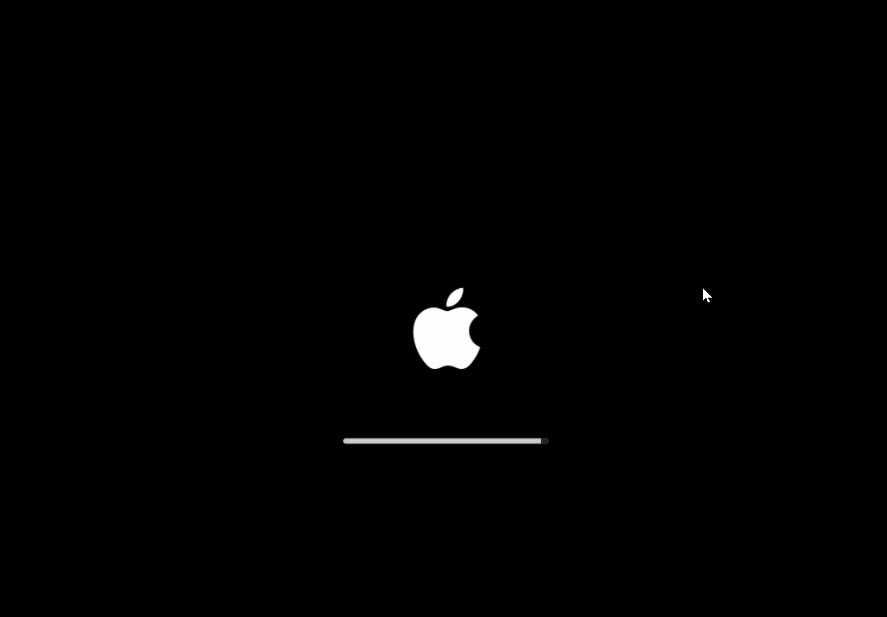 Step 6: Finally, macOS Big Sur is updated from 11.0.1 to 11.1.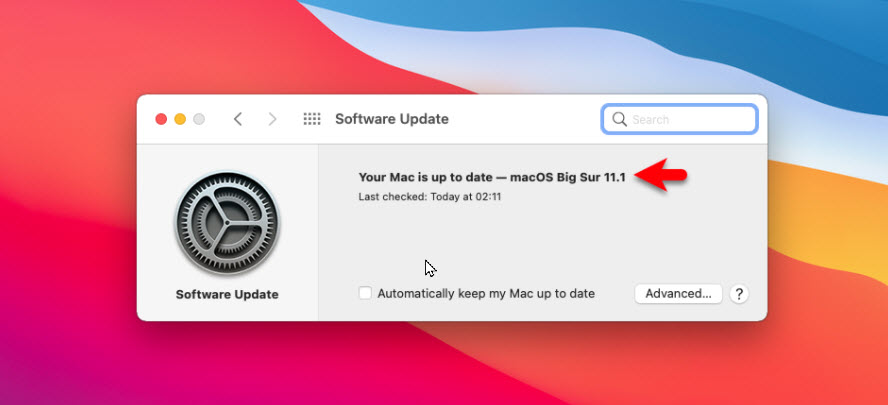 Read Next:
Conclusion
This was the method to update macOS Big Sur to the latest version on virtual machines. Always keep your Mac up-to-date because it will be better for your Mac system and you will have a clean and best performance. This method will work for all macOS Big Sur versions.