How to Reset MacOS Catalina Forgotten Password – Easy Way
MacOS Catalina is one of the best operating system in 2019 and this time Apple included tons of handy features in MacOS Catalina that one of that feature is SideCar. However, with SideCar, you can make your iPad, iPod as a second screen display. So, this is what people are curious to know more about MacOS Catalina. Besides that, Apple has released its new product called iPhone 11, iPhone 11 Pro, and iPhone 11 Max. The interesting thing about these three products is, it has three rear cameras which are Wide, Ultra Wide, and Telephoto. But in this article, I am going to guide you How to Reset MacOS Catalina Forgotten Password. This article is for those users who have installed Catalina and set a user password, after a few days or weeks they forgot the password and on that time my method will work for you.
Suppose, you have installed MacOS Catalina on PC-Hackintosh or you have installed MacOS Catalina on virtual Machine and you have set a password but the problem is here you have forgotten what was your password. to reset your password in macOS is not that much harder but when you are in Windows Operating system then it is difficult to reset your forgotten password. Moreover, if you have installed MacOS Catalina on Virtualbox using windows then it is the best platform to enjoy the Mac Operating system on Windows. Or you have installed MacOS Catalina on Vmware using your Windows because a windows user has only one way to use MacOS Catalina is to install on virtualization software. Therefore, if you are Windows user like me then reset macOS Catalina forgotten password through using the virtual machine that you have installed macOS Catalina inside.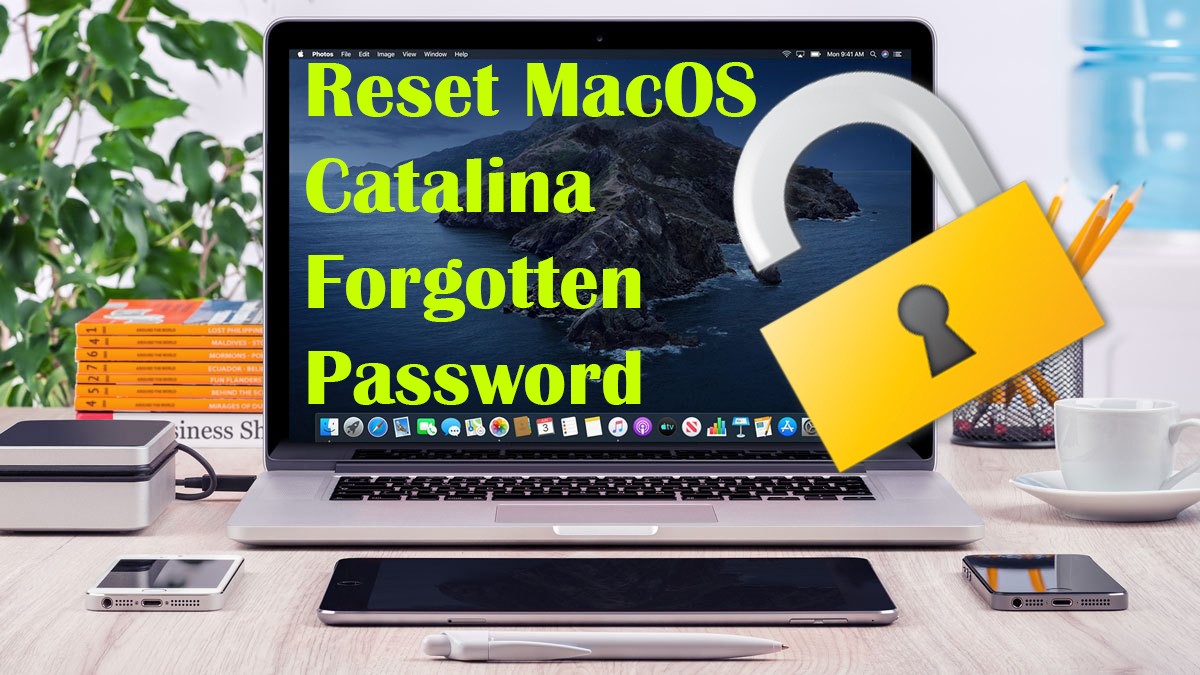 Here, I will show you the easy way which you can change or reset your password using one step, the goodness of Mac Operating system is that you can reset your password easily without using any third-party software. So let's start
How to Reset MacOS Catalina Forgotten Password?
Installing macOS Catalina on a different platform is quite difficult because it will need some requirements files. So, after installation, you might face a problem with Mouse and Keyboard Stuck or you want to fix the MacOS Catalina Screen resolution but the main issue is how to reset MacOS Catalina forgotten password. Therefore, to reset your password follow the below steps and focus on each step in order to not face problems further.
Related Articles:
Step 1: Shut Down MacOS Catalina
To reset your forgotten password you will need to turn off the system in case it is turn on.
Step 2: Boot to the Recovery
Now, to come into MacOS Catalina recovery, turn on the system and hold Command + R until the Apple logo appears.
#3: On the welcome screen, select the language and click on Continue.
#4: When you reach to MacOS Utilities then go to Utilities menu tab and click on Terminal.
#5: In the terminal window, type resetpassword and hit the return key.
#6: If you have created multiple user accounts then it will appear below, therefore, select the account that you have forgotten the password and you want to reset the password.
Step 7: Create A New Password
Once you select the account then MacOS will ask you to create a new password, therefore, type a new password and provide a password hint too.
Step 8: Reboot the System
While you set a new password then go ahead and restart your system, after that, type your new password and login to MacOS Catalina.
The System was Unable to Unlock your Login Keychain
Firstly, a question will appear on your mind what is keychain? So, login keychain is the password management in the Apple that stores all the passwords of servers, Applications, and even sensitive information. Therefore, after resetting the MacOS Catalina password, you may encounter with the keychain. So, on that time you have to provide keychain password in case you remember the password otherwise create a new keychain login and enter the password. I prefer you to create a new keychain if you forgot the password.
Therefore, click on the Create New Keychain option and create a new keychain with a new password.
Read Also:
Conclusion
That's all about How to reset macOS Catalina forgotten password and in this article, you have learned the best and easy step that you can reset the password with a few minutes. and this step will work for all Mac operating system like MacOS Mojave, MacOS High Sierra, and etc. Therefore, if you are using any Mac operating system and you forgot the password then apply the above step and reset your password. Moreover, if our article was helpful for you then don't forget to give your feedback.